Everyone knew Jennifer Sharp was going to become a lawyer one day—everyone, that is, except Sharp herself. When she was little, her family and friends viewed her precociousness as a sign that she would one day enter the legal field. But when she was sixteen years old, she vowed to do the opposite.
"My parents owned a clothing store in South Dakota, but it shut down when a mall came in," Sharp recalls. "So, my dad went to law school. I watched how hard it was for him and said, 'That's not something I'm interested in.'"
That all changed when, as an undergraduate journalism major, Sharp enrolled in a class on the First Amendment. She was inspired by her first exposure to a Supreme Court opinion and getting to read the work of brilliant legal minds, which planted the seed of law school in her brain. And it soon bloomed after she had a dream one night about enrolling.
"I told my now-husband about it, and he said, 'I wondered when you were going to figure it out,'" Sharp says. "I don't think anyone was surprised except me."
By 2000, Sharp was working on Capitol Hill as a research assistant for US Senate Majority Leader (and fellow South Dakotan) Tom Daschle, with a focus on policy and advocacy. By 2002, she was pursuing her Juris Doctorate at George Mason University School of Law.
"Working in Washington, DC, taught me how many different uses a legal degree can have—not just arguing in front of the Supreme Court but making policy on the Hill or becoming an in-house corporate counsel," Sharp says.
As it turns out, in-house corporate counsel is exactly what Sharp became. Today, she's vice president and deputy general counsel at the multinational information technology company AVEVA, which provides engineering and industrial software solutions in a variety of industries, including infrastructure, life sciences, power and utilities, steel fabrication, food and beverage, and consumer packaged goods. The services themselves range from digital transformation services to procurement and engineering.
Sharp's role is as wide-ranging as the company itself. As one of two deputy general counsels, she handles AVEVA's global commercial matters—a wide net that might cover contracting templates one day and escalations related to any deviations from sales policies the next. Although she's based in Austin, Texas, many of her colleagues are in the company's headquarters in Cambridge, England, so her mornings are usually occupied by phone calls to the UK, with the latter half of her day focused on stateside business.
Since joining the company in 2013, Sharp has been involved with several high-profile transactions. In 2018, the company merged with Schneider Electric's industrial software business, and more recently, it acquired application software manufacturer OSIsoft. The acquisition, completed in March 2021 at $5 billion, not only marked one of the biggest deals ever done by a UK-based tech company but also made AVEVA a leader in industrial performance intelligence. The software systems of both companies have been integrated so that data can flow from AVEVA's applications into OSIsoft's PI System.
"Essentially, the combined power of AVEVA's software and OSIsoft's PI empowers companies to make faster and more precise decisions, and enables them to boost their sustainability performance as a result," Sharp says.
Germaine Gurr, partner in White & Case's global M&A practice, has been impressed not only by Sharp's work on the merger but her attitude in general. "Jennifer is always willing to take on new challenges, works closely with team members across the globe to get the best results on projects, and is empathetic to the fact that everyone is juggling work, family, and often a multitude of other things," Gurr says. "She is a pleasure to work with."
As the legal head for the integration workstreams, Sharp says there's been a lot of excitement and energy around synthesizing the two companies as AVEVA gradually comes out of the COVID-19 pandemic. While she stresses the importance of having something to look forward to after a challenging year, she also notes that the pandemic could have actually been more challenging if her employer hadn't shown such compassion and concern in regards to its employees' well-being in 2020 and 2021.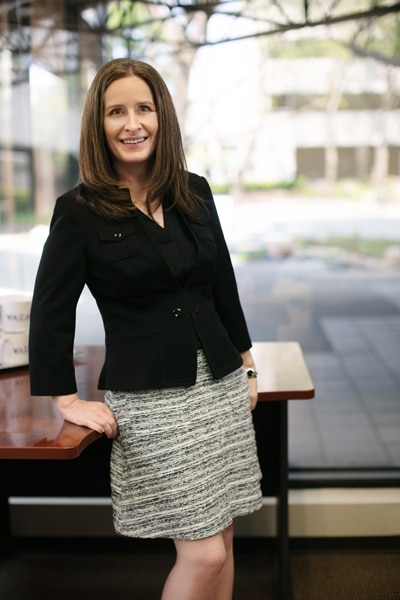 "I was just so impressed with how AVEVA handled all of this past year," Sharp says. She describes some of the company's initiatives to promote mental well-being during the pandemic: management appointed a well-being officer, there were weekly cadences that functioned as check-ins, and most importantly, there was the "It's OK to Not Be OK" campaign. As the name suggests, it promoted a culture of emotional honesty where employees could be upfront about how they were actually doing.
"We have an intranet where people can share their own stories of overcoming challenges, regardless of whether or not it's about COVID," Sharp says. "We just want everyone to express themselves and read about what others have done. There are messages, as well as pictures of colleagues, pets, and family."
With the OSIsoft acquisition complete, AVEVA seems to be on the cusp of its next evolutionary stage. And with Sharp playing such an integral role, it's safe to say that if her younger self could see her today, she'd probably realize that the hard work of law school was all worth it.