Jeff Blake used to consider himself "a reluctant changer," but if his seventeen years with Wells Fargo have reinforced one thing, it's that "it's OK to be uncomfortable because that's where real growth occurs," he says. "I have been regularly pushed to expand my practice and to learn new areas within the bank. Looking back, I'm so glad I had to do that."
After his freshman year in college, Blake took two years away from school to serve a mission for the Church of Jesus Christ of Latter-day Saints in Northeastern Brazil. It was "a humbling, life-changing experience" that gave him new perspective on how people can change and a deep love for the people of Brazil and their culture.
"Those two years have become a touchstone in my life, and I often find that the lessons learned in Brazil continue to apply to almost every aspect of my life, even thirty years after returning home."
When he returned from Brazil and went back to school, based partially on the mentorship and example of a former church youth group leader, Blake settled on the idea of becoming a lawyer. He followed that mentor's path by going to the same law school and focusing on corporate work.
Before moving in-house with Wachovia Corporation, acquired by Wells Fargo in 2008, Blake began his legal career with large law firms in Chicago. He credits Jeff O'Connor, then a young partner at Kirkland & Ellis, with taking him under his wing and teaching him how to run deals and be a securitization lawyer. O'Connor was and continues to be a great mentor and friend.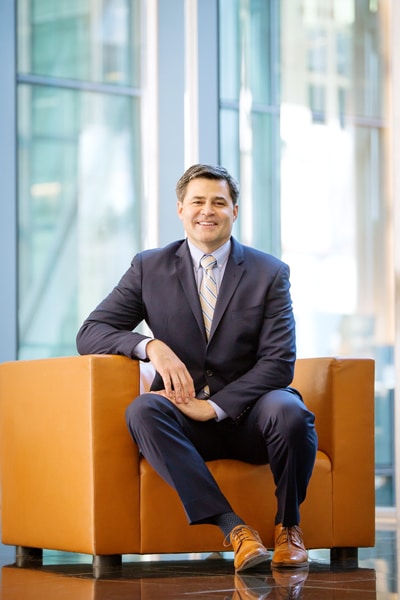 One of the things that Blake most appreciated about his time at Kirkland was the emphasis that the firm placed on training its lawyers. This training included both formal and informal formats and often involved "partners dropping whatever they were doing to walk me through the analysis or research I was trying to do. That was so valuable, and I've tried to react the same way whenever I'm asked questions or given the opportunity to train or teach."
The COVID-19 pandemic in early 2020 presented Blake with his most recent challenge and opportunity to learn something new. As capital markets senior company counsel, he is one of the senior lawyers in a small group within Wells Fargo that supports structured products and asset securitization transactions. When the pandemic hit, the Federal Reserve resurrected a program previously used after the 2008 financial crisis, the Term Asset-Backed Securities Loan Facility (TALF). The program was designed to help restore credit to millions of Americans during that financial collapse and to restore the flow of credit to consumers and small businesses.
Established on March 23, 2020, this TALF 2.0 enabled the issuance of asset-backed securities backed by specific types of consumer loans, Small Business Administration loans, and certain other assets.
"When COVID hit, the government started looking for things it could do to help support the markets and the flow of credit," Blake says. "It brought back TALF, and I knew right away that Wells Fargo was going to have a role in the program. We needed to know how TALF 2.0 was going to work and how Wells Fargo could participate. I volunteered to be the in-house lawyer covering TALF." It turned out to be a very involved process.
"The decision was made internally that Wells Fargo Securities would be a TALF agent," he continues. "That entailed quite a bit of work to quickly get up to speed on all the newly released rules and requirements to be an agent so we could be up and running as quickly as possible."
Blake provided legal support for a large cross-disciplinary group within Wells Fargo tasked with building a TALF agent program from scratch. The team was able to build and launch the program within a matter of weeks, which was a "phenomenal outcome," Blake notes. "New initiatives don't typically go from concept to operational that fast."
"When COVID hit, the government started looking for things it could do to help support the markets and the flow of credit . . . We needed to know how TALF 2.0 was going to work and how Wells Fargo could participate."
In addition to advising his Wells Fargo clients, Blake also prioritizes community service, including pro bono work for refugees. In 2016, he began volunteering with two organizations in Charlotte that provide pro bono legal services primarily for refugees seeking to become US citizens.
Through that experience, he has "met some amazing people who have overcome incredible hardships to provide a better life for themselves and their families." This pro bono work has made Blake appreciate even more the many opportunities provided by this country and given him a better understanding for why so many people want to come here and be a part of it.
Based in Charlotte, North Carolina, Blake and his wife raised four children who are now all "out of the house," with two in college and two who embarked on their own professional lives. Changes brought on during COVID-19 presented a new set of challenges and another opportunity for the senior counsel's life to transform.
While recognizing the very real difficulties and suffering experienced by others, Blake tried to focus on the positives, including learning to work in a new and different way. Time savings and efficiencies provided by the work-from-home environment allowed Blake to be more productive in his work, family, and community service obligations, one beneficial result of changes brought on by the pandemic.
For Blake, while it's still doesn't always come naturally, embracing the discomfort that often comes with change has led to the greatest personal and professional rewards.