There was little doubt that Jamie Carsey would one day be an attorney: she worked for a pair of great trial lawyers while in high school and college and had experience at three law firms before even attending law school.
"I had wanted to be a lawyer my whole life," she says. "I never went through any phases like most kids of wanting to be a teacher, a firefighter, a policeman—for me, it's always been about becoming a lawyer. It's even immortalized in my sixth-grade yearbook!"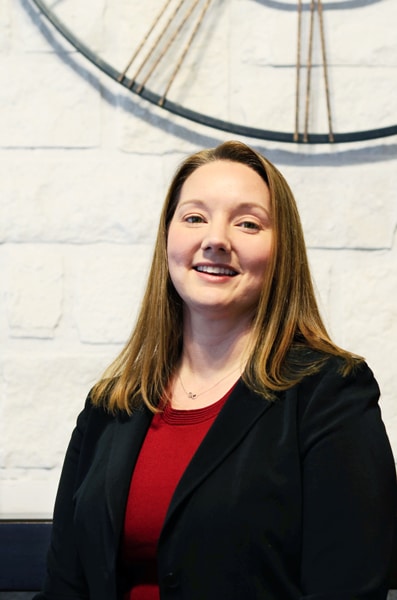 Carsey isn't sure why she developed this passion—neither of her parents were involved in law—but she does know that she's always liked to debate. "When I was younger, it was always about how do I get my point across and then how do I get people to agree with me—especially adults, because that was the biggest win for a child," she says. "Law just seemed like a nice, clear career path and the calling never left."
Today, Carsey serves as senior director of claims for Markel Service, Incorporated, a Richmond-based insurance services company. Before joining Markel, Carsey's professional journey included more than a dozen years doing civil litigation work at Thompson Coe, where she rose to the position of partner.
"I had the opportunity early on to see a bunch of phenomenal trial lawyers, so I knew going into law school that I wanted to try cases," she explains. "I also knew that I wanted to be on the civil side of the docket. My focus was very clear."
She started with the firm as a summer associate intern while at the University of Houston Law School and became full-time once she graduated.
"To this day, I still think it's the greatest law firm in the world," Carsey says. "I was loving my law life there, doing the trial work, and had become an equity partner. I got a call from one of my clients saying they wanted me to consider doing this in-house program."
That client was Markel. Carsey had specialized in insurance coverage and bad-faith litigation, and she was working with the company in that capacity, helping with its insurance coverage questions and litigation involved with its policies.
"Their senior director of litigation at the time reached out to me about starting an in-house coverage counsel group," she recalls. "A lot of insurance companies have these internal resources, but Markel had not yet developed one and needed someone to come in and start an in-house team of attorneys to assist them."
Carsey was hired in 2017 to build out the coverage group. In the beginning, she was doing contributor work, and now she's building consensus to bring people on board to the creation of the new team. "It was a fun endeavor to cultivate the talent that I knew the team would need to be able to be a resource for the claims department," she says.
In addition to developing the in-house counsel coverage program, she's also been instrumental in building out the claims counsel team at Markel. "That other half of my team handles the extra contractual risk against the company, so if the company gets sued for any bad faith damages, they handle those lawsuits along with our outside counsel," Carsey explains.
The challenge of running two teams is that they need to be a useful resource for every department and the different lines of business.
"You have to be able to have people on your team who have a broad spectrum of expertise," she says. "My goal for my team, and this is critical for any in-house team, is for them to be both knowledgeable and approachable. It doesn't matter if you're the smartest person in the room if no one wants to talk to you."
Carsey is proud of Markel's emphasis on its employees, particularly its general initiatives to increase diversity and inclusion and to promote greater leadership and voices at all levels of the company. That, she says, has had a positive impact on the company and employees.
For her own part, Carsey speaks to different women's groups. The initiative started with her reaching out to female veterans to discuss how she could help them transition from military life to civilian life. What started as résumé and interview tips turned into helping them push for higher salaries and helping them understand that they should go for jobs they are interested in, even if they're not 100 percent in their wheelhouse.
"For those who are interested in the law or insurance, they are both really great places for women to establish themselves as leaders," she notes. "It starts with picking the right firm—one which is committed to them for who they really are. Then they can start to build a leadership style and start making a difference."
Looking ahead, Carsey hopes to continue streamlining efficiencies, supporting customers insured by Markel, and helping to drive the organization into a bright future.
"What's helped me on my path is that I'm not afraid to dive into those tricky and sticky situations," she explains. "A lot of lawyers don't want to be part of that confrontation, but I'm not afraid of respectful debate."
In Carsey's opinion, trying cases is the best thing in the world, and she jokes that there should be a vacation package where people can go and try cases somewhere new. But at Markel, the opportunity to take on new challenges and build something from the ground up is too good to pass up.
"I love the people here and always enjoy working with them," Carsey says. "I look forward to developing something new and exciting for them."
---
Martin, Disiere, Jefferson & Wisdom:
"Jamie is a solution-focused leader who embraces creative efficiencies, innovative thinking, and diverse perspectives."
–Jamie Cooper, Of Counsel
---
Thompson, Coe, Cousins & Irons, LLP.:
"The firm was truly fortunate to have Jamie as a partner and leader in our insurance practice. Her monumental success in the corporate world was expected; we are grateful to continue our partnership with her and Markel."