There are only so many ways to say something. Ellen Smith is acutely aware of this, because before she attended law school, she'd already written a million words.
As a beat reporter aspiring to work her way up to a position in a big Twin Cities newspaper, Smith spent her nights on the phone with law enforcement for around twenty different counties in Northern Minnesota and Wisconsin. She put in long hours, hunting for prospective news and building the career in journalism she had always dreamed of.
But the newspaper industry was shrinking. Though Smith eventually decided to transition from journalism to law, the intensive writing and interviewing experience she garnered in her reporting days shaped her approach to language in ways that continue to benefit her in her current role as senior vice president, chief counsel, chief compliance officer, and corporate secretary of Mondelēz International, where she leads the company's corporate governance, compliance, and security teams.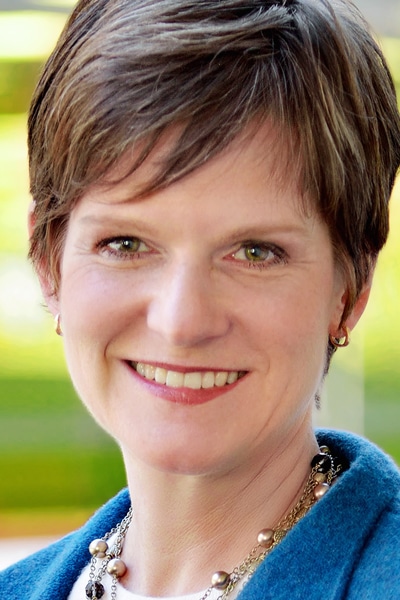 And in reflecting on her career with the clarity of hindsight, she can see that her willingness to stray from the path she had envisioned has been instrumental in her success. Aside from switching career tracks, she has grown her skill set over the years by taking on work in litigation, advertising law, antitrust, commercial law, M&A matters, food and drug law, and whatever else came her way.
"We're told that we have to be so focused to succeed," Smith says. "It does take focus to succeed, but if all you are is just this narrow ribbon or highway or swim lane—whatever it is—you're going to miss so much."
After graduating from the University of Michigan Law School, Smith spent a year working at a Twin Cities firm and then relocated to New York City to take a job at a large national law firm. She could see the original World Trade Center from her view in the Citicorp Center, but she knew that a view wasn't everything.
"It was 11:30 at night, I was in my Ann Taylor suit, and I was this big-city litigator preparing for a deposition and planning for a settlement conference," Smith remembers. "I saw my reflection in the mirror, and I realized—fully—this was not my path." It wasn't the long nights and weekends—there have been plenty of those since then, Smith says—but rather the billable hours and jumping from case to case and client to client that made Smith realize she wanted to work at a place where she could focus on helping build one business over time.
Eventually, Smith found a position in-house at Unilever, who had been looking for a marketing lawyer. They took Smith on with the intention of training her. "Everything just clicked—it was like being at a newspaper again. I was on the phone all day, working with words, negotiating ad copy with marketing clients and winning their trust so they would take my call and let me into their world," Smith says, chuckling. "It was this perfect fit."
In 2004, she joined food giant Kraft Food and continued building out her expertise on commercial law and M&A. She partnered with the Snacks team to help grow such brands as Oreo, Chips Ahoy!, Triscuit, and Ritz. When Kraft made plans to split into two companies in 2012, Smith was promoted and tasked with building out a new North America regional legal team for Mondelēz International, the global snacking powerhouse and legal successor of the former Kraft Foods. "Our employment lawyer, our sales lawyer, our litigator—I had to recruit all of them because most of [the legacy US] team had gone with the other spin-off company," Smith explains.
Mondelēz is the global leader in snacking, Smith says, and so most sales take place outside the US, requiring her to further adapt. "US lawyers are trained through the Socratic method to ask questions," she explains. "In some parts of the world, if you ask people a lot of questions, it makes them uncomfortable because under their education system, if you don't know the answer, there must be something wrong." Flexing her style to suit the company's dynamic global environment, Smith has learned to open conversations with her intention to ask questions, explaining that this approach helps her process both her thoughts and the information she receives. She also notes that the questions are designed to help solve business challenges.
Ever the reporter, Smith says it's imperative for her to remain curious and open to new ideas. "You can either be the kind of person who wants to demonstrate that you've gotten to this level of leadership because you know everything, or you can be humble enough to ask questions when you need to learn more," she says.
Lina Tetelbaum, a partner at Wachtell Lipton who has worked closely with Smith, comments, "Ellen is an exceptional lawyer with great commercial judgment and invaluable people skills.  She steers complex negotiations to the right answers with positive leadership."
"We're told that we have to be so focused to succeed. It does take focus to succeed, but if all you are is just this narrow ribbon or highway or swim lane—whatever it is—you're going to miss so much."
Taking on CCO and corporate secretary duties right before the COVID-19 lockdown put Smith's leadership skills to the test as never before. "I had never helped lead an annual shareholders meeting, period," Smith says, laughing. "We went from toying with the idea of what a virtual shareholders meeting would look like to having to set one up almost immediately."
Throughout the pandemic, Smith has continued to adapt and take challenges in stride. She doesn't have a home office, so with two teenagers and a husband also working from home, she sometimes has to resort to tactics like setting up her computer on a kitchen cutting board to get the job done.
"It's about continually trying to create an office in your head," Smith says. Although she has told her team that they do not need to dress in business attire for their online meetings, she notes, "I told my team at one point that I was going to be putting on makeup and putting on my work clothes. I needed to create this workspace that only exists between my ears."
Last year, Mondelēz International rolled out a global approach to flexible working and has empowered colleagues around the world with tools and tips to enable flexible and remote working, which will remain in place when the company's offices begin to re-open once the pandemic recedes.
The SVP emphasizes that it has been those colleagues—as well as the generous mentors who have worked with her over the years—who have enabled her success as a leader. Whenever you diverge from their path, Smith points out, it's important to have people there to support you, encourage you, and help you find your way.