Divya Mehta is warm and outgoing. She genuinely enjoys talking to people, and it's easy to hear her smile over the phone. At one time, the current senior vice president and general counsel at KONE thought these qualities were detrimental to her career. Whether it was the traditional idea of a "work persona," strictly separate from one's personal identity, or the socially pervasive leadership ideal of a great leader as someone who is stoic and reserved, it's been a long journey to feeling comfortable in her own skin.
The most decisive blow to Mehta's assumptions about what a work persona means and who a leader can—or should—be came from the legal department that she now leads at KONE, a prominent global elevator and escalator company. Mehta's acceptance of a leadership role in KONE's legal department in 2020, after six years in-house, happened to coincide with a year that redefined all expectations of what "normal" means.
The transition went better than expected. "Change is never easy, but from what I've seen of the department, they have really stepped up to the challenges of 2020 and are empowered and engaged employees," Mehta enthuses.
KONE's trial lawyers appreciate her leadership in navigating the challenging legal environment of 2020. Tom O'Connor, a litigation partner at Ansa Assuncao, says her new team-building approach has created a framework for outside counsel to coordinate legal strategies more effectively with the company's decision-makers.
Mehta's path to her current role has had its share of curves, and if there's one message she wants to communicate to people at earlier stages of their careers, it's that "there's no one 'right way' of doing things to achieve what you want." It's common for people to feel uncertainty or doubt as their careers progress, even for those who project confidence and self-assurance in all their choices.
"It can take people time to figure out exactly what they want to do. It's OK not to be sure," she says. When asked for advice, Mehta tries to convey this same mindset to young students who are applying to college. "You're seventeen. How can you know what you want to do for the rest of your life? It's OK not to know all the answers and to figure it out as you go. That's part of life."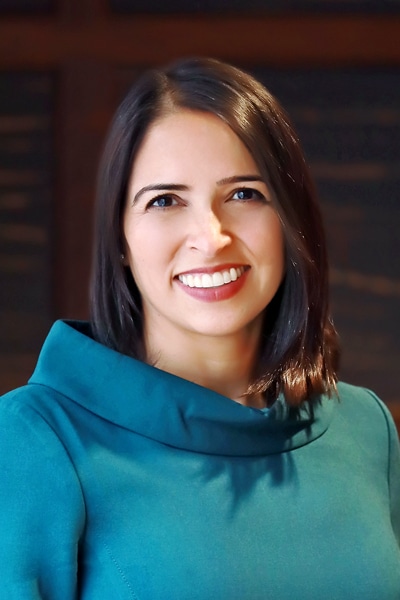 Mehta speaks from experience. "I wasn't one of those people who immediately knew they wanted to be a GC," she explains. She recalls how coming from an engineering background, with an undergraduate degree in general engineering from the University of Illinois at Urbana–Champaign, she initially considered intellectual property (IP) law. After graduating from the University of Minnesota Law School, she garnered work experience in the government and private practice spheres prior to joining KONE.
"As time went on, I was very curious and open to learning, and a gradual evolution occurred," she says. That slow evolution helped ground her as she assumed greater levels of responsibility over the years—and paid off richly in the face of the upheavals of 2020.
Mehta has worked hard to get where she is. Now, she wants her wider KONE family to feel empowered, inspired, and—most important—comfortable showing up to work as who they really are.
Fostering Empathy and Relationships
Though she has thrived in in-house roles, Mehta also spent nearly three years with the Illinois attorney general's office. What she observed in that role taught her some early lessons about the kind of leader she aspired to be—and the behaviors she wanted to avoid.
"I remember being in court and [seeing] someone who was obviously new in their role getting yelled at by a judge," she recalls. "It's always stayed with me, and I really hope people in leadership remember what it was like when they first started. There are just things that you don't know that you have to learn, and that learning curve can be challenging sometimes."
The government job is one of the reasons she thrived in private practice, in litigation, and later in a corporate environment. "Those government roles are places where you are just thrown in and you learn as you go," Mehta says. "It can be tough, but it really helps you develop."
Whether it is her engineering-minded approach or a general curiosity, Mehta says that for better or for worse, she has always been the type to ask questions. "I don't really mind if I don't know something or I have already asked someone else," she admits. "I still ask, because whatever the response is, you might get a different answer from someone else, and you can learn from each of their perspectives."
That focus on individuals is what Mehta hopes is a hallmark of her own leadership today. She's an adamant advocate for building relationships and learning to see matters from as many points of view as possible.
"It gives you an opportunity to develop a sense of mutual respect when you seek out mentorship and guidance," the GC says. "Off the top of my head, I can think of many leaders and colleagues at KONE who have spent time with me to teach me and educate me." Mehta says that if people see you as a hard worker and you've taken the time to build rapport, they're often much more willing to invest in you.
A Wider Perspective
Mehta says that 2020 has also offered her a significant opportunity to develop a wider, more interconnected worldview that encompasses all the different aspects of her life. "As a working mom with two young children, I have gotten to spend more time with my husband and my children this year than any time before," Mehta says. "Once all the extracurriculars go out the window," from her 6 a.m. workouts to the children's long list of activities, "you get to know your family on a deeper level."
She savors the new routine of their days together, whether it's the sleepy hugs from her kids in the middle of her morning meetings or the quick walk around the block during their lunch break. For her children, it sends a clear message: "I'm always here, no matter what."
The pressures surrounding leadership and the work persona ideals that Mehta had internalized over the years lessened in 2020. "These leadership ideals you're supposed to live up to—all that went out the window. I no longer have a 'work persona' or 'home persona.' They blend together. And that's a good thing. The separation between work and personal life doesn't need to be so stringent."
Subscribe Now
Receive stories like this one in your inbox every two weeks!
Subscribe to the free Modern Counsel newsletter.
Indeed, whether it's a 4 a.m. global video call in pajamas and a ponytail, an errant child appearing on a Zoom conference call, or the sounds of dogs barking in the next room, 2020 was the year where many people's separate identities have had to merge—or at least find more common ground.
Mehta has applied that same recalibrated perspective to her first year leading the law department at KONE. "Coming into this role, I knew that our contract management was going to require some retooling and stabilization," she says. "We were aware that the business needed us to improve the process from our end. In the last twelve months, by partnering with the business, we have made incremental improvements." The legal team has reexamined and revised everything from review strategy to contract assignments to insurance issues—all as a result of taking the time to listen to feedback.
Policy governance has also received significant attention over the past year. The company has leveraged existing global policies and strengthened its processes. "We're collaborating with our global colleagues more than ever before," Mehta says.
Ongoing Evolution
The increased collaboration and teamwork required to respond to the events of 2020 certainly played to Mehta's strengths, but that is not the only thing that has made her perspective as a leader so valuable.
2020 helped expose long-ignored realities that people of color live with daily in the United States. Mehta, who grew up in a multigenerational household and often worried that her background might set her apart from her peers, is well aware of the experiences of isolation, otherness, and a desire to sand off the cultural corners that shaped her upbringing.
Mehta never saw herself as an ambassador for race and cultural conversations. But that too changed in 2020. "I am at a stage in my life where I feel completely comfortable in my own skin," Mehta says. "It is my responsibility to my two daughters, and to my nieces and nephews, to set a good example and be a role model so they feel like they can achieve their dreams."
As one of the few women on KONE's leadership team, Mehta has become more comfortable with sharing her story so as to inspire others in their journeys. She admits that it can be hard to see the progress at times, but that only motivates her more. When Mehta was featured in her law school alma mater's alumni magazine, her daughters reacted as if she had appeared in Time. The idea that her daughters are seeing someone who looks like them excelling in their ambitions continues to spur Mehta on.
And her daughters aren't the only ones to inspire her—when Mehta filmed an Inclusion Week video about her journey, she received a powerful response. "This was exactly my own experience," one comment on the video read. It's that kind of relationship, and that kind of connection, that matters most to Mehta.
***
Expertise Spotlight
Ansa Assuncao LLP has a dynamic national litigation practice focusing on catastrophic negligence and product liability cases involving vertical transportation systems, trucking and vehicles, industrial facilities, and consumer products. We have an active national class action litigation practice (state and federal) and are well versed in ICC international arbitrations. Ansa's appellate practice has successfully handled appeals in many state and federal jurisdictions, including the United States Supreme Court—see McIntyre Machinery v. Nicastro, 564 US 873 (2011): limiting personal jurisdiction over foreign corporations. We have successfully litigated cases in forty-nine states and twenty-one federal jurisdictions.
Ansa maintains regional offices in Philadelphia, New York, New Jersey, Florida, Maryland, and Ohio. Our offices are equipped with state-of-the-art information technology systems and advanced communication and connectivity, leveraging internal databases, subscription-based online research, data aggregation, and investigation services to maximize our effectiveness in all jurisdictions. Ansa's trial attorney partners serve as core counsel for three Fortune 100 companies, and we have developed and maintain a fifty-state compendium of law and cloud-based litigation support platforms for all national general liability litigation. Ansa's track record of trial success is unmatched.
***
Freeborn & Peters LLP:
"Divya is an exceptional yet approachable leader who has a keen, analytical mind. Her team doesn't hesitate to raise tough issues with her, and her insights have been invaluable as we've worked through complex, sensitive litigation."
–Gia F. Colunga, Partner
***
Higgs Fletcher & Mack:
"Divya is a results-driven thought leader with boundless energy to confront complex issues with compassion and trust that inspires her team. It has been my great pleasure working with Divya over the years."
–Tim Noon, Partner