As a partner at two major law firms in the Washington metro area, Antony (Tony) Klapper grew accustomed to complex cases and big wins. He also got used to the often short-term nature of relationships between companies and outside counsel, particularly in the litigation space. Five years ago, Klapper made the jump in-house. Today, as deputy general counsel of product liability and regulatory at Volkswagen Group of America (VWGoA), he's developing deeper relationships, protecting the German automaker from excessive risk, and having the time of his life.
Klapper says that after more than twenty years in firms, the opportunity to serve just one client is a welcome change. "Working in-house at Volkswagen is the most rewarding job I've ever had because I get to know people at a deeper level, analyze an industry and ongoing issues in a profound way, and then leverage my skills and lead a team to make an impact that we can all see and feel," he explains.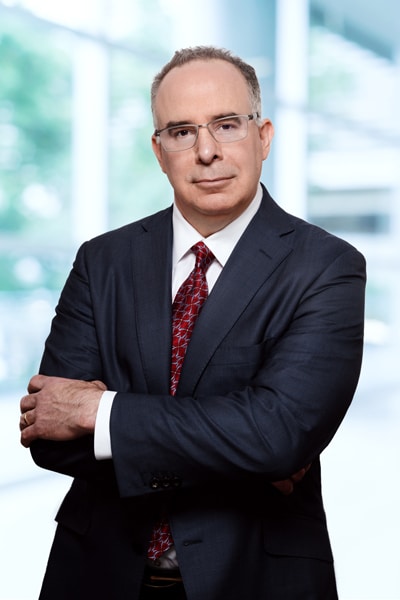 Klapper's colleagues attest to his abilities. "Tony is an outstanding lawyer," says Bob Giuffra, vice chair of Sullivan & Cromwell. "He is a master strategist who never loses sight of the forest for the trees. He's achieved great results for Volkswagen."
"Tony combines the highest levels of legal skill and experience, work ethic, integrity, and creativity in a way that brings out the best in everyone with whom he works," says Michael Gallub, member/director of Herzfeld & Rubin, who has represented the Volkswagen Group Companies for many years. "His superior analytical and creative thinking, together with unique team-building skills and appreciation of others, serve the company's interests in the most effective way."
For Klapper, the chance to work at VWGoA in the age of technology is a special opportunity. Lawyers on his team have the chance to assist the company in introducing new features, accessories, and technologies into their products and compete with other companies to roll out the very best in electric and autonomous vehicles.
Klapper knows that industry success in this era takes more than just lawyers; it requires an engaged interdisciplinary team with a clear vision about the future. He manages what he describes as a "wonderful team" of more than thirty professionals known as the company's product analysis group (PAG). Together, they help evaluate Volkswagen's offerings and defend products in litigation and regulatory matters.
In building his team, Klapper has helped bring together under one "virtual" roof a diverse array of lawyers, paralegals, engineers, technology experts, billing specialists, and jack-of-all-trades utility players to help the group defend legal matters and advise the business.
"Good leaders need to welcome the input and creativity of everyone into the team. If you fail to do so, you miss out, and the product or services you provide suffer."
"We need more than legal minds on the team because we can't help build an effective defense or business strategy unless we really understand how our company's vehicles and products actually function—and what is important to the company and our customers," Klapper explains. "The thorny questions we answer are by nature interdisciplinary and require input and insights from several sources."
Klapper's work with his diverse team has not gone unnoticed. "Tony is an exceptional lawyer," says Paul Collins, partner at Nelson Mullins Riley & Scarborough. "He assembles diverse teams of lawyers and nonlawyers to evaluate difficult legal problems. This allows him to see the issue from different disciplines and perspectives, resulting in better long-term solutions."
After his decade at Kirkland & Ellis and another decade at Reed Smith, Klapper was a managing director at a consulting firm, where he helped trial attorneys develop strong case narratives and craft compelling arguments for judges and juries. There, he saw how everyone from PhD jury consultants to graphic designers to administrative assistants made equally valuable contributions.
"Good leaders need to welcome the input and creativity of everyone into the team," he says. "If you fail to do so, you miss out, and the product or services you provide suffer." Whether the PAG is defending a class action suit, counseling on National Highway Traffic Safety Administration requirements, or advising marketing teams on print and TV ads, all members of the team are invited, encouraged, and expected to contribute.
Subscribe Now
Receive stories like this one in your inbox every two weeks!
Subscribe to the free Modern Counsel newsletter.
In fact, Klapper believes so strongly in the value nonlawyers can bring that he's looking for new ways to leverage this insight at VWGoA, particularly for those matters that they are contemplating bringing to trial. For example, he is planning to involve volunteers from the company's other departments to "pressure-test" narratives before they are finalized for trial.
"These are real people who might be our jurors, and their reactions can help us know and understand what's working, what's not, and what we need to communicate more effectively," Klapper says.
While Klapper is enjoying his time in-house, his big firm days have prepared him for where he is now. At Kirkland & Ellis, Klapper was part of a national counsel team for a large, well-known American car company and for a tire manufacturer defending recalls and class actions. At Reed Smith, he helped coordinate broad litigation matters for clients in manufacturing, financial services, hospitality, and other related industries.
Serving in a broad, national coordinating counsel capacity helped Klapper develop skills that make him feel at home in a large German company. He's organized, precise, and energized by the opportunity to work in an international environment and closely with his German parent. Additionally, he's always on the lookout for efficient ways to tackle problems.
In fact, Klapper's products advisory group has worked hard to find ways to cut back on legal spend.
"Teamwork and respect, in particular, are two things I consider absolute musts. Nobody on this team is more important than anybody else, and we simply can't be successful without a committed team."
This focus on predictability and transparency extends to Klapper's team too. Maintaining a positive culture of inclusion, communication, and respect is one of his most important goals. "Teamwork and respect, in particular, are two things I consider absolute musts," he says. "Nobody on this team is more important than anybody else, and we simply can't be successful without a committed team."
Creating that culture starts with hiring the right people. Volkswagen has a robust selection process with multiple rounds of interviews. Conversations and questions during the process focus not only on the skill sets necessary to do the job but on what Klapper calls the "quality of the individual." He's looking for principled and ethical people whose values match both the department and the company. 
Like most automakers, the Volkswagen Group is "all in" on electric vehicles and on becoming a more sustainable company. The company has invested billions of dollars worldwide to expand EV production capabilities, including in the United States.
Volkswagen started rolling out its electric only model, the ID.3, in Germany in 2019, and up to one thousand new employees will be needed to work at a freshly expanded site in Chattanooga, Tennessee, which will produce the first US-made ID.4, a sport utility vehicle, in 2022.
By the end of 2030, 50 percent of all Volkswagen sales will come from battery-electric cars. The only way to get there is through new products filled with technology and innovation.
Klapper views his team as a critical player in protecting Volkswagen as it researches, engineers, and releases those products. In the process, he is reaching his personal goal of deepening relationships and making a positive impact.
***
Expertise Spotlight
Sullivan & Cromwell provides the highest-quality legal advice and representation to clients worldwide. The firm's record of success and unparalleled client service has set it apart for more than 140 years and made the firm a model for the modern practice of law. Today, S&C is a leader in each of its core practice areas and geographic markets. The firm advises a diverse range of clients on major domestic and cross-border M&A and corporate finance transactions, high-stakes litigation, and corporate investigations as well as complex regulatory, tax, and estate planning matters. S&C comprises more than 875 lawyers who conduct a seamless, global practice through a network of thirteen offices located in key financial centers in Asia, Australia, Europe, and the United States.
***
McGuireWoods LLP:
"Tony came to Volkswagen with vast experience in litigation at the highest levels. Using his knowledge, leadership ability, and tremendous work ethic, Tony built an effective team that collaborates with outside counsel to deliver results."
–Terrence M. Bagley, Partner