Principal and Assistant General Counsel Eliot Cotton came to Riverstone Holdings at the beginning of 2018 because of the firm's reputation as an innovator in the private equity industry. "I don't think of Riverstone as a traditional private equity fund," he says. "I really think of us as an intellectual group of innovators. I wanted to be a part of creating something new and working with my team allows me to do that."
Cotton's outlook is, in many ways, a perfect summation of the lawyer's own résumé and expertise. Even as early as his college job, Cotton was interested in finding a way to move the conversation forward, whatever that might entail. While an undergrad at the University of Texas, the lawyer-to-be worked for the University of Texas System, aiding a handful of lawyers working in collaboration with the state legislature, the governor, and other educational institutions in creating legislation that benefited students and helped advance the collective goals of all stakeholders.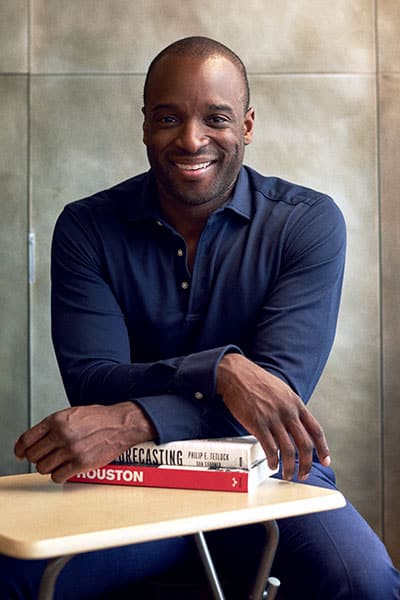 "The idea of working toward a better future has been central in my education and life experience. That idea is at the core of how I think about the practice of law and where I hope to take my career," Cotton explains.
There's something special about a conversation with Cotton. When recalling his previous endeavors, a clear care and consideration about the ways his roles impacted him is readily apparent.
Whereas many attorneys may spend a great deal of time figuring out what they don't want to do, Cotton seems to have an innate sense of self, of purpose and of how to get where he wants to go. He is that rare legal professional focused on merging his ideals and his day job into one cohesive identity.
Ability Meets Mission
Cotton's most impactful role prior to coming to Riverstone was an all-encompassing seven-year associate job at law firm Vinson & Elkins (V&E), where he had the chance to build a vast knowledge base. While learning the fundamentals of being a transactional attorney, namely understanding both the client's needs and how to best serve their interests, the lawyer still always focused on growing his skill set and perfecting his craft.
"I wound up doing capital markets and private equity M&A," Cotton recalls. "Then we hired a guy from Goldman Sachs who did fund formation, so I started doing that too." Cotton would eventually go even deeper on this front at Riverstone, helping create special purpose acquisition companies (SPACs), a growing trend that yielded more than $21 billion of raised capital in 2020 alone, according to Investopedia.
Cotton's skill set grew exponentially, and he credits V&E with allowing him the latitude to work with entrepreneurs and help build out the firm's New York venture capital and emerging company practice. Yet he still felt like he wanted to be closer to where the most long-range planning and strategizing was taking place. When Riverstone, one of V&E's largest clients, inquired if Cotton might be interested in going in-house, the stars seemed to line up.
"I came here because, first, I wanted to be inside the room where those important decisions were being made," Cotton says, "and because my role allows me to have an impact on strategy and decision-making."
The lawyer's second reason for coming to Riverstone seems very unlawyer-like in terms of risk aversion. "I wanted to go somewhere where I knew I could be on the forefront of an industry," Cotton says. "Here, we are leaders and pioneers in the space, and in a rapidly evolving market, you can't just look up precedents and try to replicate what's happened in the past. Our job is to build something new, and I love that."
The Greatest Challenge of His Lifetime 
Generating returns for investors may be Riverstone's final result, but their path there is something else entirely. The firm has focused significant investment in renewable energy sources for fifteen years, a portfolio that has served both the environment and Riverstone's investors well. That focus has only grown.
"Two years ago, we decided that the future of the economy was really going to be based around transitioning the global economy away from fossil fuels and toward more sustainable footing," Cotton says. "As a firm that has traditionally been a leader in the energy space, we felt that when it comes to decarbonization and energy transition, there's no better platform than ours to help push that forward."
"It's a privilege to work with Eliot and his team at Riverstone," says Bailey & Glasser Cofounder and CEO Brian Glasser. "Eliot's dedication to creating a more sustainable energy industry is important and meaningful."
Cotton says that Riverstone team can differentiate the past from the future. The company understands that instead of sticking one's head in the sand, embracing the current climate crises as a challenge to be overcome just makes sense.
"This is both a personal and professional privilege for me," Cotton says. "First, it's something that our investors are demanding and eager to be a part of. Secondly, I believe that decarbonizing the economy is one of the greatest challenges we'll face in my lifetime. It's an immediate concern, it's a moral concern, and it's a privilege to be in a position to support these efforts."
From his seat, Cotton says it's imperative to make sure that he's up to speed on policy, on markets, and on consumer sentiment. He must understand where the regulatory governance bodies are heading and how Riverstone can take appropriate advantage of the opportunities that legislation presents.
"We're able to tackle energy investment from several different sides within Riverstone," the AGC explains. "With both our private equity side and our credit side, we're able to attack the same problem from different perspectives."
Riverstone is currently interested in energy efforts like the electrification of transport, the next generation of liquid fuels, and new agricultural practices, all of which are aimed at reducing, if not eliminating, huge carbon footprints. "All of this is a great way to make money," Cotton says. "But what's important to Riverstone, and important to our investors, is that we're able to positively affect society and all of our futures."
The Cutting Edge
At Riverstone, Cotton has found the perfect mix of advancing a company mission from the inside while also working on the front lines of a future that has yet to be written. What sets Cotton's role apart is the fact that in an undefined space, his judgment and counsel must be sound, even if he's dealing in areas of the law that may not exist yet.
The idea of risk mitigation, an imperative balancing act for any in-house counsel, seems even more paramount for Cotton, though the legal precedents may be so few. But it's precisely what makes his role all the more pressing—and all the more impactful.
"We're working with amazing law firms, consultants, and our team to pave a way forward for all of us," Cotton says. "This isn't an opportunity that many lawyers get," he adds. "The entrepreneurial spirit of this place allows you, or forces you, to grow."
Imminent Breach
Eliot Cotton supports many efforts at Riverstone Holdings, including the traditional private equity business, credit funds, the firm's decarbonization efforts, its SPAC franchise, diversity and inclusion, as well as the firm's cybersecurity team. On the cybersecurity front, Cotton is tasked with balancing privacy with the knowledge that one data breach can bring down an entire firm.
"It's not good enough to just be OK," Cotton explains. "You have to be excellent in this area. You have to be proactive and know that when, not if, an issue occurs, you're not fumbling around trying to figure out who to call."
Cotton says trusting experts in the area is essential. Together with Axio, Riverstone has created minimum standards for IT and OT (operational technology) environments, identified and rectified areas where both they and their partners need to improve, and created an after-action team that stands at the ready to respond to any incident that might occur.
"Eliot Cotton was instrumental in designing and leading Riverstone's cybersecurity efforts for portfolio companies with the Axio360 platform," says Wassie Goushe, a senior cybersecurity engineer at Axio. "He is forward-thinking, collaborative, and a dedicated partner, helping orchestrate the necessary harmony across Riverstone's diverse investment portfolio."