It takes six attempts (and several call failures) to reach Alyssa Schindler for her Modern Counsel interview, as the senior counsel has just arrived in Lagos, the largest city in Nigeria, and is still in quarantine. She's not there to experience the Calabar Carnival, to explore breathtaking landscapes, or to go on a safari—she's in West Africa to negotiate government contracts on behalf of Chevron.
While the expatriate assignment would intimidate some lawyers, Schindler calls it a dream job. She's been a traveler and self-proclaimed wanderer her whole life. It's in her blood. Schindler grew up in Reno, Nevada, as the daughter of a single mother who was always in search of a better life. That search took Schindler from Nevada to California to Hawaii to Louisiana, all before her high school graduation.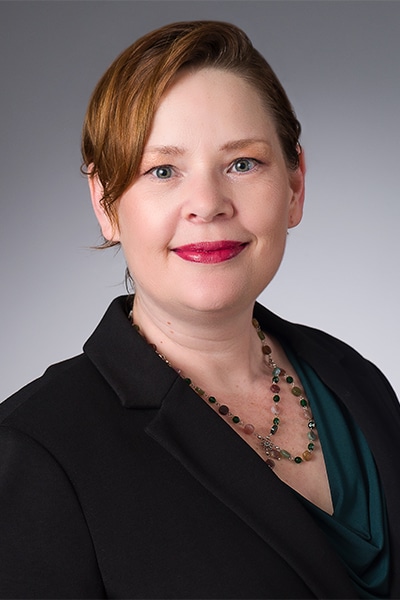 Schindler didn't grow up with the latest gadgets and luxuries, but she did have a TV. She remembers watching Corbin Bernsen and Jimmy Smitts on LA Law. "I decided early on that I wanted to go to law school because I saw the opportunity to change the trajectory of my life through education," she says.
Few in Schindler's family had been to college, and even fewer had pursued advanced degrees, but nothing could deter her. She completed her undergraduate studies in French (which included a year abroad), applied to the George Washington University School of Law, and hit the streets of DC with nothing but five hundred dollars in her pocket.
While her classmates settled into apartments and dorms, Schindler took shelter in a local hostel. Days later, she discovered bed bugs. Suddenly, the young and determined student was homeless. After a few nights spent sleeping in a chair and losing herself in legal textbooks, she found a roommate and settled into the college experience.
In her third year (while also managing the front desk of her building and working as a research assistant), Schindler clerked for Joel Greene, an attorney who represented a large public power utility in natural gas pipeline contract proceedings. Working for a solo practitioner helped her learn everything from client management to billing to the day-to-day of running a legal practice. She followed Greene to a firm, gained more experience in natural gas litigation, and later went in-house with NiSource, where she negotiated large commercial agreements, led compliance training programs, won settlement agreements, and helped form core business strategies.
In 2015, Schindler joined Chevron for the chance to work for a multinational organization. She started as the lead attorney for regulatory and commercial matters for Chevron Pipeline Company's assets in the Gulf of Mexico before moving to the organization's midcontinent business unit, where she's coordinated several multimillion-dollar midstream transactions.
Schindler was growing in her career and flourishing as an in-house attorney, but her hunger for adventure never faded. "I've always wanted to see the world and experience new cultures, and I don't think we have to save that to do strictly on our off days or upon retirement," she says. "I wanted my love of travel to come into my professional life, and I made that desire known."
Department leaders and immediate supervisors supported Schindler's goal and helped her prepare. "I knew that if I wanted an international assignment I would have to work harder, so that's what I did," she says. She pushed herself to study all facets of the business from pipeline to production, raised her hand for projects with cross-functional teams, bulked up on knowledge about upstream gas and oil exploration, and volunteered to chair an internal pro bono committee.
Although Chevron has been active in the region for six decades, the Nigerian government just passed the Petroleum Industry Act (PIA), which created a whole new legal, governance, and regulatory framework. Chevron needed a new legal leader in the field, and Schindler was ready. She's now getting in place to understand PIA's impact, support regional colleagues, facilitate connections with other business units, and bring the operational expertise necessary to produce the energy that will propel local communities forward.
Schindler expects life in Lagos—a metro area with twenty-four million people—to be challenging and rewarding. She's planning to remain flexible in both her personal and professional lives. "People working abroad shouldn't expect to duplicate their normal routines, and I see this as a chance to make my role into something special," she says, adding that she's less focused on herself and more focused on helping Chevron reach its goals and supporting her direct reports. She also hopes to find unique opportunities to offer pro bono legal services in her host country.
In companies like Chevron, foreign assignments typically last three or four years. Schindler doesn't know exactly what projects she'll be working on or even how long she'll be in Africa. She's OK with the uncertainty. "Narrow expectations often lead to disappointment," she says. "If your eyes are fixed on just one destination, you might miss some really interesting detours along the way." Schindler's eyes are wide open, and she plans to travel the road less taken.
---
Baker Botts L.L.P.:
"Alyssa is a top-notch lawyer. She quickly converts the analysis of complex legal issues to practical solutions for her team. Alyssa is an overall positive person and a joy to work with."