Tunisia Poole was in her thirties, and life was going exactly as planned. Personally, she was a new wife and mom. Professionally, she had received several promotions in her role as an in-house attorney for a Fortune 200 company.
But suddenly, the first-generation lawyer had an epiphany. She had already accomplished the goal she set while studying at the University of Maine School of Law. She was leading an effective labor and employment team at a large corporation. With several decades of her professional career still ahead of her, it was time to aim higher. That's when Poole set her sights on a new goal: becoming a general counsel (GC).
Poole started her career as an employment law associate, working at large firms to gain the experience necessary to thrive as an in-house attorney. In 2013, she accepted a position with Aflac. A year later, she was promoted to lead the corporation's employment law team, and in 2017, she was promoted again to become an officer of the company.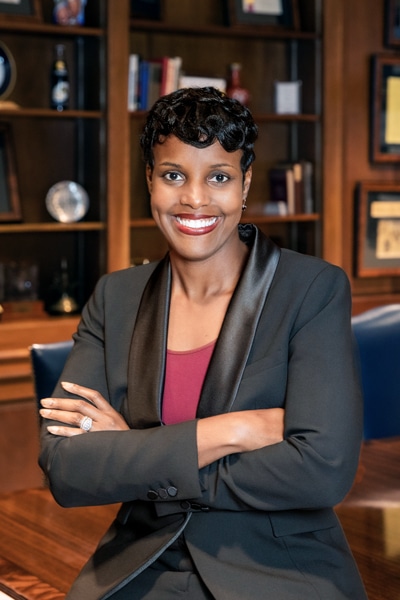 When Aflac decided to eliminate 1099 roles in thirty-nine US states and then create new W2 roles, Poole worked tirelessly to achieve the company's objective in fewer than ninety days. She demonstrated the ability to multitask, spot issues, and manage a large project laden with compliance issues and other complexities.
As mentors, colleagues, and outside counsel observed Poole at work, they complimented her instincts and judgment. Several individuals encouraged her to consider becoming a general counsel, but for Poole, the idea was a new one. "I had developed expertise in one area of the law and assumed a GC had to know everything," she explains. "I started to realize that I have good instincts and could become more of a generalist. Every general counsel relies on a great supporting cast."
Poole's newfound GC aspirations heavily influenced her next career choice. In 2018, after more than five years at Aflac, she left the lead supplemental health insurance provider to join Southwire—one of North America's largest wire and cable producers—as senior counsel. While Aflac and Southwire employee headcounts were similar, Southwire's lean legal department gave Poole the chance to broaden her skills.
"I came here because I knew there would be the opportunity to raise my hand and take on work outside of labor and employment. There is a lot of work to do, and if you're willing to take on additional responsibilities, you get a shot," she says. Poole also spent time getting to know Southwire's current general counsel, Burt Fealing, who she says is committed to grooming aspiring leaders and providing essential professional development opportunities.
In 2019, Poole became a vice president and associate general counsel. In her current role, she's responsible for labor and employment globally, commercial litigation, and leading legal operations, which focuses on processes, procedures, and technologies that improve the efficiency of Southwire's legal function.
Poole manages two senior attorneys who handle commercial agreements and other legal matters. The strategic move to Southwire is helping expand her knowledge of various legal areas as she acquires the skills necessary to grow in pursuit of her career goals.
"I started to realize that I have good instincts and could become more of a generalist. Every general counsel relies on a great supporting cast."
Poole has been active in her first few years at the Georgia-based company. She serves on the COVID-19 steering committee, advising on novel legal issues presented by the pandemic. She has also revised outside counsel guidelines, drafted engagement letters for preferred legal services providers, and worked with her supervisor to identify a matter management tool. All these projects have helped the legal department—and the overall business—increase efficiency and reduce costs.
In addition to improving legal operations performance, Poole says she's focused on excellent customer service. "Legal provides a service, and if we don't offer an excellent customer experience, our internal clients won't engage legal on the front end, where we provide the most value," she says.
For Poole, good customer service starts with responsiveness. She's taken a few small steps to improve the legal function's communication style. For example, she asks everyone on her team to simply let clients know when their workload increases and advise clients on the turnaround time for work product. Partners and colleagues know to mark important emails as "urgent" and provide a deadline when a response is required.
Poole encourages other attorneys with similar aspirations to raise their hand to take on new assignments, even if it results in an increased workload. "You have to be vocal and you have to step outside of your comfort zone. Acquiring the skill set to become a GC isn't easy. I'm working a lot right now, but I'm willing to make sacrifices to get there. I'm not focused on the short term," she says. "I'm focused on achieving my long-term career goal."