The Office of the General Counsel (OGC) for the University of Missouri System includes a valedictorian, a Rhodes Scholar, and state bar association award winners. Many of its members hold multiple degrees and have served as law clerks for judges in the US Court of Appeals, the US District Courts, the Missouri Supreme Court, and the Missouri Court of Appeals. They've practiced in the Department of Justice, the Attorney General's Office, and at the nation's top firms. Many of them took pay cuts to move to Columbia, Missouri, and join the OGC.
Stephen Owens, who leads the team as general counsel, is one of them. A University of Missouri and Wake Forest University School of Law graduate, Owens served as a federal court law clerk and spent twenty-six years at the large Kansas City–based firm Stinson, where he chaired the litigation department and earned spots on The Kansas and Missouri Super Lawyers and The Best Lawyers in America peer review lists.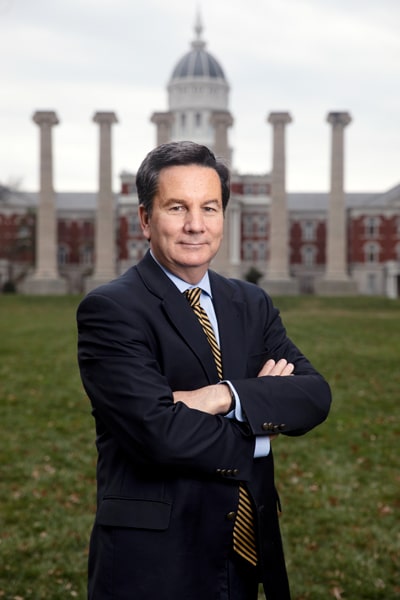 In 2008, Owens left private practice for his current role. "I was really happy where I was, and I was certainly making more money, but the opportunity to work in higher ed at my alma mater was too great an opportunity to pass up," he explains. "I've always felt that, next to faith, education is the great equalizer, and that motivated me to come here." The opportunity also allowed him to serve in interim positions as system president and university chancellor.
The University of Missouri System includes four universities, an academic medical center, and an extension program, with seventy thousand students total enrolled at the land-grant and research-intensive institutions. Many universities have specialized teams of lawyers assigned to certain tasks at each campus and might even rely on their state attorney general for litigation services. But in the University of Missouri System, one dynamic team works to provide a broad array of services.
That comes with unique challenges: at any moment, Owens and his colleagues might receive questions related to faculty or staff employment, commercial transactions, athletics, student rights and welfare, gifts and fundraising, medical malpractice, or healthcare. Owens inherited the structure, and while he's fielded suggestions to change it, he believes the current setup works best. "The legal advice one centralized team provides to a large university system is consistent, cost-effective, and independent of local influences," he says.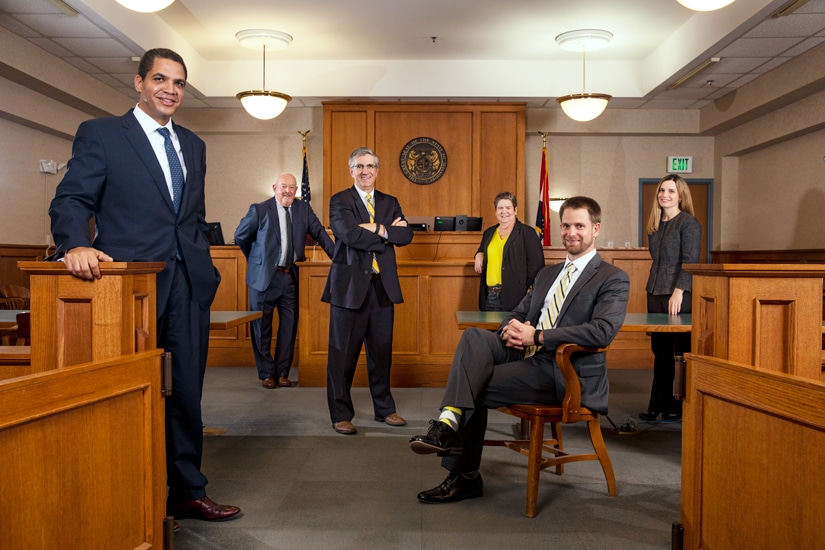 All personnel work together at the Columbia campus, which creates important synergies. A lawyer working in one practice area can easily get input from a colleague with different expertise on any legal matter that may arise. Owens gives much of the credit for the office's success and smooth operation to Deputy General Counsel Paul Maguffee, a Missouri native and Michigan Law School graduate.
Currently, chief healthcare lawyer Robert Hess, a double Vanderbilt graduate and former law clerk for the Missouri Supreme Court, handles legal issues related to the $250 million NextGen Precision Health Initiative, which includes the largest building project in system history. Jenelle Beavers, a Michigan Law School graduate and former DOJ lawyer, is handling the philanthropy issues associated with it.
Owens is also helping the University of Missouri Science and Technology set up schools, institutes, and scholarships funded by June and Fred Kummer's recent $300 million donation, one of the largest gifts ever made to a public university. "There are not always preexisting boilerplate forms for us to follow in our work," Owens says. "Many unusual circumstances require us to think and work outside the box."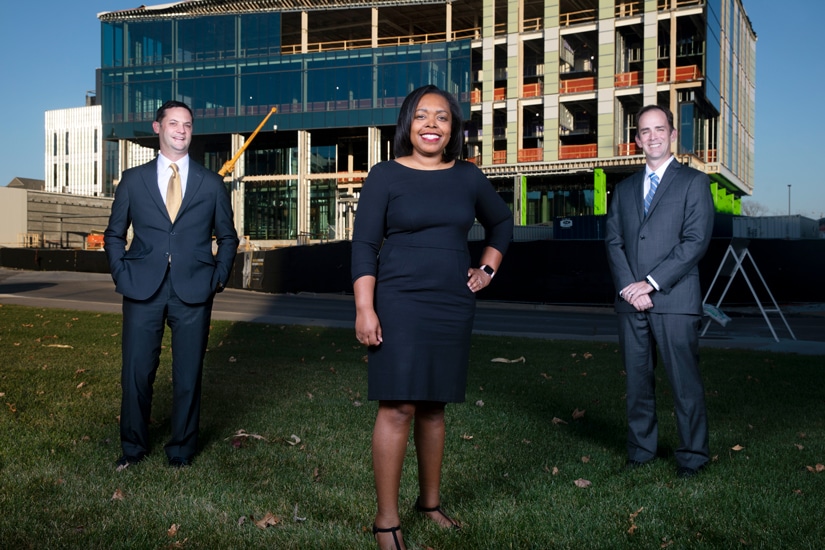 When faculty and researchers invent or discover something new as part of their employment, any intellectual property created is owned by the university system—which means that the OGC needs a strong IP and transaction team. When it came time to hire an IP lawyer, Owens wanted someone with a proven track record and good academic credentials. He found Lana Knedlik, a former law firm partner with degrees in chemical engineering, biology, and pharmaceutical sciences as well as a patent license.
Knedlik, a University of Kansas School of Law alumna, clerked on the US Court of Appeals for the Tenth Circuit. Owens often pairs her with transactional lawyer Matt McNamee, a University of Chicago and Boston University graduate who honed his skills at national firms in Boston and the Midwest before coming to the university.
Recruiting such highly qualified lawyers can be difficult. "I have to find excellent and experienced lawyers with expertise in specialty areas and then convince them to move to the middle of Missouri for less money than they're currently making," Owens says. But he does have one major advantage: Owens knows that, like him, many lawyers are looking for meaningful work. A university system like Missouri affords top lawyers a unique opportunity to do cutting-edge work as part of a collegial, high-performing team.
Seeing students graduate is particularly rewarding for Owens, who attends at least one graduation per year. He says the best part is when a student becomes the first in their family to graduate and he can hear proud parents cheering from the crowd. "It's a great feeling to know that you've supported a system that has made a real impact in someone's life," he says. "It's a perfect reminder of why we chose to serve in higher education."