Most adults remember bike rides and birthday parties from when they were kids, but Pam Reynolds has childhood memories only Hollywood could provide. She saw Elton John's legendary concert at Dodger Stadium and watched E.T. at the Cinerama Dome on Sunset Boulevard. Reynolds has carried her love of film and entertainment into her professional life. She remembers standing in line to see Roger Moore as 007, and now she supports marketing and distribution of the James Bond movies at MGM Studios, most recently the 2021 motion picture No Time to Die.
It's just one of the many things Reynolds does as executive vice president of business and legal affairs, distribution, operations, and marketing. It's a long title created to represent what in some ways has evolved into a catch-all position. Reynolds has a simpler way to describe what she does. "I'm the Swiss Army knife of our legal department," she says.
Although Reynolds's father is an entertainment lawyer, she didn't set out to follow in his footsteps. Instead, she studied international relations at the University of Pennsylvania. Reynolds grew up playing competitive sports, and when a male friend recruited her to join the rowing team, she accepted. Suddenly, Reynolds was anchoring the men's freshman heavyweight crew team as its coxswain. She says the experience helped prepare her to be comfortable in the intimidating, male-dominated world of show business.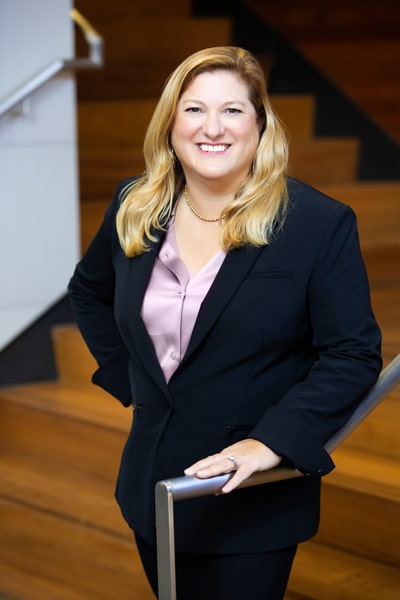 It wasn't always an easy path. Upon graduation, Reynolds returned to California and became just the fourth woman accepted into a competitive trainee program at the esteemed William Morris Agency. She soon became the third woman to quit. "Hollywood in that era was crazy and sexist in many ways," she says. "It wasn't an inspiring place. There was nobody I wanted to become. I couldn't point to one female and say 'I want to be like her.'"
The stark reality compelled Reynolds to pursue another path and drove her to the Gould School of Law at the University of Southern California. She later spent six years working as a litigator at local firms. Although Reynolds excelled in the courtroom, she admits the setting was not her "happy place." She was considering a change, and when a friend left Paramount Pictures, Reynolds went in for an interview. She landed a job as a senior attorney in home entertainment and worked in a building that once housed dressing rooms for major studio stars like Grace Kelly and Audrey Hepburn. It didn't take long for Reynolds to realize she belonged in entertainment law.
Reynolds started as a video lawyer, and as DVDs emerged, she quickly adapted to become a generalist. "Breaking into entertainment when I did helped me learn to adapt because this industry is always changing and evolving," she says. To keep pace, Reynolds developed and perfected her legal skills in sales, distribution, marketing, acquisitions, production, and operational issues. In no time, she became a true jack-of-all-trades.
And the Award Goes To . . .
For someone who loves movies, an Academy Award is the highest honor. And while Pam Reynolds may never win an Oscar, she has received the next best thing. Last year, she was invited into the Academy of Motion Picture Arts and Sciences. Inductees don't apply; they're sponsored. And while most members of the exclusive organization are actors, directors, and other artists, Reynolds's sponsors recognized her significant contributions in movie distribution and marketing. Reynolds joined the Academy's executive branch in a diverse 2020 class that was 45 percent female. The group of 819 included 75 Oscar nominees and 15 winners. Reynolds will vote for Best Picture and other awards for the first time in 2021.
In 2001, Reynolds moved to MGM. She has spent the past two decades building a reputation as one of the industry's leading legal talents. "I'm known as someone who does it all because I always say yes to whatever legal work comes my way," she says. "I'll take whatever work doesn't fit into a neat little category."
She also credits the expansion of her portfolio to a couple supportive bosses over the years, who have recognized her abilities and given her the opportunity to grow. Today, Reynolds manages many of MGM's legal affairs across the board, including marketing, distribution, privacy, licensing, home entertainment, technology, operations, and stage productions.
During her time with MGM, Reynolds has been able to promote some of Hollywood's biggest franchises, including Rocky, The Pink Panther, and The Addams Family. She has also now worked on five James Bond films, managing important relationships with global brands like Heineken, Omega, Jaguar/Land Rover, Nokia, and Cola-Cola with her counterparts in marketing and production. Reynolds says that much of her work involves setting up guardrails for MGM's business teams so that they can spend more time being creative and less time dealing with tricky situations.
Over the past few years, Reynolds has also become more involved on the business side of distribution and marketing. She has become the in-house expert on stage productions based on MGM's intellectual property and has spearheaded brand expansion into alternate distribution methods, such as films with concerts and experiential events. In 2019, she was able to preview Secret Cinema's Casino Royale in London, a deal she oversaw from inception through production. She describes the show as a cross between immersive cinema, interactive theatre, and good old-fashioned partying. The four-month show entertained over 120,000 people, placing the film back in the UK Top Ten Box Office during the entirety of its run.
After more than two decades at MGM, Reynolds is more excited than ever about where the studio is going. "We reinvent ourselves all the time, and that's what I love about working in entertainment law," she says. Last year, MGM relaunched Orion Pictures in an effort to focus on developing, producing, and acquiring feature films that amplify underserved voices, both in front of and behind the camera. "There are important stories to tell, and I get to be a small part of that," she adds.
Years after leaving the William Morris Agency mailroom, Reynolds is thriving in what was once a man's world. As an MGM veteran, she's often the go-to mentor for newer employees. Some call her the "Mayor of MGM." Others call her the "team mom." "I'm not sure I like either of those monikers," she says, laughing, "but I do believe in helping others find excellent opportunities to show off what they can do."