The daughter of two engineers, Smrithi Mohan thought she might follow her parents' path, especially when she showed a knack for coding and robotics at an early age.
"I really enjoyed designing websites and learning programming languages, and I had a lot of exposure to these advancing technologies," shares Mohan, now a senior attorney and leader of global innovation and intellectual property strategy at Dun & Bradstreet. "I was interested in technology as a whole."
In college, however, she realized that a tech career was not for her, which ultimately led her to law.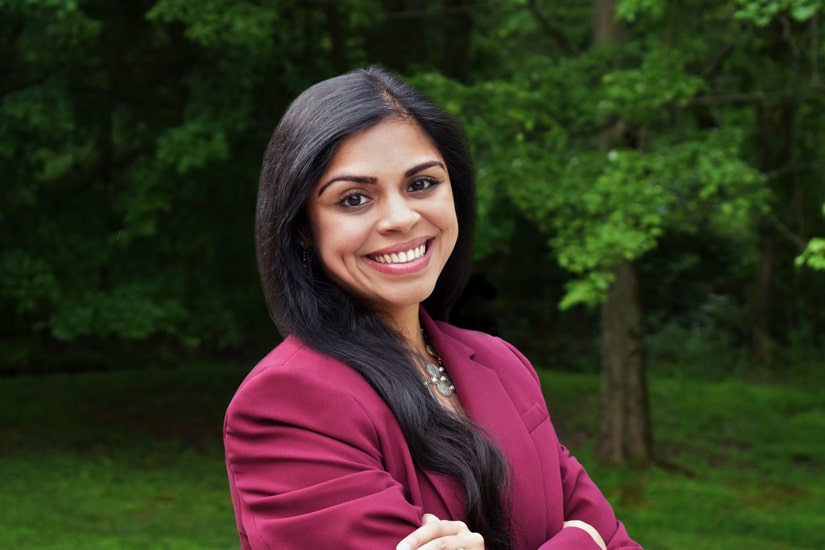 "A few people who were close to me told me that the combination of my technical background and analytical way of doing things would be ideal for a career in law," Mohan notes. "I looked into it, and it seemed like a great fit for me."
She obtained her JD after two years at the University of Arkansas in Little Rock and one year at Brooklyn Law School, taking a variety of intellectual property law classes. Her first job out of law school, at a boutique firm in New Jersey, afforded her the opportunity to do a lot of soft IP work. Not long after, she landed a job as the first legal counsel at a cybersecurity company based in Princeton, New Jersey.
"As the only legal counsel, I took up a lot of work that was not just IP—a lot of the corporate work and different HR-related matters. In the process, I did a lot of managed software and API licensing and handled a lot of cyberlaw issues," she explains. "It was a very good experience."
In 2013, Mohan took a position with Dun & Bradstreet in Short Hills, New Jersey. She started as a contractor, growing into her current role over seven years.
"As I continued to prove myself, my role expanded, and I started working on a variety of third-party alliance contracts, vendor negotiations, and technology agreements," she notes. "I really began to grow my base in terms of what I did."
Eventually, Mohan was charged with building an IP program from scratch, which she cites as one of the most exciting experiences of her career.
Originally, Dun & Bradstreet brought in an outside IP lawyer, Janet Parkhurst, for the job. But as she started peeling back the layers of work, she realized she needed support, given the business's growing needs. That's where Mohan came in.
"Because of my technical background and because I had a relationship with some of the technology team already, it made a lot of sense to move me into reporting to her and working on IP," Mohan says. "I got promoted, and because this was so new, I had the chance to make the position my own. As a leader, Janet promotes empowerment within our team, and she let me come up with my own ideas and run with them."
"I've learned that as daunting as something may seem, everything is definitely possible."
Mohan dove into heading up the IP practice globally and putting together IP trainings, both company-wide and for specific teams.
"I've learned that as daunting as something may seem, everything is definitely possible," Mohan says. "Marjorie Scariati, my senior IP paralegal, and I have spent a lot of time socializing the importance of our program to our company, teaching team members about the importance of protecting our IP and how it can benefit them as well as the company."
When she first started developing the program, she focused on creating processes around patenting and trademarking.
"I knew I needed to build a connection with our technology, data science, and analytics partners globally," she shares. "I continue to optimize our program, training new hires and making sure team members understand there's a resource for them when it comes to technology and IP protection at large."
Looking ahead, Mohan hopes to launch a patent incentive program to bolster recognition of Dun & Bradstreet's inventors globally—and to share the innovations created by these inventors with colleagues worldwide.
"We have very involved quarterly meetings that allow us to make sure we are on top of whatever technology is being developed, the timeline, and what the roadmap is for the months and years ahead," she says. "IP and technology patents are exciting because we get to be part of our company's groundbreaking discoveries and solution developments. By meeting each quarter, we can do all that is necessary to make sure we have our patents drafted and ready to go as soon as possible so that we can stay ahead of the competition."
For women looking to follow in her footsteps, Mohan says that although she knows that IP tends to be a more male-dominated field, she encourages those with the drive to go for it.
"It isn't always easy, and you definitely have to really want it," she notes. "I would tell people not to doubt themselves and never waver from the goal. For younger women about to enter [the field], I would suggest finding a mentor to help guide your career. Find your edge and make sure you stand out."
That's been a key to Mohan's success.