Sharon Linder has always been driven. She got her first job when she was just fourteen years old and saved every dollar she could scrape together to buy a car. Two years later, she enrolled in a high school work program and took a job as a file clerk in a medical office that provided her with lunch. At night, she worked at a pizza place; on weekends, she sold cookware door-to-door. Once, at age seventeen, she worked as a telephone solicitor managing ten employees.
Linder wasn't just a teenager with a good work ethic—she had fled a difficult living situation, becoming an emancipated minor at age sixteen. With a dream of becoming a lawyer and no safety net, Linder was determined to make it. "I knew a better life was out there, and I wanted to follow my dream," she says.
The Grit to See Things Through
Although Linder didn't grow up surrounded by many positive role models, there were three people who influenced her from an early age. The first two were her grandmother who raised her and her great aunt, who was one of the first female lawyers admitted to practice law in the state of Florida. Both were strong, smart women. The third was someone she only knew from CBS television: Perry Mason. She admired his high moral compass and will to win.
By the time Linder earned a high school diploma, she had managed to save enough money to take a few junior college classes. A school counselor persuaded her to take the ACT. After she aced the standardized test, brochures from colleges around the country soon flooded her mailbox. A brochure from American University, with the allure of a foreign relations program in the nation's capital, caught her eye.
That summer she loaded up her car for the journey to Washington, DC, with the help of student loans and a job as a night clerk at the women's dormitory where she would live. In her first year, she landed internships at both the US Senate and US House of Representatives. Her study time on weekends was shared with jobs at a private country club and a bustling Georgetown discotheque.
With the dream of becoming a lawyer firmly cemented, two years later, Linder joined her fiancé in Florida and continued her studies at the University of Miami. She took an entry-level job as a file clerk—and was soon promoted to legal secretary—at a prominent law firm that supported a flexible schedule, allowing her to take sunrise classes, report for work, sit through lectures during her lunch hour, and return to campus at night.
When she enrolled at the University of Miami School of Law, she was promoted to a paralegal position and continued that work full-time until she graduated with honors. The firm's real estate partner mentored Linder through the nuances of complex real estate deals and seeded her passion for real estate.
While her path was anything but typical, Linder pieced together a quality education and the start of a promising career. "I'm determined and resilient, I work hard, and I know how to persevere," she says. "That makes me stand out. I have the grit to see things through."
Linder launched her in-house career with a job generating investment documents for a wealthy investor. Together, they closed million-dollar deals for restaurants, sports bars, health clubs, and other large properties. Then Linder spent eighteen years working for real estate developer Crescent Heights as its general counsel.
Crescent Heights develops residential skyscrapers, office buildings, hotels, and other properties in big cities and top markets. With a recession looming in 2008, Crescent Heights sold its domestic inventory. As general counsel, Linder used her real estate expertise to help the company reinvest its available capital on deals in large-scale international markets.
When domestic real estate markets recovered, Linder, on the heels of her accomplishments, was looking for a new challenge. She scanned the horizon with two goals. First, she wanted to leave Florida and experience life in Southern California. Second, she wanted a leadership role at a publicly traded company.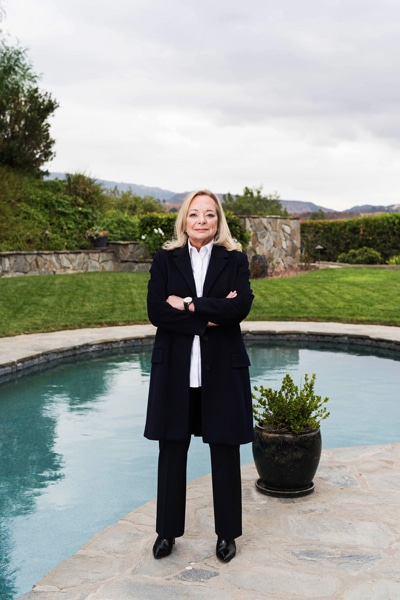 Upholding Core Values
Those goals led Linder to Public Storage, where she's worked as vice president and assistant general counsel since 2014 and serves as its chief real estate counsel. The brand known for being the country's leading self-storage provider is also one of the largest real estate companies in the world. Linder was brought on board to help the company execute an important strategic vision.
After years of working with builders and contractors, Public Storage was launching a new in-house development and construction department designed to limit costs and accelerate growth. With her depth of real estate expertise, Linder was a perfect match for the small team. First, she embedded herself in the real estate department to manage acquisitions and develop protocols and guardrails for development activity. Then she handpicked three other lawyers and a team of paralegals to help manage the high volume of new facility acquisitions, development deals, and related construction activity.
Since Linder's arrival, Public Storage has acquired more than $2.8 billion in existing storage facilities, undertaken $1.1 billion in new development, and invested $475 million in property redevelopment. The company has a current pipeline of thirty-nine properties with a combined footprint of 3.8 million square feet at a total cost of $556 million.
"I have had the privilege of working with Sharon for twenty-five years and know that she is a hands-on lawyer with tremendous technical expertise. I have the utmost respect for her as a knowledgeable attorney with impressive experience," says Steven E. Goldman, real estate practice shareholder for Greenberg Traurig. "Greenberg Traurig is proud to work with business leaders like Sharon, who are important contributors to our business community."
"I'm determined and resilient, I work hard, and I know how to persevere. That makes me stand out. I have the grit to see things through."
Seven years after her arrival, Linder and her colleagues have Public Storage positioned for continued growth. The self-managed REIT has 2,500 locations in North America and owns a piece of hundreds more in Europe through a joint venture with Shurgard. Storage units—which are popular in both good and bad economies—cost relatively little to maintain and operate.
With its in-house development and construction team firmly in place, the organization is buying land and building storage units at a record pace while retaining liquid cash for acquisitions in domestic and international markets. Although the company faces challenges in the COVID-19 environment, its heart has remained intact. "We're growing at a fast pace, but we're not sacrificing our core values," Linder explains. "Every employee plays an important role in upholding our values, and their dedication and commitment make our company strong."
Early in her career, Linder did the legal work for a joint venture. Her company rented part of its home office to Muhammad Ali's former trainer so he could open a boxing club and training center. When the press came looking for a promotional photograph, she gloved up and posed with an Olympic medalist. All these years later, Linder laughs at the memory. But in many ways, it's the perfect visual metaphor for her story. Linder chooses to see each unexpected challenge as an opportunity—and she's always prepared to step into the ring.
***
Expertise Spotlight
Greenberg Traurig (GT) has approximately 2,200 attorneys in forty locations in the United States, Latin America, Europe, Asia, and the Middle East. GT is consistently among the largest firms in the US on the Law360 400 and among the Top 20 on the Am Law Global 100.
GT's real estate practice is a cornerstone of the firm and a recognized leader in the industry. More than four hundred real estate attorneys from around the world serve clients from key markets in the United States, Europe, the Middle East, and Latin America. Property developers, lenders, investment managers, private equity funds, REITs, operators, joint ventures, sovereign wealth funds, international developers, and private owners look to us for diversified and broad legal services. We apply our skills to the full cycle of a real estate deal, providing a holistic approach for our clients. We handle property acquisition and investment, development, management and leasing, financing, restructuring, and disposition of all asset classes of real estate. We advise on a broad spectrum of commercial, recreational, and residential real estate, including structured equity, structured debt, and hybrid structures. We have a skilled hospitality legal team, including attorneys who have pioneered major developments within the industry.
***
Miller Morton Caillat & Nevis, LLP:
"Sharon is a master at balancing legal risk and good business. She exemplifies the ethics and professionalism of the best of our industry, and we are so pleased to be able to work with her."
 –Eric McAllister, Partner
***
Old Republic National Commercial Title Services:
"When the challenging events of 2020 disrupted lives personally and professionally, Sharon provided steady leadership to ensure her team, and industry-leading company, persevered through the moment."
–Michael Atkins, SVP, Sales Representative
***
Quarles & Brady LLP:
"Sharon is a thoughtful and dynamic leader with a clear and well-reasoned approach to sophisticated, fast-paced transactions on a global scale. It is truly a pleasure to work with her and the Public Storage team."
–Jason Wood, Partner