Michael Blackshear talks about his job with an unmatched confidence. He answers each question not with measured responses, but with fully formed ideas. He pulls the year of his father's honorable discharge from the United States Navy (1959) with the same automatic (yet passionate) aptitude with which he illustrates his own approach to the three lines of defense for an effective risk management model.
Blackshear has thought long and hard about what his job means, how to perfect the role, and what it takes to be a modern, forward-thinking compliance officer. By his own standards, he has only recently familiarized himself with the inner workings of his employer, Ryan Specialty Group (RSG), in order to be a proactive presence in the continuing evolution of its compliance buildout as well as broader diversity and inclusion efforts in the insurance industry.
The twenty-nine-year risk management and compliance veteran was, most recently, the CCO for Chubb's North American operations, where he successfully navigated the compliance framework integration and transformation during the ACE/Chubb merger. Prior to that, he served in progressively promoted roles at Marsh & McLennan, KPMG, and PwC, all after starting his insurance career as an underwriter trainee and insurance broker for Continental Insurance and Alexander & Alexander, respectively.
"My training ground was working at an accounting, tax, and advisory practice for two Big Four firms," Blackshear says of his early days. "One year at a Big Four is like three years in industry because you deal with many issues and your role is to create solutions. That's something I see as the function of my role today. How do I tailor a compliance framework for whatever organization I belong to that really fits the mold of the company? There is no cookie-cutter approach."
Blackshear's intuitive nature has been innate throughout his career. "I met Michael nearly twenty years ago and I was immediately impressed. He seemed intuitive beyond his years, and it was clear to me that he was on a 'fast track,'" says Jonathan F. Bank, of counsel for Locke Lord. "His combination of charisma, confidence, and intelligence is always in demand, and RSG is now the beneficiary of his talents."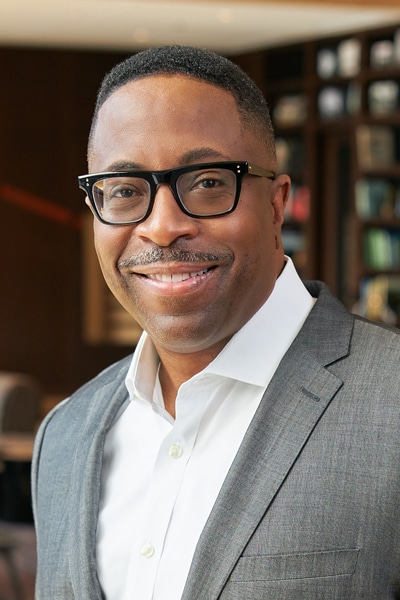 That customized and culturally reflective approach to building out an effective compliance program is essential to the senior vice president and global chief compliance officer precisely because of the wide-ranging nature of his role. "I look at the modern compliance officer as a business partner, a marketer, an influencer, and a behavioral psychologist," Blackshear explains. That begins with understanding the business, but more importantly, its products, people, and the regions it which it operates.
"I have to understand the products and our services to be an effective business partner," he continues. "I have to be able to work with the business to operationalize the regulatory requirements. I have to be able to influence the business in doing the right thing so as to embed that into the culture. I have to be a marketer to make sure people understand the importance of the framework. And I have to be a behavioral psychologist to help manage any company's greatest risk, its people, who are also its greatest asset."
If it sounds like a lot, that's because it is. While Blackshear has been at RSG for just shy of two years as of December 2020, he feels like he just now fully understands the company's inner workings and nuances. That allows him to employ a more proactive approach to evolving the compliance culture.
"You can't go into an organization, flip a switch, and say, 'There's your compliance structure,'" Blackshear says. "You're trying to find something that's both sustainable and evergreen so it can be constantly self-improving. It's what our regulators, clients, and our employees expect."
"Michael brings such an important set of skills to the CCO role—strong substantive knowledge of insurance and the law as a foundation, a real ability to ask the right (and at times tough) questions, an understanding of the business and strategic implications, a high EQ, and communications skills that bring out the best in people around him," says Kara S Baysinger, partner and colead of Mayer Brown's US insurance regulatory and enforcement practice.
As Blackshear continues to tailor customized compliance solutions at RSG, he's also working to help address one of the insurance industry's most embedded issues. "There are three million people employed in the insurance industry," Blackshear recalls of the 2019 US Bureau of Labor Statistics report. "Eighty percent of those people are white, and those numbers haven't really changed in my twenty-nine years in the industry."
"You can't go into an organization, flip a switch, and say, 'There's your compliance structure.' You're trying to find something that's both sustainable and evergreen so it can be constantly self-improving."
"Like many, this isn't an industry that has a great reputation of being a destination for diverse talent," he adds. "I truly believe there are very strong and compelling ethical and business reasons why it is important for the industry to value and act upon creating a more diverse and inclusive environment."
"Michael is the consummate compliance professional and a valued, effective advocate for diversity and inclusion in the insurance industry," says Fred E. Karlinsky, cochair of Greenberg Traurig PA's insurance regulatory and transactions practice group. "Working with him is a true pleasure. He is innovative, adept at problem-solving, calm under pressure, and gets the job done right every time."
Blackshear's commitment to wider diversity for those in his industry was shaped, at least in part, by an incredible role model. Blackshear's father, the Honorable Cornelius Blackshear, was the first African American to be appointed as a US trustee and was a distinguished bankruptcy judge for the Southern District of New York for more than twenty years.
Blackshear's father was a Navy man, a police officer, a cum laude Fordham Law School graduate, and a distinguished bankruptcy judge. Yet all his accomplishments could be reduced in an instant to one factor.
"Beneath his robes or his uniform, he was still just a Black man within our society," Blackshear says. "But that taught my father—and has taught me—that managing your emotional intelligence, developing grit, and resilience will create a clear focus in achieving your goals. I cannot change the color of my skin, nor would I want to. But what I can do is manage my reaction to such challenges."