Elizabeth "Liz" Riotte was an art history major as an undergraduate. That might seem like an unorthodox prelaw field of study. But Riotte—now a vice president, deputy general counsel, and assistant corporate secretary at Avangrid—followed what she loved and the advice of her father as well as some of the bigger thinkers on what helps form analytical cognition.
"The transition from art to law felt natural to me," says Riotte, who remains an avid reader on topics ranging from culture to society to politics, describing it as "a soup of influences."
Already in 1972, UK television presenter and art historian John Berger had produced a television series titled Ways of Seeing. The series explored how the interdisciplinary nature of art history—which incorporates anthropology, biography, literature, politics, sociology, theology, and war, along with the math and sciences relating to engineering, paint, materials, optical perspectives, and physics—tests students to think far beyond themselves.
And thinking she has done. From early experiences as a first-year associate in a firm representing the trustee in the infamous Bernie Madoff Ponzi scheme case; through additional outside counsel experiences in securities law, corporate governance, and mergers and acquisitions; to her current position with Avangrid, a leading sustainable energy company ($35 billion in assets operating in twenty-four states); this Renaissance woman has proven to be more than capable of many things.
Riotte joined Avangrid in 2016, shortly after the company became publicly traded following the December 2015 merger of Iberdrola USA Inc and UIL Holdings Corporation. Avangrid is a member of the Iberdrola group of companies, with a majority of its shares owned by Iberdrola, S.A., a Spanish company and a worldwide leader in the energy industry.
"Green financing is critical to our business. Green bonds mirror our business strategy and are aligned with our purpose and values."
Avangrid, based in Orange, Connecticut, is committed to delivering accessible clean energy and promoting healthier sustainable communications, sitting at the forefront of the exciting transition to a clean energy economy. For example, Avangrid's 50/50 joint venture Vineyard Wind is poised to build the nation's first large-scale offshore wind farm off the coast of Massachusetts, pending approvals, and Avangrid is developing the New England Clean Energy Connect transmission line project to transport 1,200 megawatts of hydropower from the Canadian border to the New England power grid.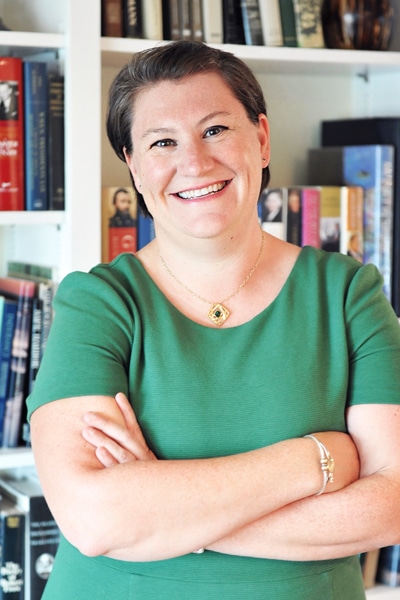 With a business focused on building and operating responsible energy projects, sustainability is firmly entrenched in the values and principles that guide Avangrid's business strategy and success. Riotte is actively involved in these efforts.
"Green financing is critical to our business," she says. "Green bonds mirror our business strategy and are aligned with our purpose and values." Avangrid is the seventh largest issuer of green, social, and sustainability bonds in the US.
The first of three green bonds issued by Avangrid was in 2017, raising $600 million to finance the expenses of two onshore wind farms and a solar plant, which cumulatively generate about 340 MW of clean energy and reduce CO2 emissions by 684,500 metric tons per year. In total, the company plans to invest $5 billion in renewable generation projects by 2022.
While instances of greenwashing and other matters of transparency and contractual protections—or rather, the lack thereof—have deterred skeptics from investing in some green bonds, Avangrid seems to have definitively overcome such concerns. All three bond issues have been oversubscribed, the first of them by a factor of four. Riotte says this is largely due to the company's transparency with investors.
"It starts with recognizing they are not just short-term investors. They want long-term results and sustainability," she says. "There is an increasing demand that a corporation deliver both financial performance and make a positive contribution to society. We are committed to meeting the expectations of investors."
"It starts with recognizing they are not just short-term investors. They want long-term results and sustainability."
Riotte adds that the large institutional investors are increasingly focused on long-term climate change issues, making them particularly interested in what Avangrid is doing. Sustainability ratings agencies and index providers, such as MSCI ESG and the Dow Jones Sustainability World Index, help investors meet their environmental and social responsibility goals with objective analyses. Working with these agencies to provide accurate and comprehensive information to investors also creates vehicles for telling a story about the company and its exciting initiatives, she notes.
Part of that story, reassuring to investors, customers, and consumers alike, is how the company has been recognized by the Ethisphere Institute, a ratings agency that advances standards of ethical business practices. Avangrid was listed in 2019 and 2020 on its World's Most Ethical Companies list.
"It's helpful to have this recognition," Riotte says. "But what's most valuable is to go through the process of the application. It helps us stay fresh on what the best practices are. It guides us on our own decision-making on continuous improvement."
The organization's leadership make this task easier as well. In a far cry from what she observed in her first job in the sphere of the Bernie Madoff scandal, Riotte says the commitment to environmental principles and ethics are ever present. "The commitment is there," she notes. "It's in every meeting. When making decisions, they ask, 'Is this in line with our ethics and our purpose?'"
The COVID-19 pandemic did not slow the company down, as energy is considered an essential business. That's not unusual. In fact, the company's eight electric and natural gas lines of business (Avangrid Networks) means everyone from the CEO on down has a "storm safety duty." For Riotte, that means she might go onsite in the aftermath of a New England Nor'easter to act as a runner to support linemen who need housing, meals, and other support in their post-disaster recovery work.
You might say Riotte is a business attorney who, not unlike the multitalented Leonardo da Vinci and Galileo Galilei, is as capable of meeting SEC requirements as she is at literally helping the lights go back on.
***
White & Case:
"Liz has that rare combination of superb legal judgment and business savvy, which allows her to seamlessly shepherd Avangrid through complex transactions. It is truly a pleasure to work with Liz."
—John Vetterli, Partner, Global Head of Capital Markets