Brad Chatigny wasn't sure he had a job left. It was 2008. The bottom had fallen out of the US economy. His employer, Wachovia, had been steadily deteriorating and was sold to Citigroup for less than $2 per share one day, then sold to Wells Fargo days later for approximately $7 per share.
"Wachovia had basically walked up to the brink of collapse," the attorney says. Chatigny was pretty sure he wouldn't be making it through the merger, but he was doing his best to educate the Wells Fargo leadership through accounts and assets he knew were going to need specific and immediate attention.
The most potentially challenging of those was a collateralized debt obligation that was held by third party investors but had been managed by a team from Wachovia that was in various stages of leaving the bank. More commonly known as a CDO, this type of financial asset was credited with contributing to the collapse of the global housing market, and, thus, the worldwide economy in 2007.
"Despite the fact that it was much less leveraged and had collateral that was different from the notorious CDOs that imploded the global financial system, I didn't really want anything to do with it and nobody else did either," Chatigny admits. "With all the bad press CDOs were receiving, I don't think anyone wanted to be identified with such a vehicle . . . particularly if that person was likely to be looking for a job."
Despite fearing for his job, Chatigny he still felt it was his duty to bring attention to this complicated financing vehicle. He knew that if left unattended, it could wind up costing Wells Fargo or the CDO Investors hundreds of millions of dollars in the long haul.
"I was primarily doing loan workouts at the time, but in every meeting, I would bring up the CDO, saying that you've got this CDO to deal with. It's this complex structured vehicle that somebody needs to manage." People seemed to understand, but at first nothing happened.
"I figured out that when you're in charge and part of a leadership organization, you are really just the sum of all your employees' efforts."
"Eventually, I wound up having that same conversation with the person who ultimately became my boss," Chatigny remembers. "I have a tremendous amount of respect for him, because he kept asking me to walk him through it over and over again. Just having the confidence to admit that he didn't initially understand was really impressive to me. It enabled me to connect better with him and really explain what was happening."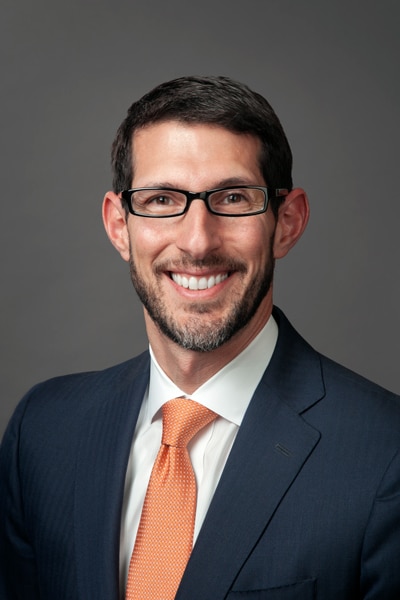 Chatigny's boss quickly got a clearer picture of the situation and asked Chatigny what resources he would need to handle it. "I reiterated that with everything melting down in the broader economy, I would prefer to have nothing to do with a CDO," the SVP says, laughing. "And my boss said, 'You don't understand. I'm not really asking.'" The lawyer would keep his job, and working with an amazing team and managing the vehicle through the turmoil, they navigated it safely to the other side.
That is how Brad Chatigny formed a reputation at Wells Fargo and beyond as a go-to person to call when a problem needs fixing.
"After working with Brad for almost twenty years," says Jack A. Aini of Aini & Associates, outside counsel to Wells Fargo, "[I can say that] he has consistently demonstrated his ability to understand the most complicated of issues and to then lead the team toward the proper solution with integrity and confidence. It's no wonder that Brad has become not just a leader at the bank but throughout the entire industry as well."
Indeed, many of Chatigny's colleagues across the industry underscore his well-deserved reputation as a problem-solver. "Brad is intelligent and creative," says Bill Macurda, a partner at Alston & Bird. "He asks perceptive questions and looks at problems from multiple points of view when developing strategies and solutions to challenging issues."
"Brad is an incredibly smart attorney who is always thinking at least three steps ahead," notes Howard F. Sidman, a partner at Jones Day. "He has an amazing ability to take a complex set of issues and develop pragmatic and thoughtful solutions for the bank."
Fighting Cancer by Land and by Sea
Brad Chatigny has taken on some of the more complicated situations of the past decade for Wells Fargo, but he's also rediscovered the optimal means of decompressing outside of work. A competitive swimmer in high school, Chatigny jokes that he took "a couple decades off" and has since returned to the water.
"It's the meditative portion of my day," the SVP says. "It helps put everything into context. It's time with your head down when you can just think uninterrupted."
Along with the Master's Swimming group he swims with in Charlotte, North Carolina, Chatigny says he's proud to be a strong supporter of Swim Across America. For three decades, Swim Across America has been hosting charity swims to fund cancer research—a cause that is important to Chatigny, who lost his father to cancer in 2012.
The proceeds raised from the SAA swims fund cancer research, and the organization has granted nearly $100 million to hospitals and research facilities since its inception. These grants help fund immunotherapy, gene therapy, and new cancer detections, giving hope to more people diagnosed with the disease.
Swim Across America is doing a "virtual swim" this year instead of the large group swim in Charlotte and other cities. Participants are still finding a way to make a difference despite not being able to come together en masse.
The pandemic has thrown a wrench in Chatigny's efforts to swim regularly given widespread pool closures. Chatigny has had to continually source new swimming spots that haven't been closed due to COVID-19. His friends have been able to gather responsibly by meeting to swim at local lakes ("and maintaining a wide, wide berth") to retain some social cohesion during maybe the most isolating time in recent American history.
"The pandemic has put a lot of things into perspective," Chatigny says. "The connections you have with people are so important, and the impact of having those cut off during this time will be something people will be much more conscious of whenever we're able to get back to some sort of normalcy."
Training Grounds
Despite his experience in 2008, Chatigny isn't used to getting handed roles. He's used to buckling down and working hard to get them. It's a tradition that runs back as far as his summer associate period.
"I remember the partner I worked for asking me what I was interested in, and I was very much aware that the summer associate program was really designed to make the associates like the firm, rather than giving them a sense of what the work and lifestyle of a big firm associate was really like," Chatigny explains. "I said to them frankly that I needed to get a good and realistic assessment of what life was going to be like there. I wanted to do real work with the people doing it."
The young lawyer to be spent much of the summer masquerading as an accountant pretending to perform an audit when in reality doing contractual due diligence for an M&A transaction. Meanwhile, many others in his summer associate class were going to long lunches and leaving work at 5 p.m. "I may have been holed up in a conference room for weeks at a time, but I came to realize that I really enjoyed corporate law and M&A work," Chatigny remembers.
When asked where a summer associate found the gall to essentially tell a potential employer exactly what he needed, Chatigny points back to his upbringing. "That's just from my mom and dad, who were always pushing me to recognize when people out there may be trying to sell you a bill of goods," the lawyer says. "And I thought if [the firm] knew that I was really hungry for meaningful work, they'd let me pursue it . . . and hopefully I wouldn't screw it up."
Chatigny would eventually join the ranks of firm Davis, Polk & Wardwell, whose leadership and management would leave a lasting mark on the lawyer. "It was such a great example of how a firm can be a large top tier law firm doing cutting-edge legal work in a way that doesn't chew up the associates as if they are inputs into a machine." The concern that the senior partners and associates showed for more junior lawyers was evident, and this example laid the foundation for Chatigny's future approach to leading teams.
"I figured out that when you're in charge and part of a leadership organization, you are really just the sum of all your employees' efforts," Chatigny says. "My time at Davis Polk taught me that if you think you're going to keep throwing talented young attorneys into a machine and grinding them out, you are ultimately going to be unable to attract good attorneys. It makes so much more sense to find smart, hardworking people, to trust them, to train them, and to make sure they're enjoying what they're doing."
But none of that really explains how Chatigny wound up as a fixer.
Cleaning Up a Bubble Burst
The attorney would find himself joining Wachovia Bank in 2005 after having done securitization work at Cadwalader for the previous three years. "At Wachovia, we were doing higher-risk commercial real-estate lending, but as we came up to 2008, the market obviously started to tighten up," Chatigny remembers. "The bank did something very smart in that it recognized that the economy was turning, so they really slammed the brakes on new originations in commercial real estate very quickly."
On the downside, Chatigny says there was a noticeable lack of communication about what was happening to his team at Wachovia in 2008. "It comes down again to that focus on people," the lawyer says. "There was a strong focus on limiting exposure, but the lack of communication about why it was happening was paralyzing for the team that I worked with."
Almost overnight, Chatigny says, his entire organization was in workout mode. "I had always heard from veterans on our team who had gone through workouts or downturn cycles that that's when you really learn what you're doing," the attorney says. "It's not until you're fighting through the language in your agreements in a default, litigation or a bankruptcy court proceeding that you really start to understand what you should be doing on the front end of things."
This was around the time of the Wells Fargo acquisition, when Chatigny took point on managing the CDO—a job he would be on from 2009 to 2013. "Honestly, it wound up working out great," Chatigny says. "With some really brilliant people on that team, we projected how we thought the vehicle would roll off over time and it ultimately matched up almost perfectly. It actually wound up creating a positive rate of return for Wells Fargo due to the methodical and patient approach, and they managed to avoid any losses to the CDO investors."
And then, like that, the "big, weird, and surprisingly fun job" was done. And no good deed goes unpunished.
Rebuilding Trust
Chatigny is currently responsible for leading the team providing legal support for Wells Fargo's global corporate trust services business. "Right around the time the CDO work was done, I got another call from a friend at the bank who said there was an important legal leadership position that they thought I would be well suited for," the lawyer recalls.
"Because of market events, the role had become much more complicated and multidisciplinary, and really needed someone to come in and establish enhanced controls, collaboration with other areas of the bank and escalation around the legal issues that were active at the time.
"This was an opportunity to manage an amazing team of lawyers, each with fifteen to twenty years or more of expertise in the specialized practice areas," Chatigny continues.  "And it was a return to a legal counsel role, which I had been out of for some time. This was really a complete transition for me."
The attorney says he relied on the basic principles he learned early in his career. "People were going to be the key to being effective in this new role," Chatigny says. "I was brought in because this talented and wonderful team had really been limited in their ability to do their job effectively in the past. My job was to convince the team that I was going to trust them, empower them and provide the support for them to do their jobs and have their backs."
Chatigny says he made communication and collaboration with other divisions of the bank a priority. "I would support their decision, work through it with them, and involve them in the conversation instead of them finding out later that their opinion had been overruled in a conference call they weren't even invited to."
It took time, but Chatigny's trust and support in this team has created a powerfully tight group. "We have been through a lot together," Chatigny says. "We are friends and colleagues, and there is now much more trusting and open dialogue where people can share ideas and best practices in an honest environment that supports dissenting views and light-hearted exchanges."
"You have to have a lot of confidence, and you have to have a lot of humility. Those sound like they're in direct opposition, but they're not."
Chatigny also says that he's a beneficiary of a management approach that's practiced much more widely at Wells Fargo. "This organization identifies people they think are talented in handling transitional situations, and they focus less on what the person's particular area of expertise is and more on that person's ability to create meaningful and effective change" he says. "If they think someone is good at dealing with things that present certain challenges, they pick them up and drop them in to situations where they leverage their skills. And as soon as that's tracking in the direction that it should, they might pick them up again and place them somewhere else."
While that may make Chatigny a prime target for moving yet again, he's happy to have this moment to reflect on the expertise he's built out over his career. "There is an inherent conundrum when you're trying to fix things," the lawyer says. "You have to have a lot of confidence, and you have to have a lot of humility. Those sound like they're in direct opposition, but they're not. If you think you can step into a situation that isn't working right and really fix it, you have to have the confidence to look stupid by asking dumb questions that other people wouldn't want to ask in a meeting."
Chatigny says he had to get past his fear that people on the teams would think he was clueless after admitting frequently, "I don't understand how this works."
"But if you keep asking questions and, more importantly, you're really listening to the answers, you can usually fit all of that into an improved operating model. If they thought you were an idiot when you came in, they hopefully won't think so when you've supported them in their work, improved the functioning of the team, and helped everyone perform at a higher level."
And that is how to build a true fixer. Chatigny never pretends to know all the answers, but eventually, after building trust and gaining support of high-performing people and teams, they can all work together and figure out the answers. And, when all is said and done, the whole team usually has some fun along the way.
***
Expertise Spotlight:
Jones Day is a global law firm with more than 2,500 lawyers in forty-three offices across five continents. The firm is distinguished by a singular tradition of client service; a mutual commitment to, and seamless collaboration of, a true partnership; formidable legal talent across multiple disciplines and jurisdictions; and shared professional values that focus on client needs. Clients tap our experience on complex transactions, high-stakes litigation, cybersecurity, capital markets activities, regulatory compliance, tax issues, and virtually every other type of legal matter impacting the modern national or multinational corporation.
Our global financial markets team comprises more than three hundred lawyers with deep experience in complex cross-border transactions, regulatory matters, investigations, and litigation and brings insight into market developments and trends on issues such as the rise of private capital and the growth of financial technology. In addition to global banks, they represent issuers, borrowers, funds, asset managers, and fintech companies and have helped clients close more than $1 trillion in financing transactions over the last five years, including many precedent-setting financings. We also have a deep regulatory bench—many with long-standing relationships at financial services regulatory agencies across the globe—advising on compliance, investigations, and enforcement issues.
***
Expertise Spotlight
Aini & Associates has established itself as a premier provider of legal services to individuals, businesses, banks, and financial institutions.  With experience in real estate, banking, investment, finance, and corporate law, coupled with a commitment to the uncompromised service to its clients, the firm enjoys a stellar reputation and national recognition.
Aini & Associates provides a broad range of experience working with national and regional banks in various types of transactions, including large syndicated transactions, asset-based securitizations, lending, portfolio purchases and sales, and structured finance.
The firm proudly represents large and small banks, developers, institutional lenders, investors, and individuals in the development, finance, sale, purchase, and leasing of real estate. Its attorneys regularly serve as counsel on many securitized and structured finance transactions.
Aini & Associates offers clients a full range of legal services to meet all their corporate and business legal needs. Attorneys routinely serve as legal counsel on contractual matters, proprietary rights, franchising and distributorships, sales contracts, bulk sales, stockholder agreements, membership transfer agreements, general business transactions, and other corporate matters associated with acquisitions and divestitures.