From potentially life-saving technologies, like personal protective equipment, to adhesives and sticky notes, 3M products are everywhere. When Laura Hammargren began as senior counsel of litigation and preventive law at 3M in April 2019, she set to work overseeing a broad mix of litigation that protected 3M's ubiquitous, science-based products. Little did she know how much her job would change less than a year later, when the COVID-19 pandemic hit the US.
Working from her home office, Hammargren became part of 3M's COVID-19 fraud enforcement team, battling profiteers and counterfeiters that had set their sights on some of the most needed 3M products during the pandemic: N95 respirators, which help protect healthcare workers and first responders from the coronavirus. Since the outbreak began, Hammargren has been a key member of the company's global effort to investigate more than nine thousand suspected cases of fraud, counterfeiting, and price gouging connected to these respirators.
"When the pandemic started, our respiratory business quickly increased production to meet the demand that was coming," Hammargren says. "Because of that high demand, however, we soon started to see significant fraud in the channel. A lot of it was fraudulent offers with vastly inflated prices."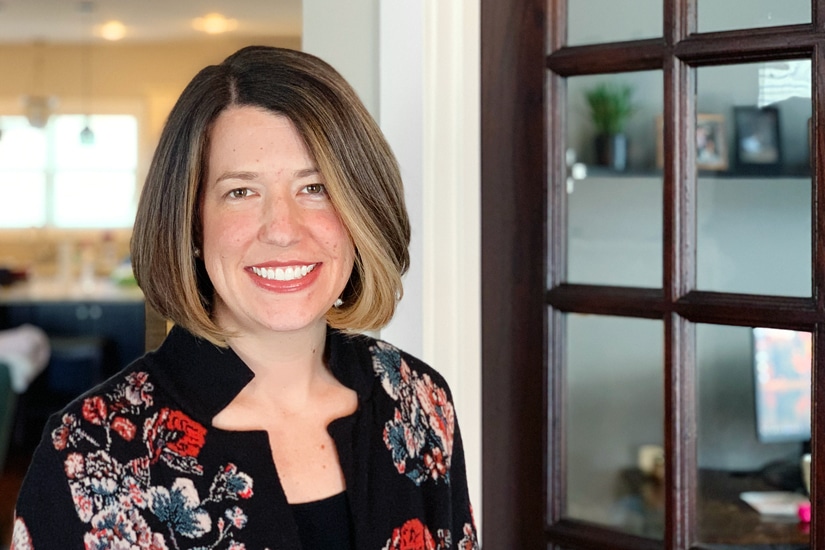 3M worked closely with law enforcement to help stop the fraudulent activity. The company also brought civil lawsuits to deter future would-be bad actors and help recover damages to the company. As of December 2020, 3M's effort has led to more than twenty-five lawsuits in ten states and Canada. Many of the defendants have since settled, and 3M has donated the proceeds from the cases to COVID-19-related charities.
While her job duties took an unexpected turn, pivoting is nothing new for Hammargren. In fact, her early career trajectory had her on track to become a writer, not a lawyer.
"I went to school for journalism and always liked to write and tell a compelling story in a concise way," she explains. "When I was about to graduate college in 2005, I was in newspaper journalism and was unsure about where that career path would take me."
A college sociology class on justice in society, where she learned about the analysis aspect of a legal career and the importance of writing in the profession, inspired Hammargren to consider law school. "It seemed like a great next step," she says. She began her legal career in Minnesota, clerking first for Justice Helen Meyer (appointed by Jessie "The Body" Ventura) on the Minnesota Supreme Court. She later moved to large law firm Dorsey & Whitney before venturing to Chicago for a position with Mayer Brown in 2012.
While she enjoyed the experience, she always knew she wanted to find her way home to Minnesota. So when 3M retained Mayer Brown in 2018, Hammargren began work on the company's legal matters full-time. When a position opened on the 3M in-house team as senior counsel one year later, Hammargren leapt at the opportunity to move closer to home while continuing her work for 3M.
In her role, Hammargren is responsible for providing legal and strategic business advice as well as overseeing complex litigation and investigations. "It intrigued me because I get to work on really challenging matters, advise business leaders about litigation, and help the company navigate those matters with integrity," she shares.
"When the pandemic started, our respiratory business quickly increased production to meet the demand that was coming . . . we soon started to see significant fraud in the channel."
Hammargren also manages part of 3M's litigation related to per- and polyfluoroalkyl substances (PFAS), which includes complex and dynamic environmental and product liability issues. In addition, she manages lawsuits involving 3M's fall protection products and a variety of other investigations and litigation matters.
"We have complex litigation across the country related to PFAS. It's a matter the company takes very seriously," Hammargren says.
Looking ahead, Hammargren is focused on minimizing risks to 3M, educating her colleagues across the company on emerging issues, and trying to ensure 3M doesn't fall into the pitfalls other companies have found themselves in. These skills are vital as litigation against major companies increases in frequency and intensity and will continue to be a big focus in 2021.
Riding on the team's recent successes with deterring N95 respirator fraud, Hammargren and the 3M litigation team seek to extend the streak to all of 3M's diverse product offerings. "We have sixty thousand different products in a ton of different industries and purposes, and I find that fascinating," she says.
These successes have also enabled 3M to have a greater hand in helping its customers navigate these difficult times. At the time of Hammargren's interview, 3M had already donated $10 million to Direct Relief's community health fund, $5 million to United Way's community response and recovery fund, $5 million for several COVID-19 R&D initiatives, and six thousand air-purifying respirators in addition to respirators, sanitizer, and more.
And with sixty thousand more products to protect, the opportunities to make an even bigger company and community impact are endless.