Fifteen years ago, an internship I was advised to take changed my life. Although it was supposed to be a six-month assignment, I'm still here at FedEx, responsible for eighty-five countries.
My parents are from Morocco, but I was born and raised in France. I was studying law, and when it came time to specialize, I had to make a choice. A professor who taught transportation and aviation law recruited me into his program. I never would have picked that particular area, but he was persistent. He saw something in me. He promised to mentor me and guaranteed that I would leave with an internship and then a job. I didn't know anything about transportation law, and I didn't necessarily like it, but this man made it hard to say no. I accepted.
When the program finished, my professor arranged an interview at FedEx. I was nervous, but he told me to smile and be myself. I was twenty-three years old.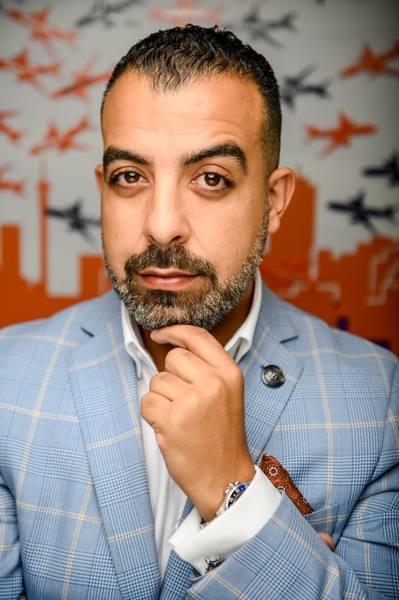 I got the internship. On my first day, I started doing something that's become a hallmark of my career—I started saying yes to all the work that nobody else wanted. I was willing to work long hours every day, trying to learn everything I possibly could. I read day and night. My manager told me I was taking it all too seriously. I was just an intern, after all, and according to her, FedEx had no openings. Besides, the company would not hire someone like me, fresh from college. They preferred profiles from seasoned lawyers with at least five years of experience.
I refused to back down. I wasn't doing what I was doing to get a specific job. I was doing it to learn everything possible and become the best version of myself. I was nice to everyone, I learned everything, and I did a great job. In the process, I became indispensable.
Guess what? When the six months ended, a senior lawyer announced her pregnancy. The managing director started to panic. When it came time for them to hire someone to cover during her maternity leave, they realized they would never find an experienced big-firm lawyer who knew what I already knew. I got a one-year contract.
I spent the next year implementing the same theory I had as an intern. I did all the filings, paperwork, and research that nobody else wanted to do. I worked days and nights and weekends. When my contract ended, nobody wanted me to leave because it was a luxury to have a junior lawyer who absorbed all the work. I became a permanent employee. I've been promoted, on average, every sixteen months since. I was FedEx's youngest managing director when I was just thirty years old and one of the company's top general counsel before my fortieth birthday. In between, I negotiated deals in more than fifty countries.
Working with Hassan Bouadar
Hassan Bouadar's reputation precedes him. Among the external counsel who work with him regularly and hold him in high esteem is Dr. John J. Maalouf, senior partner at Maalouf Ashford & Talbot.
"Maalouf Ashford & Talbot is proud to be one of FedEx's top outside legal counsel," Maalouf says. "As senior partner of the firm, I've personally worked closely with Hassan Bouadar for many years on a wide variety of complex legal matters, ranging from international arbitrations and litigations to corporate and finance matters to regulatory and compliance issues.
"Hassan belongs to that elite cadre of legal professionals who are able to think creatively and strategically and add significant value to every matter in which they are involved. A natural-born leader, Hassan has honed his abilities by 'rolling up his sleeves' and personally working long hours, never asking more from his team than he was willing to contribute himself. He is a man who leads by example. A bold leader who is not only a 'team player' but a true professional who can make the hard decisions."
We hired someone a few days ago, and he asked me why I've stayed here so long. The number one reason is trust. My managers and peers have trusted me since day one. Nobody is watching over me to see if I will fail. Instead, they trust me to go as long and as far as I can without anyone looking over my shoulder. And if I run into problems, they are there to help me find a solution. Everyone here gets to give their input, whether they are an intern or a senior leader. That's important to me.
When I was twenty-nine and living in Dubai, FedEx asked me to return to France for a temporary assignment as acting managing director for the Southern Europe team. My wife was pregnant with our second child, but she delivered prematurely. The baby only lived for a few hours.
My boss called and told me to take as much time as I needed. We were arguing a bit because I wanted to come back to work to give my wife a sense of normalcy. I put him on speakerphone, and my wife listened to this man speak to me like a brother or a father. He was compassionate. He told me to shut down my work email and grieve. He did not spare any efforts, including medical repartition by plane to Dubai at the company's expense. I have had offers to join other multinational companies, with very attractive compensation packages. But after that phone call, I knew I couldn't leave.
The number two reason is that I have been learning every day for the past fifteen years. Every email, discussion, meeting, or phone call is a good opportunity to learn something new.
I've achieved some significant milestones during my time at FedEx. I managed litigations in which we were sued for millions of dollars but the outcomes were favorable to the company. I've negotiated highly complex contract terms and revised the structure in deals that save us millions every year. However, the thing I'm most proud of is building my current legal team from the ground up.
I came to Dubai to build this team in 2009, when this region didn't have a legal department. Now, I am a vice president with three managing directors, twenty-seven lawyers, and about a dozen affiliated law firms. I built legal, government affairs, and compliance functions. Together, we are a performance-driven team and a trusted partner to the business.
This team works because I've learned how to hire. When I interview and recruit, I don't necessarily try to get the smartest person. I was an intern here not so long ago. I was always around people who were smarter, more experienced, and more qualified. I don't need the smartest person—I need good, authentic, passionate people.
I also believe strongly in diversity. English is my third language, and I am not a litigator by training, so I've hired an American female litigation lawyer who has excellent drafting skills. I hired a woman in India despite the fact that she had a gap in her work history, just because I saw potential in her. Five years later, she is a very successful managing director in the company.
Some people think only in the immediate, but as a leader, I think in the long term. When I meet someone, I think about where I can get them in one, three, or five years. Diversity factors in because if you only hire people who look like you, they're going to do what you do in the exact same way you already do it. Diversity is the right thing to do, and it makes good business sense. That's why I'm on the diversity council for my region.
After all this time, I still enjoy where I am and what I do. I'm leading a team to help us maintain our culture after acquiring TNT, a large transportation company headquartered in Europe with more than sixty thousand employees. I'm creating a compliance organization in my region and overseeing many other exciting projects.
Lastly, I'm working on succession planning. I'm passionate about people. People here have supported me and helped me and given me every chance to succeed. Now, it's my turn to make sure those same opportunities are still here for other people to take hold of.
***
Expertise Spotlight
Maalouf Ashford & Talbot is among the world's leading international law firms, with offices in New York City, Dubai, Riyadh, Jeddah, Dammam, Al Khoper, Al Qatif, Cairo, Beirut, Baghdad, Erbil, Amman, Zurich, Hong Kong, and Shanghai as well as affiliated offices in more than seventy different countries worldwide.
Maalouf Ashford lawyers are internationally recognized as leading experts in the areas of international trade and finance law, international arbitration and litigation, mergers and acquisitions law, energy, oil, and gas law, project finance law, banking law, corporate law, shipping and maritime law, antitrust law, technology, media, and telecommunications law, pharmaceuticals and biotechnology law, and tax law.
In today's heavily regulated and competitive world, corporations are confronting more arduous challenges than ever before. Maalouf Ashford & Talbot lawyers are worldwide leaders in creating new and innovative ways to assist their clients in meeting those challenges, rather than explaining to them why a deal "can't be done." With a practice that offers unparalleled representation across a comprehensive range of legal areas, Maalouf Ashford & Talbot's lawyers have the ability to anticipate obstacles, seize opportunities, and get the deal done—and the experience and know-how to prevent it from being undone.
Dr. John J. Maalouf, senior partner of Wall Street law firm Maalouf Ashford & Talbot, is one of America's most preeminent lawyers and a globally recognized expert in the areas of international trade and finance law, international arbitration, mediation and alternative dispute resolution, corporate reorganization, restructuring and bankruptcy, business litigation, mergers and acquisitions, banking law, and energy, oil, and gas law.
Under Dr. Maalouf's leadership, Maalouf Ashford & Talbot has been honored as Law Firm of the Year in the United States, Dubai, Kingdom of Saudi Arabia, China, Lebanon, Egypt, Qatar, Bahrain, the United Kingdom, and Brazil for 2020 in ninety-two different categories.
In addition, Dr. Maalouf has been ranked as one of the top ten international trade and finance lawyers in the United States for the past fifteen consecutive years by the United States Lawyer Rankings, 2006 to 2020 editions, taking the number one spot on the list for the past three consecutive years.