According to Gregory Zarin, cofounder and president of SubroSmart, the established and hierarchical nature of the legal and insurance industries can be at odds with what is needed for success in today's world. Many smart and talented young professionals feel restricted by the dated conventions of those industries, Zarin says, which inhibits innovation and growth. And that is one reason why, in 2013, Zarin and cofounder Elliot Schuler came together to found SubroSmart.
"Throughout my career, I have been passionate about raising the bar of established practices by delivering approachable innovation," Zarin explains. "And for me, this has been a twenty-year journey."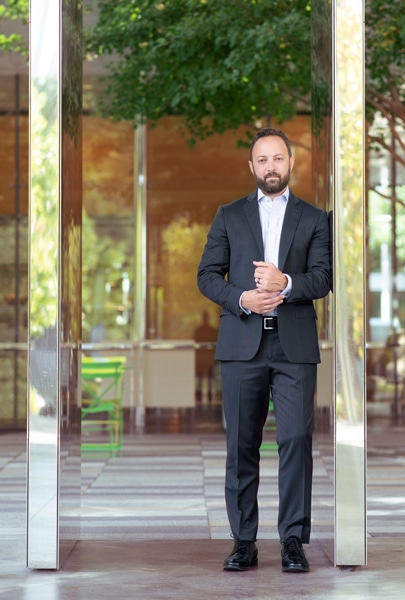 Zarin's journey began with a blind move to Seattle in 2000 after college graduation. It was right at the time of the first "real push" of the internet and technology revolution. "I was immersed and practically obsessed with what was happening in Silicon Valley and Seattle," Zarin remembers. And because he was entering that marketplace during a major crossroads period, Zarin wasn't exactly looking at the technology industry with rose-tinted glasses.
"The first project I worked on was related to the aftermath of Y2K. There was the theory that software would stop in the year 2000, that it would break," Zarin says. "This issue showed me the vulnerability in introducing new technology to established markets." The estimated cost to address this bug was more than $100 billion, and Zarin quickly learned that new technology could bring major unintended consequences when designed improperly.
After nearly three years and the dot-com bust in 2003, Zarin took a career break to attend law school at the University of Miami. "I really like gray areas where there aren't clear answers, where people drive solutions," Zarin says. "In one of my favorite exercises in law school, the instructor made me get up and make a compelling argument for my position, sit down, walk to the other podium, and then make an argument against everything I had just said. And it just goes to show there are always two sides to every story, two ways to think about everything."
But the longer Zarin worked at law firms, the more frustrated he became with the dated processes and the lack of meaningful data. "Attorneys are not ones to generally take risks to drive change. The legal community felt threatened about introducing new technology, and not many people would stick their neck out for change," Zarin recalls. "Since everything was so competitive, it really closed the door to innovation. No one wants to make a mistake. But you can't bring about change without being willing to step outside the box."
At SubroSmart, Zarin and his team are constantly testing innovation boundaries. "We thought, Why don't we use technology and data to help drive our decisions? Why can't the flip of a switch tell me the information we need, what has higher or lower priorities, what has or has not been successful in the past? At SubroSmart, we have gone into an industry that lacked transparency and innovation and made it something great," Zarin asserts. "We are not relevant if we aren't making a difference."
"At SubroSmart, we have gone into an industry that lacked transparency and innovation and made it something great."
Subrogation is hundreds of years old and touches on several industries, particularly law and insurance. "It's a big word," Zarin chuckles. "For a long time, people didn't really know how to deal with it, and so there were major gaps in the market to manage this product. So my partner and I thought we'd take something that's frequently viewed as an afterthought and make it a focus, make it interesting."
Zarin and his team members act as a liaison, he explains, to tie together various parts of the recovery process through leading experts and data-driven technology. But to Zarin, this technology could not be a gimmick; it had to actually be useful. "New software can also get in your way and hinder your ability to effectively perform the job," Zarin remarks. "We embrace technology for things where humans can't perform well but rely on experienced and proven professionals to execute the work.
"You still want to use the intellectual capital of your people. Most technology cannot replace a person's true value," Zarin continues. "But people should be spending their time on the things they do well and not fighting for information, or worse, doing things differently just for the sake of doing them differently."
That combined expertise and data-centric approach sets SubroSmart apart from others, Zarin says. "It's a highly fragmented industry in a complex global marketplace," Zarin notes. "We will always be first and foremost a manager of subrogation claims. We understand our product extremely well and partner with our clients so that they understand our product better, too. Every day brings new challenges, but I'm really proud of my colleagues and our clients for coming together and taking risks to make a positive difference."