At some point, "chunky" became virtually synonymous with the most famous soup company in the world. It is startling, then, to find that Campbell Soup Company had not obtained a federal trademark registration for the name until the tail end of 2018.
Despite ads seen across the United States for years, Saturday Night Live parodies, and Top 40 hits dropping "chunky like Campbell's" into verses, securing a trademark wasn't ever seen as an easy victory by Campbell's trademark team. The company assumed it was better to leave it alone. That is, until Gregory Frantz got involved.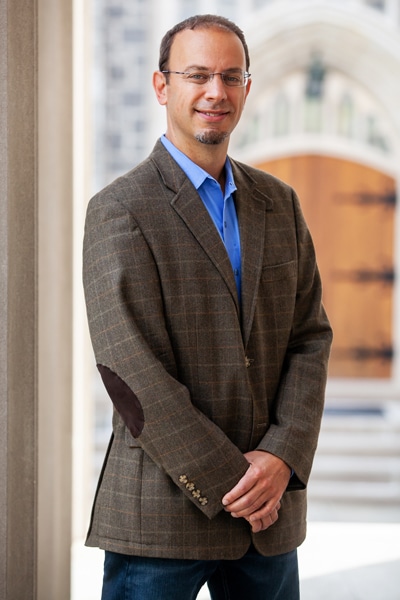 Late-Night Lawyer
"I have kind of an obsessive streak to my personality once I know I want to accomplish something," says Frantz, who serves as senior marketing counsel and IP counsel at Campbell Soup Company. That personality quirk goes way back.
Growing up in the '80s, Frantz was uniquely compelled by the often shady-seeming world of late-night infomercials. Low-quality productions boasting easy weight loss, vacuum haircuts, and borderline pyramid financial schemes ruled the airwaves after midnight. Frantz was particularly taken with the singularly memorable Tom Vu.
The Vietnamese immigrant and professional poker player, flanked by women in bikinis standing in front of a yacht, told his rags-to-riches story and promised that you didn't have to be smart or talented to get rich. You simply had to follow his plan.
"I was just fascinated that this kind of thing was actually allowed on TV," Frantz says, laughing. "But the other part of me wanted to change it, to fix something that I thought was preying on people who probably didn't have the money to spend their last $500 on some seminar."
That inclination pushed Frantz into law school—and later on the Federal Trade Commission. There, he learned the ropes from deceptive advertising and consumer fraud pro Lesley Fair, dubbed the "infomercial queen" for her successful prosecution of predatory advertisers.
Frantz eventually spent a decade building out IP and trademark expertise and participating in some of the most memorable IP cases in modern history. At Mayer Brown, Frantz worked on behalf of YouTube in a case brought by Viacom and a group of sports leagues and music publishers, otherwise known as the "copyright case of the century." The massive suit alleged YouTube had willingly allowed copyrighted material to be shared on its site, but the court ruled in favor of YouTube. That suit still stands as one of the most influential cases of the internet video era.
M'm! M'm! Good!
Frantz would eventually leave the firm life to go in-house at Campbell. The soup company's marketing lawyer, who had been there for thirty years, was preparing to retire and was looking to train his replacement. "I was just an IP lawyer who had done a little time at the Federal Trade Commission, so it seemed like a bit of a stretch," Frantz says. "But this was something that I'd always wanted to do."
The lawyer has spent the first half of his tenure thus far working strictly as a marketing lawyer. "People tell me a lot that I'm a marketer just disguised as a lawyer," Frantz says. "I take it as such a compliment. I really try to figure out our marketing objectives, and I never just say no. Sometimes it just comes down to finding a different way to convey the same idea, and I help them get where they want to go."
Frantz has labored under the axiom of "good fences make good neighbors." It meant not getting involved in IP issues, even though the fact that Campbell hadn't registered the "chunky" trademark was becoming a small obsession for the then strictly marketing lawyer.
"The conventional thinking was that it probably wasn't worth filing," Frantz explains. "It just seemed too messy and like a can of worms we didn't want to get into." But then both of the Campbell IP lawyers left in a matter of weeks. "And the inmates took over the asylum," Frantz jokes.
Frantz was asked to start handling some IP issues, his old stomping grounds, before steeping himself in marketing law. "If you're going to ask me to be a trademark lawyer, this was what I was going to do," Frantz says.
"People tell me a lot that I'm a marketer just disguised as a lawyer. I take it as such a compliment. I really try to figure out our marketing objectives, and I never just say no."
He reached out to Aric Jacover, now a solo practitioner, whom he had previously worked with on the YouTube case. Jacover agreed they should go for it. Other members of the Campbell IP team jumped onboard as well.
They began compiling evidence, eventually numbering more than five hundred pages, for the trademark application. Consumer surveys expressed off-the-chart brand recognition. Unsolicited media coverage, another benchmark, yielded a ripe harvest. The famous NFL tie-in "Mama's Boy" campaign was covered by everyone from the New York Times to Saturday Night Live.
"I remember saying that if your trademark or brand is parodied on SNL, you should automatically get the trademark," Frantz says. A week later, the Trademark Trial and Appeal Board (TTAB) published the exact same opinion. "It felt like divine providence," Frantz jokes.
The legal team expected the usual trademark back-and-forth with the United States Patent and Trademark Office, especially for such a high-profile filing. But there wasn't any. On Christmas Day, 2018, Campbell got "chunky" for Christmas.
"I hate to think of the poor lawyer who was in the office that day, but it was certainly memorable," Frantz says. The soup that eats like a meal was brought home by the lawyer who acts like a marketer.