Don't underestimate Fatima Arash. The twentysomething lawyer has spent most of her legal career as general counsel of leading corporations, honing the negotiating skills that have led her to victory against some of the most experienced, highly regarded attorneys in her field.
"I always knew that I wanted to work as an in-house lawyer," Arash says. "I wanted to work for a company where everyone was working together toward a common goal of solving complex problems, building something bigger and better." Soon after graduating from law school in 2015, Arash secured exactly such a position: chief of research and compliance at a New York City midsize construction and development company.
Seven months later, Arash was promoted to general counsel.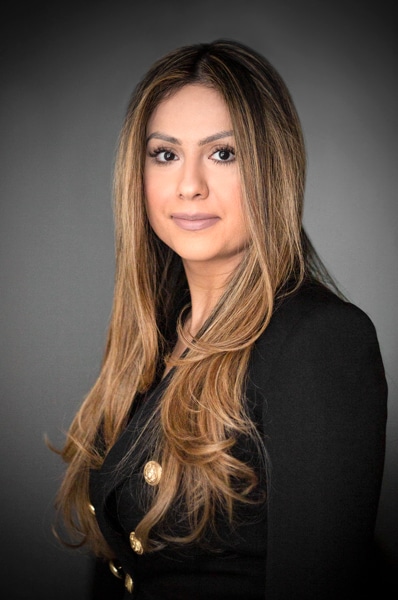 "It was exciting but also a bit terrifying to be promoted so quickly," Arash recalls. "I had never been a GC before and didn't really know what would be expected of me. Which led me to wonder, if a man were offered the same opportunity, would he question his qualifications? Women scale down or forgo opportunities because we believe that we have to be perfect at every aspect of the job to do well, but men don't think that way. So I happily accepted the job."
 Two years later, when Diamond Properties began looking for a general counsel, Arash didn't hold herself back. "All the other candidates were seasoned lawyers with several years of big-law experience, because that's the traditional path. You're expected to put in the time at a firm before going in-house," Arash explains. "I embraced a completely different journey in-house. But I've always been exceptionally prepared."
During her interview at Diamond, Arash presented a detailed map of what she would achieve in the coming months, including her plans for establishing the legal department. She got the job.
Three years later and with more than $200 million in closed transactions, Arash has no plans to slow down. "Being a GC forces you to be a generalist, to persistently keep growing, learning, and evolving, and I love that," she says.
Diamond Properties is a commercial real estate development company with a portfolio of more than $1 billion in assets and two sister companies: RDI, a manufacturing and technology company, and Diamond Hospitality Group, a family entertainment company. In addition to running the businesses themselves, Arash says, the co-CEOs of Diamond are passionate about supporting families and making an impact on communities nationwide.
"Being a GC forces you to be a generalist, to persistently keep growing, learning, and evolving, and I love that."
"Our goal is to continue to create our popular family entertainment centers in lower-income communities here in New York and in other states, like Detroit and Ohio. We're always working to make sure that a family of four can afford to go out, to play, to dine, and just have a good time," she says. "We also have the second-largest rooftop solar system in the state. Many similar companies don't make it a business priority to be socially or environmentally conscious, but Diamond does."
That social consciousness mirrors Arash's own values. "Millennial lawyers view the world differently," she remarks. "We think differently. We do business differently—we're transparent, we're ambitious, we're tech-savvy, and we'll truly revolutionize the legal profession.
"We tend to want to work with people, and hire people, who share our values," she continues. "When I look for outside counsel, it's important to me that the firm is diverse, that they have women leadership, and that they are doing things to help support women in the workplace. I've been very fortunate that my co-CEOs make female leadership a business priority. I have strong, ambitious woman leaders who sit on our executive team, and we're always looking for ways to promote women to the top spots across our family of companies."
Ensuring that her priorities align with those of her outside counsel is both a smart business decision and an opportunity for Arash to leverage her influence as a general counsel to help transform corporate cultures. As a young, female general counsel, Arash has seen the need for this transformation firsthand.
"We deal with a variety of complex dispute resolution and litigation matters, and I'm a tough negotiator," Arash says. Yet when more experienced opposing counselors first meet her, "they mistakenly believe that they can intimidate me," she notes. "But I've realized that being underestimated continues to be one of the biggest competitive advantages I have. Because then we end up winning. And my CEOs love winning.
"Those experiences do help rewrite the playbook," she says. "Today's business environment is unforgiving of companies or employees that are slow or unable to adapt to an evolving world."