"I often heard the phrase 'flexibility is key to airpower' while serving in the United States Air Force, and that appreciation for flexibility has been an asset outside the military as well. Anyone who has worked with me knows that I never turn down a challenge," says Christopher Aluotto, senior counsel for Google.
The nine years Aluotto spent in the Air Force imparted more than flexibility and discipline. As an Air Force judge advocate, he also received world-class legal training that continues to influence his work at Google. "As a junior officer, I was paired with senior trial lawyers who taught me trial strategies and tactics—not an experience I likely would have had as a civilian," he says. "And as a contracts attorney, I was paired with a very senior lawyer who provided day-to-day training on everything I needed to know about government contracting."
Aluotto shifted to civilian life in 2002. The transition wasn't difficult. He continued his work in government contracts—a natural segue following his work in the Air Force—and he says all of his employers have valued his military background. First, he built a government contracts group at a small law firm in Cincinnati, Ohio, from scratch. "I learned a lot about the importance of hiring the right people who not only have the right experience but also the emotional intelligence and ability to work as a team," he says. "It took a number of years building up a client base, but by the time I left the firm, it was a thriving practice group."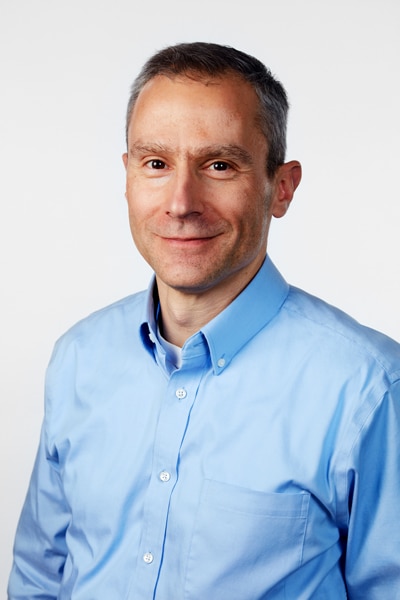 Then, in 2009, Aluotto joined Philips as an in-house counsel, building a compliance program to oversee the company's public sector contracts. He also served as the business unit attorney for its nuclear medicine group.
Finally, in 2012, Aluotto was recruited by Google to repeat the success he'd found at Philips. "I again built from scratch a compliance program to make sure Google complies with any contract it has with federal, state, or local government agencies," he says. "One innovation I made was to develop a compliance dashboard so management knows at any given time the health of our compliance program. In creating our government contract compliance program, I had to learn Google's business and identify various stakeholders who needed to be consulted. Identifying the right stakeholders is critical to getting any program approved by management."
Now, Aluotto is part of the Google Cloud commercial team. He is responsible for negotiating agreements with both government and commercial customers. Aluotto's work involves drafting and negotiating cloud agreements, professional service contracts, and licenses for software and artificial intelligence models.
He also typically takes the lead on more complicated cloud contracts. "These tend to be large enterprise contracts with the company's top commercial customers," he says. "Many of the commercial contracts I work on involve highly regulated industries, such as financial services or health care. When working with these customers, we have to account for their compliance requirements." Needless to say, Aluotto's expertise working with contracts for the government, another highly regulated industry, has proven invaluable.
The explosive growth in cloud over the past few years creates a challenge for cloud attorneys. "More businesses are learning about the power of cloud computing and are dedicating more IT spend in that area," he says. "Google has placed an emphasis on its cloud services, so being responsive to the business team and to customers is a challenge as the company's cloud business grows."
Another challenge is educating customers about how cloud computing works. "Cloud computing is very different from traditional software, which is downloaded and installed on a machine. Cloud services are generally provided through a multitenant distributed network. So if a customer asks you to change a component of the service, that change will apply to all customers. So, for every negotiation, you need to understand the customer's compliance requirements. You also need to understand how the cloud services address those regulatory concerns," Aluotto says.
Throughout his career, Aluotto has learned how to evolve and pull off complex projects within a constantly changing business landscape. "Organizations are constantly evolving. When changes are made within an organization, it's important to ensure that you consult with all stakeholders. Otherwise, you can have your project derailed at the last minute. If you want to change a process or procedure, it's also important to be able to clearly and succinctly explain what you want to do. If a ninth grader can't understand it, then you probably want to rethink how you are approaching the issue. And never lose sight of common sense."
***
Faegre Drinker:
"Chris Aluotto empowers his outside counsel to collaborate with Google's business leaders This fosters a committed compliance culture based on an innovative and effective compliance program. We look forward to future collaborations and further advancing Google's government business objectives."
–John G. Horan, Partner