One way to look at the concept of work/life balance is through the lens of separation—the idea of devoting equal amounts of time to two very different halves of one's life. But for Deputy General Counsel Danette L. Alfonso of Lennar Corporation, work and life are inseparable.
That's not to say she's a workaholic who spends all her waking hours at the Florida-based real estate and home construction company. Rather, her work as a lawyer has informed her life as a mother and vice versa. Indeed, Alfonso's professional and personal lives have moved in tandem from the earliest days of her legal career: when she enrolled in the University of Miami School of Law in 2000, she already had a two-year-old son named Daniel.
"He was my little partner in crime," she remembers. "People considered him the class mascot. I wasn't on the yearbook staff, but he's all over the law school yearbook." Alfonso credits Daniel with keeping her focused while she was earning her JD.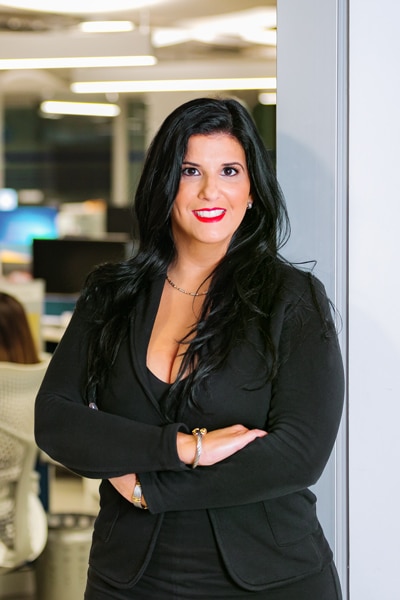 "Everyone freaks out in law school, but I couldn't because I had a child I had to come home and take care of," she says. "Everything had to be mediated by that. I knew that I just had to do really, really well. And that sounds kind of silly, right? How can you just make a decision to do well? But I did. I said, 'I just have to be at the top of my class.' I knew if I did really, really well at UM, I would have a lot of options when I graduated."
To succeed, Alfonso had to adjust her academic routine so that she could properly care for Daniel. For instance, when her colleagues wanted her to join their late-night study sessions at the library, she would convince them to change the location to her house. How? With food, of course. Alfonso found that it was hard for overworked law students to turn down home-cooked Cuban dishes and chicken nuggets made from scratch.
In 2003, shortly after Alfonso became an associate at international law firm Holland & Knight, five-year-old Daniel began exhibiting behavioral issues at school. Over the next six years, Alfonso took him from doctor to doctor to doctor, all of whom misdiagnosed him with everything from early-onset dysthymia to schizophrenia. By the time Daniel turned eleven, he had cycled through several private schools, eventually ending up in public school.
"When he switched from elementary to middle school, that's when it got worse," Alfonso remembers. Desperate to get Daniel the help he needed, she turned to her professional network.
"I started scheduling lunches with other parents of children who I heard might be like mine," Alfonso explains. And although this wasn't her intent at the time, she now realizes that her quest to help her son ended up expanding her professional network.
"Here I am—a third-year lawyer asking to take a judge out to lunch and asking to take partners at big law firms out to lunch. They all said yes because they had kids like mine and understood what I was trying to do. They provided me with the names of the right doctors and pointed me in the right direction for treatment."
"Everyone freaks out in law school, but I couldn't because I had a child I had to come home and take care of."
These referrals prompted Alfonso to take Daniel to the National Institutes of Health (NIH) in Bethesda, Maryland, where he was diagnosed with autism. Subsequent visits to the Nicklaus Children's Dan Marino Outpatient Center and the Center for Autism and Related Disorders, both in Miami, confirmed the diagnosis. Alfonso finally had her answer. But it was still an uphill struggle to get Daniel an education that would suit his needs.
"His school basically told me that they did not believe my son was autistic, even though I had brought them an evaluation from NIH," Alfonso says. "One of the judges I had spoken to urged me to write a letter to the school board. Nothing." After the school denied Alfonso's request for a behavioral modification plan, she sued the board to secure the additional services Daniel needed. The school then countersued, resulting in two lawsuits going on at the same time.
As difficult as this period was, Alfonso firmly believes that it made her a better lawyer and provided her with essential legal experience she may not have otherwise gotten.
"There was so much strategy that went into the way we dealt with my son's case," she says. "This was all before an administrative law judge. I would have never been before an ALJ in my regular life as a lawyer. That was pretty fascinating."
According to Alfonso, 85 percent of parents involved in lawsuits with the Miami–Dade County school board at the time lost their cases.
Alfonso won.
"It's been so wonderful, how this whole network of parents has helped each other. Every once in a while, I get a phone call from a parent who heard that I have a kid [with autism]."
From then on, she met face-to-face with the school board once a year to ensure that Daniel continued to receive the mandated services. He went on to transfer to a regular high school and graduate on time with a regular diploma. Best of all, his school began implementing more autism-specific training and working harder to identify students who are on the spectrum.
Today at Lennar, Alfonso handles everything from policymaking to providing counsel to the mortgage company and several of the company's homebuilding divisions. She also does most of the drafting for Lennar's associate reference guide and was recently appointed to the Residential Board of Governors for the Mortgage Bankers Association.
"That's what makes an excellent in-house attorney," she says. "We can help with everything." And it's her experience fighting for Daniel that's given her the ability to multitask and foster an ever-expanding net of professional relationships. She hopes that she can be a resource to others who have found themselves in a similar situation.
"It's been so wonderful, how this whole network of parents has helped each other," she says. "Every once in a while, I get a phone call from a parent who heard that I have a kid like theirs."
***
Baker McKenzie:
"Danette is a thoughtfully inquisitive, proactive leader. Her smarts and good judgment along with her remarkable persistence have made her a trusted advisor to senior leadership."
–Michael Brewer, Partner
***
Blank Rome:
"Danette is extraordinarily bright and creative and truly partners with Lennar's outside counsel to bring about business-based solutions to legal challenges."
–Ted Meyer, Partner
***
Gordon Rees Scully Mansukhani:
"Danette is a truly excellent lawyer who thinks outside the box, approaching problems from both an offensive and defensive perspective. And when it comes to mediation, there is none better. That said, her most endearing qualities are that she is, at her core, forthright—and she sincerely cares about people."
–Judge David M. Gersten (Ret.), Partner
***
Parker Poe:
"Parker Poe has been honored to work with Danette Alfonso for more than a decade. Danette's gift for finding out-of-the box solutions is extraordinary, and our firm has benefitted greatly from her insights over the years. We look forward to continuing our long-standing relationship with Lennar and congratulate Danette on the well-deserved recognition of her talents."
­–Russell Killen, Partner, Construction Law