Christopher Harrington has witnessed some magical sports moments in Cleveland. In 1997, he attended the coldest game in World Series history and watched the Indians beat the Marlins, 10–3. He was there in 2002 when William Green ran for a sixty-four-yard touchdown with less than four minutes left to send the Browns to the playoffs for the first time since their return to the NFL. In June 2016, he saw the Cavaliers even the NBA Finals series after being down three games to one. Five months later, he was in the bleachers for game seven of the World Series.
Today, the Ohio sports fanatic is associate general counsel for the Cleveland Cavaliers organization. Not only does Harrington work for the Cleveland Cavaliers NBA franchise, he also provides full legal services to all other sports properties owned by the Cleveland Cavaliers' parent company, Cavaliers Holdings, including the Cleveland Monsters (AHL), the Canton Charge (NBA G League), and Cavs Legion GC (NBA 2K League).  The Cavaliers organization also operates the Cavaliers' and Monsters' home venue, Rocket Mortgage FieldHouse.
Harrington tackles this demanding, high-volume job alongside General Counsel Meg Murray. "I love the pace of this business because it fast-tracks my development," Harrington says. "I get to learn every aspect of what it takes to work in sports, and I'm trusted to show what I can do."
Although many of Harrington's counterparts at the NBA and other sports leagues are seasoned veterans, the gig is just his second job out of law school. And while the millennial lawyer comes from a generation sometimes stereotyped as lazy, coddled, and entitled, he's proving those labels false.
Months after graduating from Cleveland State University's Cleveland–Marshall College of Law, Harrington joined the Brooklyn Nets and Barclays Center organization—now known as BSE Global—in September 2012. Harrington joined the organization at a critical time. Two days prior to his arrival, the organization opened Barclays Center, a nineteen-thousand-seat sports and music venue situated at the corner of Atlantic and Flatbush Avenues in Brooklyn. Soon after, the NBA's New Jersey Nets officially moved to Brooklyn, bringing professional sports to the borough for the first time since the Dodgers' exit in 1957. In October, BSE announced that the NHL's New York Islanders franchise would play at Barclays Center starting in 2015.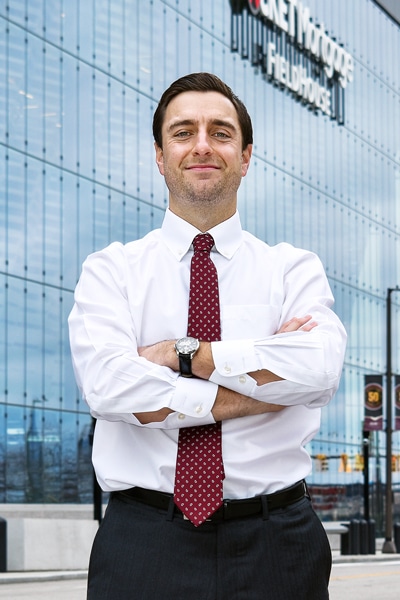 From the start, Harrington kept busy at BSE. He performed transactional work, including putting together sponsorship agreements, completing compliance-related tasks, drafting sweepstakes rules, and editing vendor agreements. The next spring, when BSE won a major bid to renovate Nassau Coliseum, he got even busier.
"I credit that era and two great leaders, Jeff Gewirtz (BSE's global EVP and chief legal officer) and Kari Cohen (now general counsel for the New York Red Bulls), who really invested in me, preparing me to excel in this industry and help set the stage for the work I do today."
When major deals came up, Harrington's mentors let him participate. He gained construction and real estate experience as BSE's point person on a practice facility built for the Brooklyn Nets in Industry City, Brooklyn. He also assisted on the team's major regional telecast agreement with the Yankee Entertainment and Sports (YES) Network.
Harrington enjoyed his time at BSE, but when a job opened up at the Cleveland Cavaliers, he couldn't pass up the opportunity to return to Ohio and work for a hometown team.
The work in Cleveland is similar to the work in Brooklyn, and while Harrington says the pace can be less frenetic, the workload is higher. On any given day, he might be working on deals with corporate partners like Goodyear and Quicken Loans, a ticketing service provider like SeatGeek, radio broadcast partners like iHeart Media Cleveland, company vendors, and independent contractors, among numerous other parties.
"I love the pace of this business because it fast-tracks my development. I get to learn every aspect of what it takes to work in sports, and I'm trusted to show what I can do."
To manage his workflow, Harrington flags and prioritizes every email that hits his inbox. He also relies on a custom contract processing and repository system that works with SharePoint, developed by an in-house "tech genius." By using the tool, known as the Legal Depot, anyone in the company can submit an item for legal review and track each step of the workflow, using automated alerts and other integrated features.
Harrington leveraged his previous experience to play a major role as his organization "transformed" its arena. In February 2018, the organization's business operations teams moved out of its in-arena office space to accommodate eighteen months of renovations. "Radio, TV, and arena deals are some of the biggest things we handle. They don't come up often," Harrington says.
He helped negotiate and ran point on agreements with the general contractor and architect of record for the $185 million Quicken Loans Arena "Transformation" project. The new arena, which opened as Rocket Mortgage FieldHouse in September 2019, includes a striking glass facade, modern technology, new public spaces, and other modern upgrades.
Now, the organization is focused on navigating challenges related to the COVID-19 pandemic and bringing large-scale events back to its arena in a safe, responsible way. Harrington, an avid music fan and former manager of the LA-based indie rock outfit Primaveras, helps secure Rocket Mortgage FieldHouse's live acts. "Sports, concerts, and other live events create a shared experience that just can't be replicated," he says. "We want to provide that special atmosphere for fans in Ohio and elsewhere."
On June 19, 2016, Kyrie Irving hit a three-pointer with less than a minute left to cap off an electrifying NBA Finals and give the Cavaliers their first NBA championship in franchise history. Although the game was played in California, Harrington was one of the thirty-one million people watching on TV. As the final moments ticked off the clock, he joined other revelers outside and celebrated by hugging random strangers in the street. Harrington has been there for some of Cleveland's best sports moments; now he's helping create even more.