Her first year out of college, Vaishali Udupa was on a fast-tracked construction site, building a semiconductor plant. Having graduated as a civil engineer and decided to defer her law school acceptance for a year, Udupa found herself as the only woman onsite who wasn't administrative staff, trying to convince construction workers that her expertise could streamline processes and make things run more efficiently.
"It was a great learning experience in just having confidence in myself and proving that I was, as a twenty-one-year-old minority woman, going to make this project run smoother," Udupa says. "I had to build trust. It was not easy, but by the end of my time on the project I convinced these male construction workers of my value add."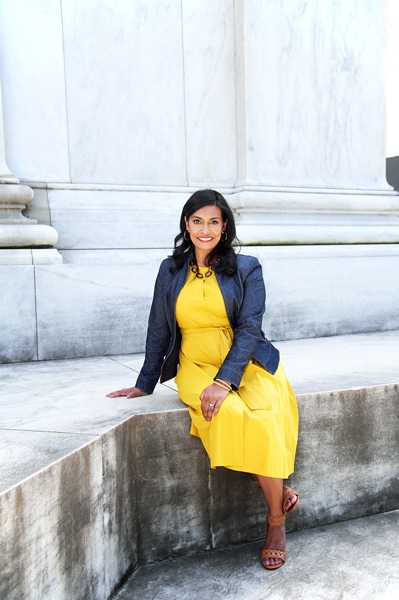 The now vice president and assistant general counsel of litigation at Hewlett Packard Enterprise says her early engineering experience wouldn't be the last time she would be the only woman in a room, but in rising to her position at HPE, she has demanded wider representation from her outside counsel. Today, she continues to push for more women and diverse attorneys in the legal field.
Udupa was the only woman in her first-year class at her first law firm. Later, when she moved to one of the top AM Law 100 firms, there were many times when she was the only woman in her Washington, DC, office doing IP litigation.
In her current role at HPE, however, Udupa finds herself in a very different setting. "HPE's current IP litigation team is all women," Udupa says. "I know what female and diverse attorneys can do if given the opportunity, so we just need to harness and amplify their talents."
Udupa says recent trends show that more women than men graduate from law school.  However, when examining senior legal roles, female minorities are virtually nonexistent. "If you aren't being given opportunities to demonstrate your skills in the courtroom or in key positions on a case, when it's time to make partner or climb the corporate ladder, you won't be able to check those boxes that senior management is looking for," Udupa says. "If you are consistently not getting those opportunities, despite proven success, and your clients or management is not fighting for you, it's just a cycle that is going to continue."
The lawyer pulls no punches in admitting that she has actively singled out outside counsel who do not do enough to encourage diversity and give women and diverse attorneys the key opportunities that lead to success. "I had a firm suggest they replace a lawyer because she was getting married and 'had a lot going on,'" Udupa says. "I called around and not only did she do great work, she herself wanted to stay on the case. I called the firm back and told them to never, ever do this again. If the attorney working on my case was a man, this call would have never happened."
Udupa says the successes she's seen on her teams at HPE prove the value of employee diversity. More often than not, her case teams are at least 50 percent diverse. One example of their success includes fending off infamous patent trolls in the Eastern District of Texas, the well-known capital of pro-patent-troll judgments. More recently, her HPE team won summary judgment after a contentious lawsuit from Oracle. HPE supported her push for a diverse team handling the matter. Her teams have proven track records of exceptional results, Udupa says. "The more we're able to prove the power of diversity with data and results, the more we will be able to break that cycle."
On her team, Udupa has formed what she affectionally calls "the wolf pack," in reference to a commencement speech retired women's soccer player Abby Wambach gave about realizing that in the story of Little Red Riding Hood, she found herself more aligned with the wolf. "I give my team the rules of the wolf pack: championing each other, leading from the bench, demanding the ball, and making failure your fuel," Udupa says. She even provides her team with stuffed wolves to remind them of their commitment to themselves and to each other.
Perhaps one of Udupa's most crowning achievements is having risen to her role without being able to follow in the footsteps of other minority women. She is grateful to all her mentors and managers who truly advocated for her, but none of them were diverse women.
"I didn't really think about it until recently, when I was speaking to someone who had been in the industry for years and he said, 'As a minority woman attorney, you've done all this without anyone to look up to that looks like you. How?!'" Udupa recalls. "It has not been a smooth road, but my hope is to pave that road and make it easier for those who come after me."
***
Bartlit Beck LLP:
"Vaishali stands out among our clients for her ability to see the big picture and find the right solution.  She understands what trial lawyers need to get the job done, but she also isn't afraid to break the mold.  We constantly preach collaboration and innovation, and Vaishali has both challenged and enabled us to do more and to be better."
—Mark E. Ferguson, Founding Partner