When René Hertsberg was pursuing his bachelor's degree in molecular biology, he never expected he would become a lawyer. "I wanted to work in a lab and study cancer," he says. "After two years in a lab, I realized it wasn't for me." Swiftly, he switched gears to become an intellectual property lawyer—a specialty that fortuitously benefited from his science background.
In private practice, he especially enjoyed working with businesses, negotiating contracts, and settling disputes. In the fall of 2011, Urban Elevator, an elevator service provider established more than twenty-five years earlier by Hertsberg's father, recruited Hertsberg to join the family business. Urban Elevator was making some changes to its operations at the time and hired Hertsberg to both be its general counsel and to help effectuate the coming changes.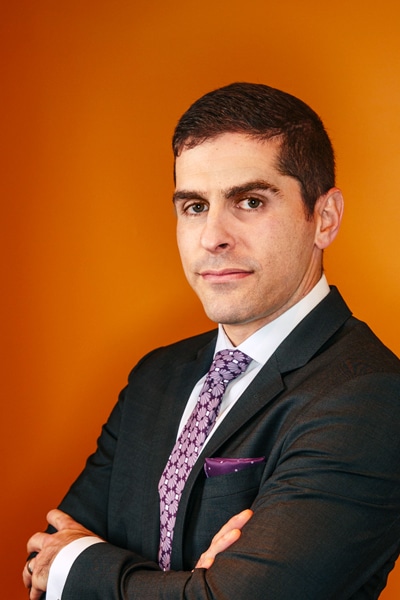 Compared to other service industries, the elevator industry is quite conglomerated. In other words, while finding a good plumber requires sorting through sixty names, there are only a handful of elevator companies no matter what town you're in. "As a result," says Hertsberg, "it can be rather homogeneous." Thus, when Hertsberg entered the industry, he set out to do whatever it took to make sure Urban Elevator stood out as number one. Fortunately, the family-owned company was already standing out as a valuable choice because of a rare key ingredient: authenticity.
Hertsberg's experience in private practice made him aware of the dog-eat-dog nature of legal negotiations. "A lot of times when lawyers negotiate with each other, it's a win or lose thing," he explains. "But really, there's almost always a middle ground, and my feeling is, it's worth trying to find a place where everybody wins." In his role as general counsel, Hertsberg uses this mentality when assessing contracts with new and old clients alike. The goal behind this method is not only to ensure a fair and balanced approach to partnerships but also to prove to clients that they're willing to work together to make the product the best it can be within a client's means.
His methodology may seem simple, but it takes time to perfect. Nevertheless, Hertsberg says that having the patience and diligence needed to accomplish things properly is vital when handling contract negotiations. "Finding that middle ground really varies from building to building and project to project," Hertsberg says. "When working on a deal, I always try to get our clients to engage with me. I devote time to having conversations with clients about writing contracts that are fair to everybody."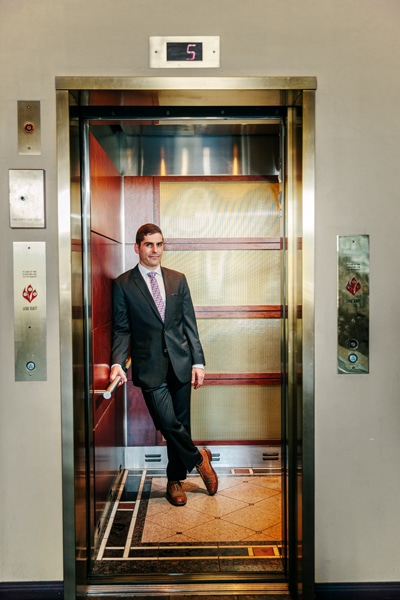 Of course, finding that perfect middle ground also requires navigating the gray area between business reward and legal risk—knowing what the business can gain from the arrangement while also understanding the nuance attendant to negotiating an intricate installation or service deal. That's where the company's mission of doing the right thing shines through. Hertsberg explains, "The best way to ensure an optimum outcome is for both parties to be reasonable. It starts with listening to each other's contractual concerns."
Luckily, Hertsberg's dual roles allow him to communicate effectively with all parties involved, strengthening Urban Elevator's ties holistically. "Working both roles bridges the gap between communicating with corporations, building owners, contractors, and other lawyers," he says. "When needed, I can get involved in the sales process as CFO, but when I'm working with lawyers and contract negotiations, I'm general counsel."
By working authentically and communicating effectively, Urban Elevator has built a strong reputation, allowing it to grow organically and attract loyal clients as it expands to new locations. The goal, Hertsberg says, is to bring Urban Elevator's pragmatic, honest brand of elevator contracting services to other markets across the country. Over the past three years, the company has kept on track, broadening from its Chicago roots to build three new branches in Texas, Colorado, and Arizona.
Furthermore, Urban Elevator's reputation for treating people fairly has helped the company increase its unionized workforce. "It's a matter of effectively growing your labor force," Hertsberg says. "We found we can attract the best, most trained people, and we want to keep our team happy and engaged in their jobs."
Together, Urban Elevator team members work to get things done in a fair and balanced way that echoes throughout the company, in accordance with its mission. From service technicians to fellow executives, each team member works diligently to provide exceptional service with the safety and financial stability of clients in mind, all while learning important, industry-specific subtleties. "Getting things done correctly means spending the time to do things correctly," Hertsberg says. "It means properly staffing workflow and making sure that people aren't being overworked so they have time to do things the right way. It just means doing the right thing, not the easy thing."
***
Burke Warren MacKay & Serritella P.C.:
"Under René's leadership, Urban's customer contracts combine an equitable allocation of risks with careful attention to each customer's unique needs. We're proud to be a partner in Urban Elevator's continued success."
—Ken Richman, Shareholder