Every patent attorney needs a technical background to truly understand the nature of their work. But Tenley Krueger has more than technical know-how—she has the wide-ranging global experience, the commitment to collaboration, and the innovative vision necessary to help an international corporation like Halliburton really thrive.
Growing up surrounded by lawyers and politicians, Krueger always knew she would one day go to law school. It was just a question of how she would get there. And when one of her high school teachers suggested that she would do well in chemical engineering, Krueger knew she had found the right fit for her.
A chemical engineering and petroleum refining double major, Krueger gained "a lot of industry contacts as well as a foundational education" in her four years at the Colorado School of Mines. Immediately after graduating, she enrolled in the JD program at Tulane University Law School, where she pursued a concentration in environmental law.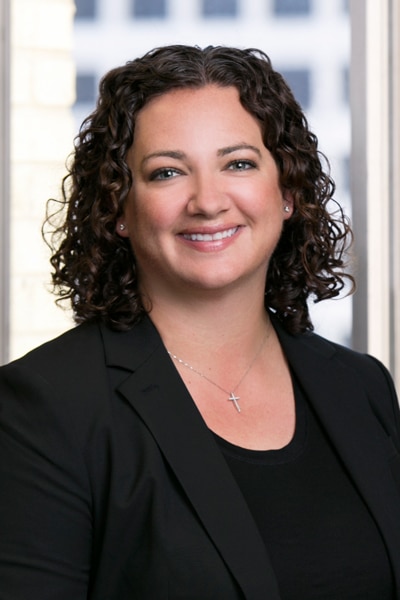 "There were essentially two legal tracks I could take if I wanted to do something with my undergrad degree," Krueger recalls. "It was always going to be either patent law or oil and gas."
Krueger chose patent law—at least, to start with. She worked for two years as an associate patent attorney at boutique IP law firm Moser, Patterson, and Sheridan before securing a position as a patent attorney at Total Petrochemicals USA, an international oil and gas company headquartered in Houston, Texas.
In 2005, Krueger started her own patent law firm, TR Krueger, PC. She managed the firm for more than eight years before transitioning to Texas-based firm McGlinchey Stafford and, in July 2016, to the position of senior counsel in the IP law practice group at Halliburton.
"I've had an extremely varied career," Krueger summarizes with a laugh. "I've worked in a boutique firm, a large national firm, an in-house legal department, and in my own firm. I've even worked overseas in a local patent firm in Malaysia.
"These varied and global experiences have informed my career, of course," Krueger continues, "but I'm also able to leverage them now at Halliburton because we have such a huge network of outside counsel and foreign counsel."
As senior counsel at Halliburton, one of the most prominent oil field service corporations in the world, Krueger works very closely with external counsel distributed across the globe to efficiently prosecute and enforce the company's patent portfolio.
"Our portfolio spans the US and all over the world, wherever we have operations, so we often have to use local counsel for patent prosecution," she explains. "I coordinate with our local counsel as well as our internal clients to help them with patent matters, contract negotiations with customers and vendors, and other matters relating to IP and technology."
"I've had an extremely varied career. I've worked in a boutique firm, a large national firm, an in-house legal department, and in my own firm. I've even worked overseas."
In fact, Krueger says, she and her team step in to help if anything that even touches on technology comes through the legal department. "I manage the patent portfolio as well as contract negotiations and drafting, and I also support our chemical and software product service lines, including Landmark," Krueger says. "But it's very collaborative—we work closely with other legal functions and even help the marketing group, especially with trademark and patent issues related to both marketing materials and company branding."
Krueger's technical background in chemical engineering often serves as an invaluable aid in that work, she remarks, helping her effectively support product service lines using real business and industry insights. And those insights are key, given how fast the industry is moving.
"One of the biggest challenges I face is the need to develop specific policies and compliance strategies that allow our clients to innovate quickly," she says. And as Krueger knows, that kind of fast-paced innovation requires unparalleled communication and collaboration. That is exactly what she and the product service line Landmark hope to achieve through Landmark's  OpenEarth® Community.
"Landmark looked at how these communities are used in other industries and really liked the focus on collaboration and innovation," Krueger says of the community initiative, which brings together scientists, software developers, and engineers intent on finding new solutions to ongoing industry problems. "And at the end of the day, that's what Halliburton is all about—using collaboration to drive technology, innovation, and value for our customers."