Allison Brecher is all about making an impact, both inside and outside her office walls. And at Vestwell, an award-winning fintech start-up that has attracted funding from industry leaders like Goldman Sachs, Brecher has wholeheartedly dedicated herself to addressing one of the most serious problems facing Americans today: saving for retirement.
As she notes, there is currently a significant retirement gap in the United States. A substantial share of Americans across the generations are not financially equipped for retirement. In fact, Brecher says, some government reports have revealed that many Americans have no retirement savings whatsoever.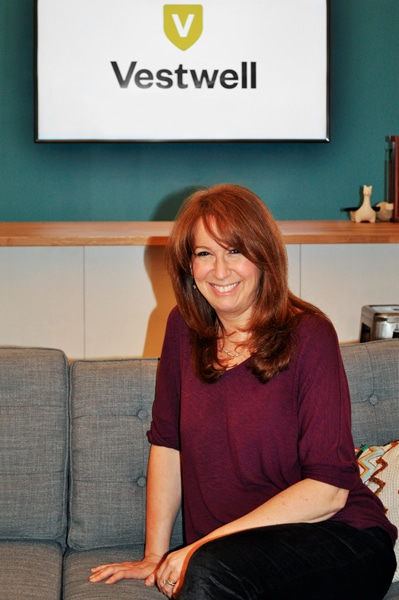 "We are changing that," she says firmly. "We believe there are too many barriers to entry and pain points to offer a workplace retirement plan, especially for small companies, so that's what we've set out to tackle."
Recently honored as one of Crain's 100 Best Places to Work for 2019, Vestwell "makes it easier for small and medium-sized businesses to offer retirement plans, and, by extension, easier for people to save for retirement," Brecher explains.
In 2017, Brecher left her position as senior assistant general counsel at Marsh and McLennan Companies, giving up a large, private office and all the creature comforts that come with working in a large, in-house legal department, to join the team at Vestwell.
"Being general counsel at a start-up is a world away from the traditional corporate legal department in almost every way," Brecher says of the transition. "I am in a much smaller environment where I have a line of sight into every department—literally because we all work in a collaborative, open space. I come to work every day knowing that I am going to make a difference for our growing business and our clients."
She continues, "Lawyers sometimes do their work without being sensitive to its impact on business operations. I think we've set a great example here to show how in-house counsel can partner with the business to scale for growth while complying with legal and regulatory requirements."
"We believe there are too many barriers to entry and pain points to offer a workplace retirement plan, especially for small companies, so that's what we've set out to tackle."
According to Brecher, she owes many of her accomplishments—from her first position as a Fox News field reporter and producer to her current role as Vestwell's general counsel—to mentors like Lucy Fato (now general counsel at AIG), supportive family and friends, and her determination to get hands-on experience.
She got that experience by getting out of her comfort zone, which can be especially difficult for women. "I didn't want to sit in a law library doing research all day, hoping that my work would make its way into a footnote," Brecher recalls of her early legal career. "I took a chance and moved to Arizona, knowing no one and without any connections, because I knew the legal environment there was more conducive to giving me that kind of practical litigation experience."
"Every new attorney should try a case," Brecher adds. "When you see how a judge or jury deliberates, it really changes the way you approach any matter, manage risk, and even how you write a contract."
After three years working as an associate at a large Phoenix-based litigation firm, Brecher had the practical foundation she needed to move to Manhattan-based firm D'Amato and Lynch and, in December 2002, to the in-house legal department at Marsh and McLennan. Fifteen years later, she came to Vestwell amply prepared to tackle the general counsel role. "I'm lucky to have had great opportunities to learn from the best mentors," she remarks.
Brecher is one of just a small handful of women general counsel working in financial technology services, and she is Vestwell's only in-house attorney. But to Brecher, who was named a top general counsel by the 2019 OnCon Icon Awards, taking the company's legal load on her shoulders alone has been more of an opportunity than a challenge.
"When I took the role of general counsel, it was a great way to shape the culture of our growing company. I enjoy teaching the team about the rules and regulations of the industry and empowering everyone to be a risk manager and to speak out about concerns," Brecher says. "As a working mother, I also felt a responsibility to be a role model for others at and outside of Vestwell."
Since starting at Vestwell, Brecher has instituted regular lunch-and-learn sessions to teach employees about legal issues, helped create employee resource groups, and "elevated the baseline level of legal knowledge at the company." She has built the legal and compliance function from the ground up, working "around the clock, literally 24/7/365" to write and implement the company's compliance policies, employee handbook, contracts, and administration processes. And she has set a truly collaborative and appreciative tone for everyone else at the company.
"I try to set aside the last fifteen minutes on my calendar to thank anyone who helped me that day," Brecher says. "Colleagues appreciate being appreciated and will do their best work when they feel valued—it's that simple."
Finding Purpose Through Service
As Told By Allison Brecher
Community service is an important part of my personal life. I feel a responsibility to give back, and I do that in many ways. First, through mentoring others at my company and in my industry, especially working mothers. I cofounded the Working Mothers Committee of the New York City Bar Association after my first child was born to help working mothers navigate work/life challenges. And since 2015, I have hosted a radio show called The Nonprofit Voice, where I profile inspiring women across the country who have found their purpose and make a difference through service. I hope some of my work paves the way for future working mothers to get the support they need to achieve their career goals.