In 2017, Tammy Brandt started two big projects. She came to the early-stage company Dreamscape as the chief legal officer and head of business and legal affairs. She also became a mother. In both roles, adaptability and focus, some of her strongest skills, got a workout. 
Dreamscape offers location-based, full-body virtual reality—new experiences in a new industry. Developed as an entertainment option for mall patrons, these virtual reality experiences are a pioneer in the retail space. Supporting this dream turned reality, Brandt's diverse and in-flux work sees her involved in everything from content deals to vendor contracts and leases to board relations. She not only provides legal expertise but also negotiates deals, handles human resources matters, and serves as the chief fundraiser. "At smaller companies, you have to have the whole picture," she explains.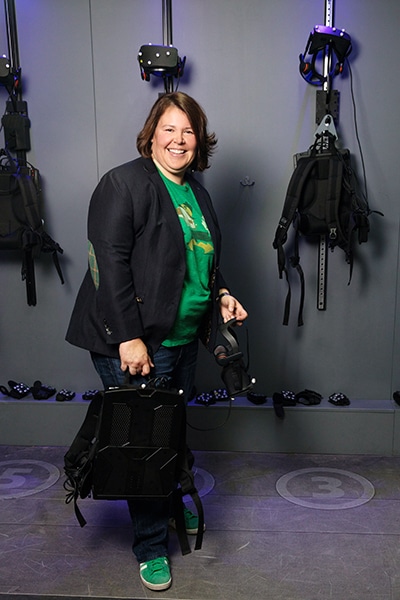 Brandt, who specializes in emerging tech, knows what it takes in Dreamscape's environment. She has been an in-house lawyer for companies in that sector since 2007. She is a generalist in this specific type of company. Explaining the unique path she has forged, she says, "Helping companies grow, helping them along the path, like raising a child, is rewarding."
Previously, she worked with a 150-person company that built cloud-management tools and shepherded it through acquisition. She moved with them to the Fortune 100 and into a lead legal role. "I work with the business end to see why a new technology might be a target and then work to understand how to integrate the new tech," Brandt says.
This means that, at small and large companies, Brandt offers understanding of specific technologies' value. However, after time with start-ups and huge international organizations, she says, "I love the idea and process of small companies working to disrupt a field."
She has found a great match at Dreamscape. Currently, the company employs sixty people. Brandt is excited to help nurture the company's growth and sees her work validated in the reviews and high performance of the first site since its December 2018 opening. Beyond this, Dreamscape closed its series B investment with American Multi-Cinema (AMC) with Brandt as the point person. By the end of 2019, the company plans to double its staff and, in partnership with AMC, open at least four more locations. That sounds like big growth, but, Brandt says, 2020 is when things will get really exciting.
"In a space like this, you get to work with sophisticated parties," Brandt says. To work in emerging tech, she explains, one must be business savvy, understand how to talk tech from not just a legal standpoint but also with engineers and clients, and, of course, be an effective, agile leader. At Dreamscape, she does a lot with a six-person team. "I knows it sounds like a cliché," she says, "but I think the key to leadership is 'lead by example.'" In practice, this means demonstrating focus and building an accountable team with clear goals and check-ins. "Then let them flourish," she says. "Give a problem set and let the creativity fly … with accountability."
Months of parenting her son, Bobby, has taught Brandt leadership lessons that she applies at Dreamscape. "I am a better boss because I am more understanding of people with kids, of people's needs," she says. "I understand unpredictability." She knows that it is a challenge to be responsible to your children and to keep a career on track. Beyond reinforcing the importance of balance, experience has improved her communication skills, something she believes starts at home. "My wife also works, and we need clear strategies to get things done."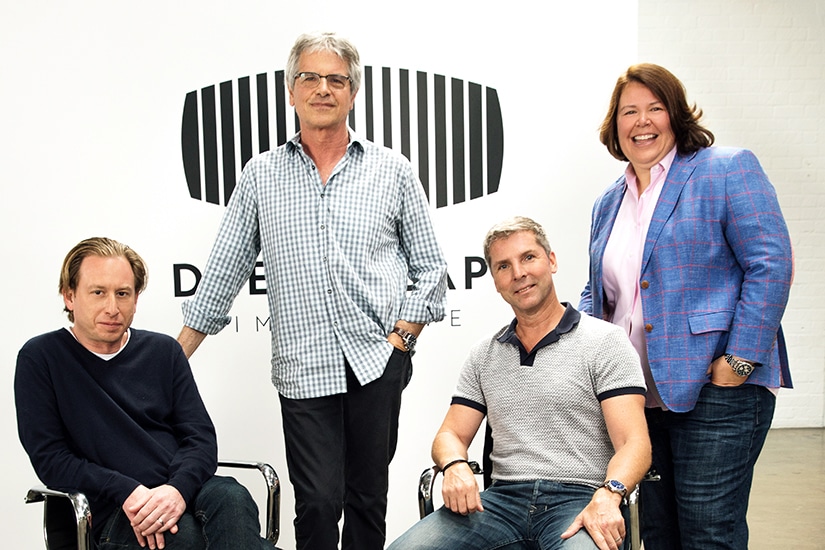 Brandt's success in the tech sector, an industry where women have long been underrepresented, is especially impressive. However, she believes that in emerging areas, such as VR, there is more space for women because they can get in early. Discussing her experience, she says, "I can have a seat at the table, but most teams are still mostly men." Along the way, she had to show that she belonged with the boys. Though "it took a while to get here," she admits, "I don't worry that I'm a woman because I've proven that I belong at the table."
Guest Editor Lily Hughes discusses virtual reality, emerging technologies, and diversity in tech with Tammy Brandt
Lily Hughes, Senior Vice President, Chief Legal Officer, and Corporate Secretary, Public Storage (LH): You have a history of working at companies focused on emerging technology. Your current company, Dreamscape, is opening location-based virtual reality centers. Why are you excited about virtual reality?
Tammy Brandt, Chief Legal Officer and Head of Business and Legal Affairs, Dreamscape (TB): Virtual reality is a compelling technology that has been around for a while but has been slow to be adopted because most people don't have access to the technology. Dreamscape provides a place for folks of all ages to come experience completely immersive virtual reality adventures. Dreamscape is a quintessential example of a company living at the intersection of technology and entertainment. The key to success will be having great content to complement the technology, creating a captivating experience. I'm excited to be working in the area because I think virtual reality will transform not only the entertainment industry but also other sectors, such as healthcare, education, and the military.
LH: I understand that you grew up on a farm in Ohio. It must be a big change to live in Los Angeles and work with cutting-edge technology companies. What skills from your upbringing have been useful in your career?
TB: On the farm we grew corn, wheat, and soybeans. Most people don't realize all the behind-the-scenes work that goes into farming. It is hard work that requires dedication and responsibility and is often not that financially rewarding. I always had a long list of chores and grew up helping my dad fix tractors, cleaning out grain bins, and learning how to care for animals. My parents grew up on farms in Ohio as well before meeting in college at Ohio State, and they really taught my sister and me to be humble and work hard, which has served us both very well in our careers.
LH: There is a lot written about women being underrepresented in technology companies. Do you think this trend is changing?
TB: I do think there has been a shift and that tech companies are making more of an effort to focus on diversity. It is true that at times in the recruiting process there are very few diverse candidates for certain technical positions, so in some cases the talent pool is just not there. As virtual, augmented, and mixed reality really start to take off, I am seeing more women involved because it is newer technology and easier to break into the field.
LH: You have a unique background in that your in-house positions have been in various industries—automotive, cloud computing, enterprise software, IT outsourcing, and virtual reality. What is the biggest challenge for you as you enter new industries?
TB: The most important thing in any job is really to get to know the business and developing relationships with the key stakeholders. Depending on the role and complexity of the industry, the amount of time this will take will vary. A theme in the last nine years of my career has been working with emerging technology companies, either as the general counsel or on a team focused on acquiring these types of companies. Innovation, agility, data collection, and user experience are themes that tend to permeate these companies and are very transferable as I work at companies across different industries. 
***
Pacific Unified Insurance Agency:
"Tammy Brandt's dedication to her profession is second to none. We applaud our valued partner and friend for her recognition by Modern Counsel as being a thought leader in her field."
–John Huttinger, CIC, CRM
President