The television industry is never going to become less complicated than it is right now. Consumers today can watch television on virtually any digital platform, no matter where they are in the world, and can curate their own viewing experience through video-on-demand sites such as Netflix and Amazon Prime. As senior vice president and deputy general counsel at A+E Networks, Stephanie Plasse has had a front-row seat to those changes and has spent the past six and a half years helping the company maintain its place at the forefront of the industry.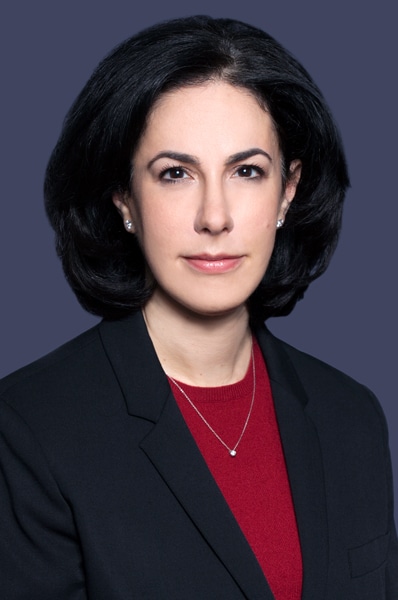 Plasse has always been interested in media and journalism, even securing the post of editor-in-chief of the Yale Daily News while pursuing a bachelor's degree in history at Yale University. When she started law school at Stanford University, Plasse says, she was drawn to the subjects relating to media—"not just first amendment issues but also changes that were happening in the industry and in business," she explains. "I was in the heart of Silicon Valley and was very interested in the telecommunications industry, as well as the development of the Internet and digital."
After graduating from Stanford in 2000, Plasse worked as an associate at well-known law firms Cravath, Swaine, & Moore and Greenberg Traurig. She then spent nearly five years as director and vice president of networks business and legal affairs at HBO before joining the legal team at A+E.
Recently promoted to deputy general counsel, Plasse is now responsible for managing legal aspects of global revenue, partnerships, and distribution for A+E, a leading global media company (joint venture of Hearst and Disney), and a collection of culture brands around the world, encompassing channels: A&E, Lifetime, History, and Viceland (with partner Vice Media) and beloved TV shows such as Vikings, Pawn Stars, Live PD, and Married at First Sight among countless others. The company also has its own in-house scripted and unscripted production units, A+E Studios and A+E Originals, respectively; as well as growing its endeavors in the realm of digital/SVOD/AVOD, consumer enterprises, e-commerce, and experiential.
Measuring Media
When A+E Networks was founded in 1983, it had only two cable channels. Today, the company has a global presence and an entertainment portfolio that includes ten linear television channels and an array of brands and media platforms.
By the numbers:
500+ million digital users
335 million people reached worldwide
8 out of 10 American households reached
"I'm now overseeing—from a legal perspective—the distribution, digital, M&A, international, consumer enterprises, and technology and operations aspects of the company," Plasse says. She explains that these focus areas allow her to align her work with the current needs and priorities of the business—which are far different from what they were even a few years ago, she adds.
"Disruption, consolidation, and globalization have all been forces for massive change and have been upending content creation and content distribution ecosystems," Plasse says. For A+E, she adds, the first wave of that change was a proliferation of channels around the world, plus an effort to work with domestic partners that could offer digital access to the company's video content in initiatives such as TV Everywhere. "The nature of high-quality content, like the content our company strives to create, is such that it often has global appeal to audiences all over the world."
In addition to that push towards globalization, Plasse notes, an array of virtual multichannel video programming distributors (vMVPDs) has launched. For A+E, she says, that means "our digital platforms carry our portfolio of networks alongside our traditional distribution partners such as AT&T, Comcast, DISH, and Spectrum."
But globalization and platform diversification aren't the only challenges the industry is facing. In recent years, subscription services such as Netflix, Disney+, and Amazon Prime have exploded onto the marketplace, and those services will soon be joined by other "giant players" like HBO Max and Peacock. "That really feels like the next big wave of change," the SVP says. "These digitally oriented companies all have their roots in the US but have potential to become global offerings."
And A+E has found its own way of responding to this rise in direct-to-consumer subscription services. "We're licensing our content on a global basis and supporting the distribution of our international channels. We've also developed our own products, like the Lifetime Movie Club and History Vault, which are geared toward super-fans with a curated offering of the library content that they love," Plasse says. "When it comes to the new video-on-demand services which have a lot of advertising support, we're well-positioned as a seller to license either our program library or content from our other content creation engines and studios."
Facilitating this ever-growing need for high-quality content as well as new revenue sources is an ongoing challenge for not just A+E but the industry as a whole, but according to Plasse, the company is more than up to the task.
"Our leadership is very proactive—it's part of our culture to have a lot of foresight and to be prepared very early on," says Plasse, who was honored with the CableFox Top Lawyer award in 2018 and 2019 and named a Wonder Woman by Multichannel News for 2020. "We constantly keep an eye out for new areas of content creation or technology development to help ride these waves of change."