For many people, keeping work and home life separate is essential to maintaining peace at both. But for Scott Adler, the deputy general counsel at American Express Global Business Travel (GBT), his experiences as a parent have greatly informed his leadership style at work.
Adler, who's married and has two sons, spends much of his free time coaching their youth sports teams. "It's very rewarding to watch the kids improve throughout the season and bring it all together in the end," Adler says. "It's not where you start but where you finish. These kids are better ball players and happier kids than they were at the start of the season."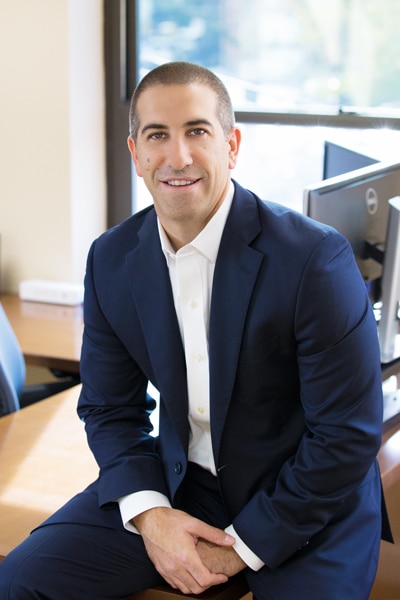 He developed his leadership style by learning from the best. "In my career, I've been fortunate enough to work with tremendous leaders," Adler says. "Most leaders that I thought to be effective had a coaching mind-set." Adler consistently finds himself utilizing those leadership skills and applying them when coaching his kids and their teammates, and then taking what he's learned from coaching children and bringing that "coaching mind-set" to GBT's legal department.
Adler values growth and improvement among his team members and always aims to put them in the best position to succeed. Just as he tries to encourage and empower kids in their athletic pursuits, Adler also focuses on mentorship and the professional development of his team members.
"I challenge my team to work creatively," Adler says. "Their development is important to me and they know it."
Underpinning his coaching mind-set is a "participative approach" that encourages solution-oriented results. "I am known to be extremely motivated by organizational goals and achieving the absolute best results for the company," Adler says. "Our role in the legal department is to facilitate GBT's business by providing useful, effective and pragmatic legal advice in the most cost-efficient manner possible. We always strive to get to a 'yes.'"
Adler began his career at Cadwalader, Wickersham and Taft, the longest-standing law firm in New York City, where he primarily worked in the Capital Markets department. "I was fortunate to start my legal career at a top-tier law firm and to learn from the best lawyers in their respective fields," Adler says. Relationship building, attention to detail, drafting, negotiation, and finding creative ways to a 'yes' were critical skills he developed during his almost six years there.
In 2005, Adler made the transition to in-house counsel at Affinion Group (now cxLoyalty), a leading global provider of loyalty and customer engagement solutions headquartered in Stamford, Connecticut. "It was a seamless transition," says Adler, noting that practicing law in-house encourages a longer-term mind-set that allowed him to see the impact of his work. He says that focusing on an entire company, rather than specific deals or transactions, was a welcome change. While he was content at Affinion, where he spent more than six years, his career ambitions led him to search for new opportunities.
After coming across an anonymous job posting that "fit my experience to a tee," Adler says, he applied for a job at American Express, which he not only got but also was soon promoted to a position as VP and senior counsel. At the time, Adler was the lead lawyer for the business travel and consumer travel divisions at American Express, but the company was looking into a joint venture transaction with a group of investors to spin off the business travel division. Adler played a key role in the separation and helped to implement a new vision for what would become an independent legal department for the GBT joint venture.
Now Adler is second-in-command in the legal department for GBT. Among other focus areas, Adler manages a global team responsible for providing day-to-day legal and contractual support for GBT's commercial organization and partners. "We partner with our business colleagues and provide pragmatic legal advice and strategic thought leadership in furtherance of the company's objectives," Adler says. "We are one, fully-engaged global team with a set of common objectives."
"I am known to be extremely motivated by organizational goals and achieving the absolute best results for the company."
Adler's ability to lead is not lost on those colleagues he works with outside of GBT. Brian Hengesbaugh, a partner at Baker & McKenzie LLP, has witnessed the deputy general counsel's versatility in action. "Scott combines a sharp legal mind with superior business acumen," he says. "He shines brightly when leading teams, particularly in crisis management situations, to identify and address key strategic decisions and implement practical solutions."
In an increasingly globalized world, connecting businesses across continents has never been more pertinent. GBT has more than 18,000 employees and is present in more than 140 countries. In addition to business travel management, GBT works with companies of all sizes to organize meetings and events and provide consultancy services.
"Travel and tourism is a multitrillion dollar industry, employing one out of every ten people in the world, in every country in the world," says Adler. "The sheer scale represents a huge opportunity for GBT." At its core, he says, travel is about people. "We're proud of being there for travelers, especially when they need us the most."
While GBT says that care for travelers is at the core of everything GBT does, GBT also invests significant time and resources to address matters of utmost importance to companies. Adler says that in the last few years high-profile data breaches across the travel industry have reinforced GBT's focus in the area of data privacy and information security.
"GBT has a robust data privacy and information security program designed to protect the confidentiality and integrity of information. We are prepared to respond to any potential incident through a comprehensive incident response plan, with clear roles and responsibilities and an aligned approach," he says.
In his role, Adler is consistently challenged to problem-solve. "My days are never the same," says Adler, which he notes is one of the most exciting aspects of his job. It's one more thing that coaching and leadership have in common.
---
American Express Global Business Travel (GBT) is a joint venture that is not wholly owned by American Express Company or any of its subsidiaries (American Express). "American Express Global Business Travel," "American Express," and the American Express logo are trademarks of American Express and are used under limited license.
---
Duane Morris LLP:
"Scott is a brilliant strategist and deep thinker. He exhibits extraordinary attention to detail and a profound personal commitment to every project. Additionally, his management skills and tireless efforts make him the best in class."
–Paul E. Chronis, Partner
---
Dechert LLP:
"I'm always impressed by Scott's grasp of the legal and commercial issues at stake. His understanding of the law is matched by deep regulatory knowledge and experience. Scott isn't just a client, he's a partner in solving problems."
—Andrew Wong, Partner