One of the principals for success at Rakuten, the Japanese internet giant, is "always improve, always advance." That philosophy might also describe the career of Reginald Rasch, head of legal and general counsel for the company's Americas headquarters, who has spent close to two decades gaining the experience and positioning himself for the role he holds today. And, now that he's there, he's helping his company improve and advance as well, largely through aggressive acquisition.
Rasch has viewed his career as an academic exercise—one in which he has constantly challenged himself to find "new and interesting things to learn." He grew up in Queens, a product of New York City public schools, and he got turned on to reading when his mother signed him up for a monthly book club. "I think I connected going to law school with my interest in reading," he says.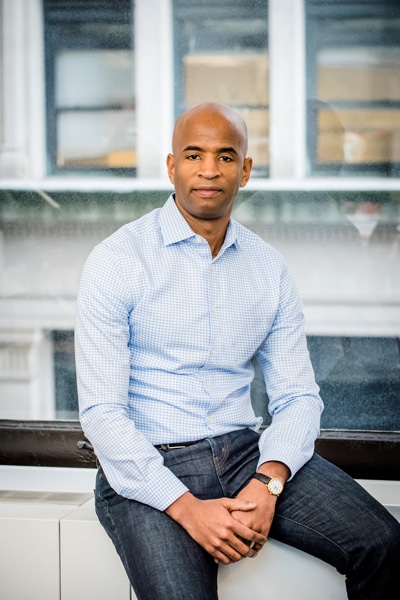 Later, at State University of New York at New Paltz, he found himself in a circle of friends interested in law, and he attended off-campus events that encouraged students, particular people of color, to pursue a legal career. He was inspired by Thurgood Marshall, the first black Supreme Court justice. "I believed I could be successful, and I wanted to prove it to myself," he says.
Rasch took a pragmatic approach after obtaining his JD from St. John's University School of Law. He worked for a few different law firms, primarily focusing on M&A and securities, and for a time he kept finding new and interesting things to learn, particularly things about how to drive a business forward.
This eventually led him, in 2000, to LinkShare, a digital advertising and marketing pioneer. He was on the ground floor of the 200-person startup, working with its leadership as it prepared to go public. Months later, though, the dotcom bubble burst. "I went from riding high on how I would be part of taking the company public to not being sure the gates would be open in the morning," he says.
Rasch stuck with LinkShare, though, working on legal issues such as securing financing through licensing the company's core technology, an experience he wouldn't have had in a law firm. Then, in 2005, the company was sold to Rakuten for $425 million–the Japanese company's first foray into the US market. While outside opportunities presented themselves, the strategic-minded Rasch decided to stay put. "There were tremendous opportunities for me to grow within the company," he says.
Just two years later, he became general counsel for LinkShare (now Rakuten Marketing), Rakuten's digital advertising business unit, and later still he transitioned from Rakuten Marketing to his current position as head of legal for Rakuten Americas. He has since helped Rakuten expand through acquisitions, taking the lead in or overseeing a majority of its deals, and it now has more than three thousand employees spread throughout the Americas region and abroad.
"I believed I could be successful, and I wanted to prove it to myself."
Before a business is acquired, foundational work is completed to determine whether it's a good fit. Once initial discussion ends, Rasch steps in to focus on the purchase agreement, the employee-retention mechanism, and other items related to the acquisition. "We start to unify them across the organization," he says.
Rasch also handles matters related to contract negotiations, privacy, data security, litigation, compliance, and intellectual property, and he's often called upon during critical moments to provide guidance and support. He says he's had so many responsibilities over the past eighteen years that it has been like having five or six jobs. "I've really enjoyed that," he says. "It has been a nice ride. I went from being a contributor to being a leader."
Rasch has also learned how to navigate the challenges of working within a company spanning twenty-nine countries that still operates with a system of shared values and policies. It has made English its primary language, which he says has helped standardize communication, but there are still big differences between US and Japanese business practices and regulations that he and his team must continue to square. How do they do that? "With good old-fashioned time together," he says.
Two or three times a year, Rasch travels to Japan, where he has developed relationships with his legal counterparts overseas. Likewise, he regularly spends time at Rakuten's Americas region headquarters in San Mateo, California, and he attends an annual global legal summit where Rakuten lawyers from all over the globe gather to exchange ideas, present issues, and figure out how to work better together. Given that Rakuten is Japanese, certain rules and values reflect its culture, called Rakuten Shugi. Among them are requirements that employees maintain clean work environments and wear name badges, for example. There are also Asakai, weekly company-wide meetings that are livestreamed.
"These are the kinds of things we share with acquisition targets, that once you join the team, we focus on the sharing of general business information through Asakai and on clean desks," Rasch says. "They sounds like fairly routine things, but these actions, as well as wearing our name badges, have a unifying effect and show that we are all part of the team."
And, as part of that team, Rasch looks forward to continuing to find ways to improve and advance.
***
Troutman Sanders LLP:
"We are proud of our long relationship with Reggie and honored to call him both a client and a friend."
—Jim Bollinger, Partner