Nora FitzGerald Meldrum has found her ideal blend of responsibilities and intellectual engagement at restaurant chain Texas Roadhouse. As associate general counsel, Meldrum leads a team of smart, caring people who are deeply committed to both the company brand and each other. Modern Counsel recently chatted with Meldrum about her path through the legal sector and her passion for the Roadhouse values.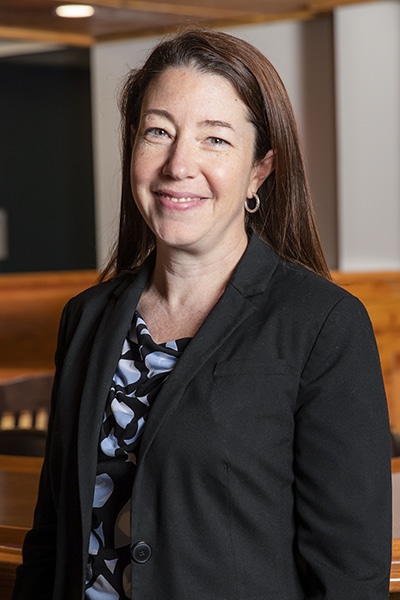 Can you tell us how you got to where you are today? Have any particular experiences from your past career informed your current role?
My career path has been winding and circuitous, but in retrospect, every step prepared me for my current role. Although I come from a long line of lawyers, I wrote my law school admission essay on all the reasons I did not want to be a lawyer. I overcame those reasons and chose this field because I love solving problems. After graduating from the University of Michigan Law School, I had no idea what area I wanted to practice in; I only had a sense of the type of law I did not want to practice. So I joined Patton Boggs (now Squire Patton Boggs), which allowed me to sample a variety of practice areas, from securities to labor and employment, antitrust, immigration, and public policy.
After moving to Chicago, I built my litigation skills at a smaller labor and employment firm called Franczek Radelet. From there, I moved to Northwestern University to become the director of the university's sexual harassment prevention office; I partnered with a number of different departments to accomplish our shared goals, and that skill set has been critical in my current role.
About a year into my time at Northwestern, my husband and I moved to Louisville and I restarted my career once again, this time at a smaller litigation firm that soon merged with Dinsmore. Although I enjoyed my time at Dinsmore, becoming a partner at a large law firm was never my long-term career goal. I was ready to transition away from active litigation and into litigation management. After securing an in-house role at American Commercial Barge Lines and gaining a better understanding of how businesses operate, the financial/accounting side of risk management, and the best way to navigate internal relationships, I jumped at the opportunity to take my unusual blend of in-house and outside counsel experience to Texas Roadhouse.
What sets Texas Roadhouse apart from other leaders in the industry, both on a corporate level and on the ground with individual customers?
Our culture. We have a very clear mission statement—legendary food, legendary service—and it is supported by succinct core values (passion, partnership, integrity, and fun with purpose). No matter where you go or who you talk to at Texas Roadhouse, we have a strong, shared commitment to living out this high standard in everything we do. We are very fortunate to have the active leadership of our founder, who serves as president and CEO. His passion for our guests and employees is inspiring and drives all of us to approach our roles with the same zealous commitment to our culture and core values.
How do those core values play into the legal team's role at the company?
We sometimes joke that the litigation team is the one group in the legal department that no one wants to hear from. After all, if we are calling, there's a 99 percent likelihood that there's been some sort of problem.
So, we focus not only on what we do but also how we do it. Are we taking advantage of the space between stimuli and reaction to take a deep breath and collect our thoughts? Are we creating a conversational space where our partners feel comfortable sharing their concerns? Are we speaking in plain English and not overwhelming our partners with arcane legalese or fancy lawyer speak? Are we judging, or are we seeking to understand? While we cannot remove all of the stress of litigation, we work hard to minimize distractions that litigation can cause to regular business operations.
What is one of the most important lessons you have learned over the course of your career, and how do you implement it on your team at Texas Roadhouse?
There is simply no substitute for operational knowledge. When I first started at Texas Roadhouse, I trained by working in every one of our restaurant positions, from baking our fresh-baked bread to chopping broccoli and cutting steak with our on-site meatcutter. It was intense and humbling (I'm definitely better at practicing law than cutting meat), and it gave me a deep appreciation for the hard work that goes into our scratch-based food. It is important to me that my team has a fluent understanding of our business. We simply cannot provide legendary legal service otherwise.
How would you describe success in your role? What signposts do you look for to gauge that success?
I view success in a few ways: Do our partners feel comfortable reaching out and contacting us when they need us? Are we getting results for the brand that are in line with our brand's business goals? Are we continuing to learn? Does my team feel like they are getting opportunities to learn and develop? Are they finding joy in their work?
And finally, do people smile more when they see us coming or leaving? We are in the hospitality business, and that extends to the hospitality we show to our internal partners. Even when times are tough, I want our partners to know we are here for them and have their backs.
***
Bartlit Beck LLP:
"Nora has a number of qualities that make her one of the top among her peers. She is a leader who brings out the best in her in-house and outside counsel teams—she demands and expects (as she should) excellence, but she listens for ideas from all corners and inspires her teams to want to win for her. She inspires with her own work ethic, strategic thinking, and creativity. She contributes to the team but at the same time gives her team the space to execute on a plan and make tough calls when needed."
–Rebecca Weinstein Bacon, Partner