Nicolas Jafarieh has a long-standing connection with student loan juggernaut Sallie Mae. Today, Jafarieh serves as the company's senior vice president and general counsel. But back in 1998, he was a law student, the son of immigrant parents, who financed his education through the lender that now employs him.
He's long since repaid the loan and given more than a decade of his legal career to the banking firm. In 2014, Jafarieh played an important role in spinning off a majority of the firm's business—the loan servicing and asset recovery portions—to a new company, Navient.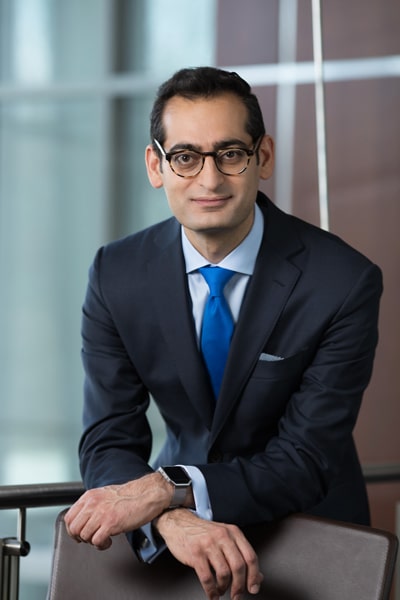 "When the split was announced, our then general counsel asked for volunteers among the lawyers to work on it," he says, "so I raised my hand. But I had no prior experience with corporate governance issues, corporate structuring, and disclosure work related to the Securities and Exchange Commission (SEC)."
The spin-off was particularly unusual because Navient was bigger than what remained at Sallie Mae, sometimes referred to as a "reverse spin-off." For Jafarieh, who until that time had focused on litigation matters, it was similarly unorthodox that he stayed with the smaller enterprise.
That decision turned out to be fortuitous, however, as it broadened his role and expertise at the midcareer stage. In the years that followed, he took on many other areas of law that play a significant role in Sallie Mae's business, including SEC matters, board governance and corporate secretary matters, executive compensation, and employment law, among others.
"It's rare to reinvent oneself later in a career," he says. "But going from being a specialist to a generalist set me up to ultimately become the GC."
Sallie Mae is subject to significant legal and regulatory oversight. A publicly traded corporation, known as SLM Corporation on Wall Street, Sallie Mae was created by the federal government in 1972. It is now the nation's largest originator of private student loans.
In addition to helping more than 370,000 students and families finance college and graduate studies each year, Sallie Mae connects students to scholarships and conducts research on how higher education can be more accessible. The company not only has to meet the stringent requirements of the Federal Deposit Insurance Corporation but also the demands of investors, as monitored and enforced by the SEC.
Jafarieh says that after the spin-off, the company had to establish anew the processes for such matters as filing proxy disclosures, asset-backed securitizations, and­ achieving compliance with a broad range of federal and state regulations. Part of the strategy was to bring on lawyers who had this specific kind of experience in banking or other companies in similar situations. Along the way, Jafarieh also developed a proactive culture in the legal department that detected and mitigated risk before it became a problem.
Which gets to the heart of how he is succeeding in this demanding position: he hires the kind of people who are attentive to Sallie Mae's broader strategy.
"It's rare to reinvent oneself later in a career. But going from being a specialist to a generalist set me up to ultimately become the GC."
"There are two ways to work as an in-house lawyer," Jafarieh says. "One is to understand the law and to guide our company in what is legal. The other is to understand the mission of the company, to engage with our people and products, to focus on customer needs and outcomes, to look to create value for shareholders, and to make a contribution to the business overall and beyond the legal function."
The difference is noticeable, he says, pointing to the example of his lawyers joining company initiatives such as employee committees and multidisciplinary task forces across the enterprise as well as promoting community engagement. This helps them develop a network within the company and become aware, for example, of new products in development and to begin thinking about where legal can guide those developments early on. This is particularly meaningful given how the company is diversifying its product offerings beyond undergraduate student loans to provide more narrowly tailored graduate school loans, credit cards, retail deposit accounts, personal loans, and its Upromise Rewards subsidiary, which enables families to save for college through a brand-loyalty purchasing program.
Such teamwork matters to the GC. Jafarieh traces his ancestry to Iran and spent part of his childhood in France, so he naturally likens his job to being a football (American soccer) coach. "You have to have more than just one star player on your team," he says. "You have to provide appropriate training across your entire organization, make sure your players are happy and in the right position, and you need a deep bench."
Student loans and accumulated debt are topics of national discussion, sometimes putting lenders in the spotlight. Sallie Mae lends approximately $5.3 billion annually in private student loans—last-dollar financing typically taken out after federal financial aid—to undergraduate and graduate students. It achieves a 98 percent loan repayment rate.
Sallie Mae loans are family loans that promote responsible borrowing and incentivize customers to make choices that help them graduate with less debt. That philosophy supports its customers' success: 91 percent complete their programs, 91 percent of those who graduate are employed, 88 percent say their work gives them a feeling of personal accomplishment, and 86 percent feel their college education opened opportunities they wouldn't have had without it.
"Our mission is to build prosperous futures," Jafarieh says. "We produce teachers, doctors, engineers, and lawyers. Student loans enable access to education, and postsecondary education enables higher earnings. There's a segment of the population that really benefits from it. There's great value in what we do, and given my own experience, I feel particularly connected to our mission."