As consumers continue to engage with media across multiple platforms and devices, content providers seek to cut through the clutter to make sure what they are offering stands out from everything else. To Michele Page, serving as deputy general counsel for a global measurement and data analytics company like Nielsen is about uniting proprietary Nielsen data with other data sources to help clients around the world understand what's happening now, what's happening next, and how to best act on this knowledge.
Page has always been fascinated by interpersonal communication, a passion that led her to major in communications and minor in linguistics at Northwestern University. After graduating, Page leveraged that passion into artists and repertoire project management roles at major record labels, including Arista, Columbia (Sony), and PolyGram/Mercury (Universal). She became captivated by the interplay between art and commerce, which led to her decision to attend law school at night while continuing to work full-time.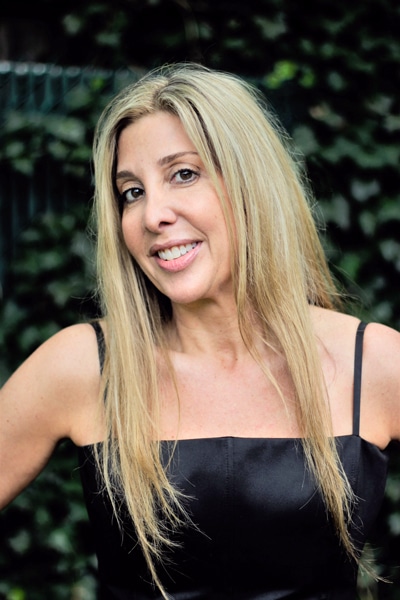 Page began her legal career in intellectual property litigation at the law firm Pryor Cashman, serving as third chair in a David Yurman jewelry trade dress infringement trial and working with other well-known brands. As she transitioned into the legal side of the media industry, securing positions at top companies like Jive Records, EMI Music Publishing, and the start-up Vevo, she handled many first-of-a-kind digital deals in a rapidly changing marketplace—and realized that her affinity for communication provided her with a unique advantage.
"It's no special trick," Page says. "I'm always sort of naturally aware of verbal and nonverbal communication and try to use it to bring a sense of zen, balance, and problem solving, especially in a crisis or urgent situation. I've realized that when people are feeling more relaxed, they're more accessible—you can get your ideas across more clearly, and you can meet people where they are and draw them out if needed."
This came in handy, for example, when during her tenure, Jive was bought by BMG, BMG was then bought by Sony, and EMI was acquired by a private equity company. This vast M&A exposure continues to prove valuable given the consolidation happening in today's corporate atmosphere. Page takes what she's learned—in terms of both subject matter knowledge and communication strategies—and applies it to advise and assist her various constituents as clients in the agency, network, cable, radio, social, production, and distribution fields divest and acquire each other with increased frequency.
As Page sees it, a differentiator between productive and unproductive negotiations or interactions frequently boils down to the language and tone, and whether it was positive or negative. Put simply, this can be the difference between saying "Let's do this," and "You have to do this."
Page takes pride in the results she has gotten from developing a solution-oriented method of communication.
"A solution-oriented method of communication is helpful for anyone who works with people to facilitate change, enhance clarity, encourage calm, and save time," Page asserts. "My process is to articulate a matter succinctly in a way that defines the situation and desired outcome. I will say, 'Here's the scenario. Let's solve for x, my ideas are y, now what are your thoughts?' This takes emotion, including blame, out of the equation and lets me focus on getting fast approvals and relevant feedback."
Page continues, "Clear, detailed, yet concise communication is a crucial skill to develop if you need the ability to pivot across legal disciplines in a fast-moving entertainment and technology company. It is also important to practice active listening and keep communication a two-way street, so all participants can increase their business acumen and assess the feasibility and financial impact of contract and deal terms in a wide variety of business areas."
"When guiding teams through digital revolutions in the media and entertainment industry, growth isn't always about doing more things. It's about doing the right things better."
Prioritizing collaboration and getting that relevant feedback is especially vital in today's on-demand media environment, Page explains, because there's a degree of uncertainty in terms of what that environment is going to look like moving forward. She says, "Architecting repeatable deal structures that facilitate business development and execution upon your company's growth initiatives is paramount. When guiding teams through digital revolutions in the media and entertainment industry, growth isn't always about doing more things. It's about doing the right things better."
In the future, Page says, media organizations will have to determine not only what consumers want but also how much advertising (especially targeted advertising) consumers are willing to take. Platforms can be ad-supported free-to-consumer, subscription-based, or hybrid models.
"We still don't know at what point viewers will reach a saturation point in terms of how many individual platforms they are willing to routinely build into their everyday lives," Page explains. "Will viewers or listeners say, 'I have five favorite platforms, and if a show or artist isn't on one of them, I guess I'll just skip it until it's available on one of my primary destinations?' Will the preference trend towards viewers wanting two or three free or affordable places to access all of their content, or is there a consumer appetite to have nine or ten (or more) decentralized destinations? What's the consumer tolerance for what those cost to access?"
All of these questions impact ratings measurements, content valuations, media entities, and intellectual property licensing fees, Page says, which is why the measurements and analytics provided by Nielsen are so valuable. Nielsen delves into granular audience segmentation data to obtain an accurate depiction of viewers' preferences, habits, and opinions.
"To succeed in today's fragmented media landscape, it's not enough to just put content out into the world," Page asserts. "Networks, labels, and platforms all need advanced products and analytics that accurately measure the power of their business and offer metrics to monetize their audiences. Nielsen's measurement tools and services combine big data with Nielsen's proprietary panel data, yielding tools that span the entire media process of what people are watching and buying—on all platforms and on all devices."
***
McGuireWoods:
"As outside counsel to Nielsen, McGuireWoods has the pleasure of working with Michele on a frequent basis, and she has consistently delivered the experience and capabilities that distinguish her as a leader across the industry."
–K. Elizabeth Sieg, Partner, Restructuring and Insolvency