According to the Chinese government, Michael (Xiaoyu) Guo was never supposed to exist. He's the second child in his family, born during the days of China's one-child policy, and grew up knowing that he was different from his peers, his friends, and even his own brother. He was often reminded that it was unusual to have a sibling, especially by the TV shows that promoted the policy and, he says, tried to shame people who had more than one child.
"That had a pretty enduring impact on my life," Guo says. "But because I was already different, I haven't been afraid of seeing things differently, voicing different opinions, or thinking about things differently." That willingness—determination, even—to stand out from the crowd has propelled Guo from Peking University to Harvard University and from Wall Street law firms to one of the most prestigious private investment firms in the world: TPG.
"I was born in a pretty rural place—I don't think people there have internet even now. But my parents had already had my brother, so they needed to hide me with my grandparents," Guo recalls of his early childhood.
Guo stayed with his grandparents for a little less than a year before his mother came to bring him back to Chengdu, where his father was an administrative staffer at a university. Years later, when Guo took the "infamous" Chinese college entrance exam, he placed fourth out of approximately three hundred thousand students across the entire province. He says, though, that his success wasn't entirely due to his intelligence.
"I always knew that I wasn't the smartest kid among my peers," he says. "But I am confident and very hardworking. People don't get to a position like this simply because they're lucky—although I am very lucky—but rather because of the amount of work they put in and the challenges they take on along the way."
The Battleground
Guo has certainly worked hard on the way to securing his current role as deputy general counsel at TPG Capital, the private equity platform of global alternative asset firm TPG. After graduating from Peking University with a bachelor of laws, Guo spent nearly four years as an M&A associate at Fangda Partners in Beijing. He went on to complete a master of laws (LLM) at Harvard University before joining Simpson Thacher & Bartlett, a renowned international law firm headquartered in New York City, and later Ropes & Gray, a global law firm that has overseen some of the most notable M&A transactions in the world.
"Michael's breadth and depth of experience—both at TPG and in private practice in the US and China—makes him an extraordinary resource for outside counsel like us at V&E when we are collaborating to provide advice to TPG's deal professionals," says Lande Spottswood, a partner with the M&A and capital markets practice at Vinson & Elkins.
During his early career, Guo strived to build a foundation of substantive legal skills. While that foundation is critical to the success of any attorney, he says, establishing it often takes more initiative than one might think.
"When I first graduated from college, I was working at a relatively small office of Fangda Partners in Beijing, where I was able to take on bigger responsibilities, take ownership on a lot of highly visible assignments, and work directly with one of the founding partners even as a first- and second-year associate," Guo says. "That meant there was a lot of pressure, of course, but I think that this is an occupation where you only learn things when you put yourself on the battleground."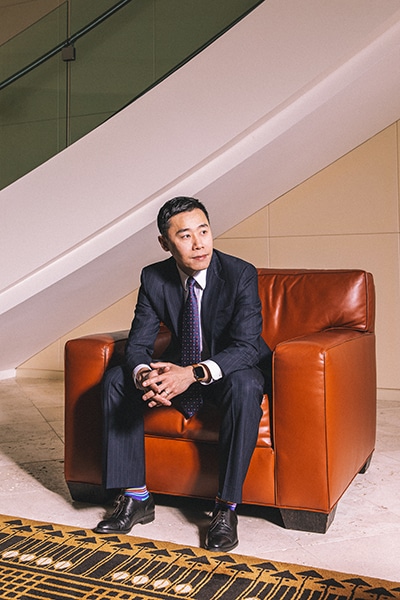 Training for the legal battleground demands dedication—but fortunately, Guo was more than willing to put in the necessary work.
"When I started at Simpson Thacher after moving to New York, I essentially had to 'restart' my career and 'rebuild' my legal knowledge base and skill set.  When I think back to those days, I think my wife could count on her hands the total number of nights that I was home for dinner," Guo says with a rueful chuckle. "That's not something to brag about, obviously, but it shows that I always put in 100 percent, whether I get a multibillion-dollar public merger transaction or a small diligence contract to review."
Unorthodox Is an Asset
Guo now believes that what he describes as his "unorthodox" life journey is one of his greatest assets. "I'm familiar with the US's view of the world, but because I grew up internationally and lived the majority of my life outside the US, I'm also familiar with the rest of the world's view, particularly China's," he says. "We all know that there are multiple sides of any given story, and having this background gives me more windows into different sides of the story and allows me to form a more balanced judgment."
"Mike is an excellent technical lawyer with great commercial sense and judgment," affirms Davis Polk & Wardwell partner Oliver Smith. "His ability to understand the business rationale of the transaction and how that interacts with the legal and drafting issues allows him to excel and be a critical member of any deal team."
Delivering that sort of balanced, thoughtful judgment is critical to building up credibility as an in-house counsel, Guo says. Although as a firm, TPG manages more than $111 billion in assets, its investment and operational teams are relatively small.
"The pressure is pretty high," Guo explains. "One of the biggest challenges I face is that question of credibility—how can I make sure that others are comfortable taking my guidance? How do I make sure they trust my advice?"
The answer, as Guo sees it, lies in the words themselves: thoughtful judgment. "People, and especially lawyers, tend to do and say things that are the same as everyone else is doing and saying," he says. "Thinking critically—and sharing those thoughts with others—is the only way to make other people notice that what you're doing is different, new, or unique.
"We lawyers tend to simply give clients the facts of a situation and present the available options," Guo notes. "But when you go beyond that and actually make a judgment call, when you say, 'I think you should choose this option,' that's what sets you apart as a great attorney. You can't play it safe."
Nonradical Change
"I know that people pretty often get advice to 'get out of your comfort zone,'" Michael (Xiaoyu) Guo says. "But it can be hard to figure out what that really means."
As Guo sees it, getting out of your comfort zone doesn't necessarily mean embracing radical change. "It can be as easy and simple as challenging the traditional way you deal with little, mundane tasks," he explains. "On Friday afternoons, no matter how much I still have on my plate, part of me always wants to call a time out and push the work to the following week.
"But whenever I decide to push it, it never gets done the way it should," Guo continues, with a laugh. "So I've realized that on Friday afternoons, when everyone else has left the office, I just need to get another cup of coffee, sit at my desk, and push myself to review that merger agreement, or complete the first draft of that presentation deck. Without exception, it always pays off."
***
Expertise Spotlight
Davis Polk is an elite global law firm with world-class practices across the board. Industry-leading companies and global financial institutions know they can rely on us for their most challenging legal and business matters. Our top-flight capabilities are grounded in a distinguished history of 170 years, and our global, forward-looking focus is supported by 10 offices strategically located in the world's key financial centers and political capitals. With approximately 1,000 lawyers worldwide, we collaborate seamlessly across practice groups and geographies to provide clients with exceptional service, sophisticated advice, and creative, practical solutions.
The breadth and depth of Davis Polk's transactional experience have contributed to the firm's being a leading adviser on private equity matters since the sector's earliest stages in the mid-1980s. We advise a diverse group of private equity firms and funds, large sponsors affiliated with financial institutions, sovereign wealth funds, leading LP investors, secondary investors, and venture capital firms. We have a deep understanding of evolving trends within the marketplace because of our vast experience in fund formation and marketing; structuring and making equity investments; negotiating bridge, high-yield, and senior debt financing for portfolio companies; structuring management compensation programs; making follow-on investments; and negotiating workouts.
***
Expertise Spotlight 
At Vinson & Elkins, our people are our strongest asset. Collaborating seamlessly across thirteen offices worldwide, we provide outstanding client service. Our lawyers are committed to excellence, offering clients experience in handling their transactions, investments, projects, and disputes across the globe.
Established in 1917, our firm's time-tested role as a trusted advisor has made it a go-to law firm for many of the world's leading businesses. We bring competitive strength, insight, and know-how to guide our clients through their most complex transactions and litigation.
V&E has represented TPG and TPG portfolio companies in myriad situations for more than a decade, including in connection with corporate transactions, special-situations investments, and litigation matters.