To an outsider, financial law may seem extremely complicated—and extremely difficult to navigate. But Christopher Garvey says that, at the end of the day, it's all pretty straightforward. Modern Counsel recently caught up with Garvey to get his perspective on the strategies that have driven his success throughout his eighteen years as a private practice attorney and ten years as an in-house counsel.
"I've had a bit of an eclectic career," Garvey says of his journey from undergraduate studies at the Rensselaer Polytechnic Institute—The Lally School of Management and Technology to his current role as senior vice president and deputy general counsel of litigation and regulatory enforcement at Fifth Third Bank.
After graduating from the Albany Law School of Union University in 1992, Garvey spent nearly two decades in the private legal sector, primarily working as a trial lawyer and equity partner at New York–based law firm Goodwin Procter. And as he sees it, that private practice work was an ideal foundation for the rest of his legal career.
"From very early on in my career, I got to experiment and try out different trial styles," Garvey recalls. "I made mistakes, of course, but I was able to work on all sorts of cases, big and small. I also had people who took an interest in my career and who exposed me to many different types of people so that I could watch them and see what works and what doesn't."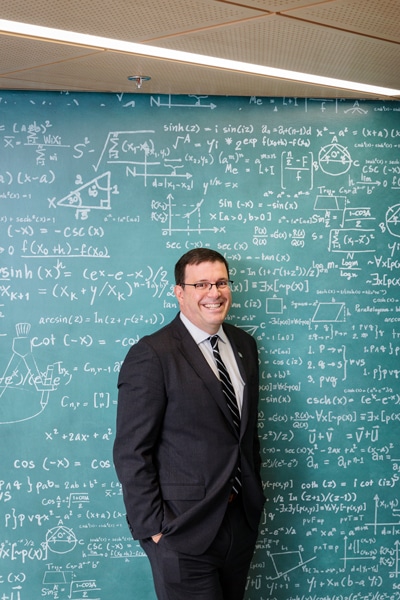 While Garvey loves practicing law, he says he's "never been one to want to work on the same types of cases or issues over and over again." So for him, that variety of experience was essential. He emphasizes, though, that lawyers don't need to wait for other people to expose them to different working styles.
"You can do that yourself while working with your colleagues, while working with opposing counsel, or even sometimes on your own," Garvey says. "If you spend a lot of time in court, you'll see what arguments work, what doesn't work, what your audience is, and what makes each case is just a little different from the last.
"I really believe in effectiveness, but I use that term situationally," he adds. "Each situation has a slightly different solution than those you've encountered before. You may have to change your tactics, and your strategies, and adjust on the fly."
Garvey left Goodwin Procter in 2011 to join the in-house department at Bank of America. More than six years later, he was hired as part of the in-house team at Fifth Third Bank, which is now one of the largest banks in the country.
"The head of litigation and regulatory enforcement is a critical legal role at any prominent bank, and Chris fills it superbly," says Gregory Lyons, partner at Debevoise & Plimpton. "Bright and collaborative, he strategically evaluates alternatives and also ensures his approach is consistent with Fifth Third's broader objectives."
Banking law is a perfect fit for him, Garvey says: given its complexity, there are always "new and interesting challenges and solutions to new and interesting problems." But as Garvey has learned, many of the solutions to those complex problems center on simple principles that have stood the test of time.
"It all starts with partnership and communication," he says. "I've worked in smaller organizations and for Fortune 500 companies. But wherever you are, it always comes down to respecting your colleagues and respecting how your work may touch upon or impact them."
Litigation disputes often involve or impact the overall company, people working in other departments within the company, outside counsel, or external constituencies, Garvey explains. By opening the lines of communication and keeping your relationships with those internal and external partners strong, you're better able to prevent those disputes from disrupting everyone's working rhythm.
"You're building an environment of trust so that you and everyone on your team functions at the highest level possible."
"Communication isn't just the right thing to do. It may also help you get to a better result," Garvey says. "When you bring everyone together and talk across business lines, you begin to see trends: other groups may be seeing a similar issue and may have great thoughts on it, which can trigger the conversations that will help you find different ways to navigate risks."
Every attorney out there, whether they're in private practice or an in-house role, needs to have those conversations about risks, Garvey says. In fact, the necessity—and complexity—of those conversations was impressed upon him during the early days of his legal career.
"You have to forecast in many different dimensions of risk," he notes, "not just whether you're going to win or lose or how much money is at risk but also factors such as what it's going to cost to get from point A to point B and how your reputation might be affected."
And once you've assembled a portfolio of all the potential risks, it's your responsibility to develop the tools to communicate those risks to all of your internal colleagues as well as your client, Garvey says, making sure that everyone has not only been told of the risks but also truly understands what they mean.
"When you are regularly and proactively communicating what should be communicated, you're empowering those around you," Garvey says. "You're getting your client the information they need, and you're building an environment of trust so that you and everyone on your team functions at the highest level possible."
***
Expertise Spotlight
Debevoise & Plimpton is a premier law firm with market-leading practices, a global perspective, and strong New York roots. Our clients look to us to bring a distinctively high degree of quality, intensity, and creativity to resolve legal challenges effectively and cost-efficiently. Ranked among the leading practices in the United States, the Debevoise Banking Group advises banks and other financial institutions on the gamut of regulatory, litigation, and transactional matters, including Volcker Rule matters for US and foreign banks, foreign bank regulation, AML and sanctions compliance and enforcement issues, Dodd-Frank Act reform, M&A-related regulation, and industry-wide advocacy efforts. Our team includes lawyers who have held senior positions at regulatory and enforcement agencies and who have advocated before and negotiated with regulators in the United States, the United Kingdom, and other jurisdictions, including the Federal Reserve and other U.S. banking regulators, the Consumer Financial Protection Bureau, the Department of Justice, state attorneys general, and the New York Department of Financial Services. Our nuanced understanding of the regulatory terrain, combined with the firm's strong litigation and transactional resources, gives us the ability to handle the most esoteric technical issues, manage critical enforcement and compliance challenges in the new regulatory environment, and lead complex and sophisticated transactions.
***
Goodwin:
"Chris Garvey's dedication to leadership and excellence, and his unparalleled experience in regulatory and litigation matters, is apparent through his continued success at Fifth Third.  Working with Chris and Fifth Third is always a great pleasure."
–Tom Hefferon, Partner