In conversation with five of the most senior women in McDonald's legal department, there's a phrase that comes up repeatedly. In fact, at one time or another, every one of the lawyers expresses a variation on the theme: "I'd like to echo what my colleague said." Before responding to a question with their own perspective, each lawyer naturally takes the time to affirm their team member's response. In doing so, they not only validate each other's positions but show both public and personal support for their shared experiences. 
This isn't a coincidence. Senior Director of Global Legal Operations Mary Burrelle, Vice President and US General Counsel Mahrukh Hussain, Vice President of Global Labor and Employment Sharon Lepping-Pool, Vice President of Corporate Legal Denise Horne, and Vice President and Chief Compliance Officer Amy Kovalan have risen at McDonald's not only for their strength in leadership and undeniable legal expertise but for their commitment to building and continuing the culture of respect, support, and inclusion that preceded them. 
As the team continues to push boundaries in its public-facing commitment to matters of diversity and inclusion, they also work to build a culture centered on the power of personal and professional growth.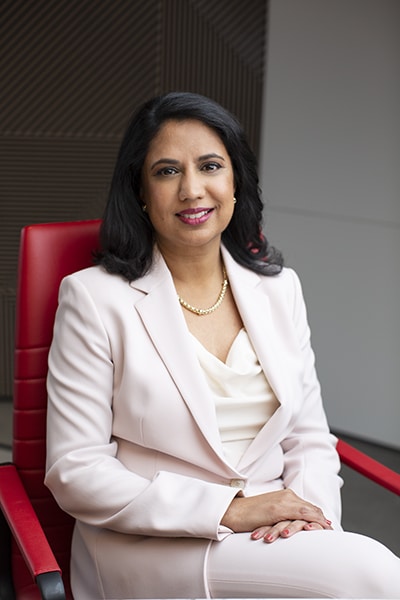 Dedication to Diversity
In March 2019, McDonald's announced a company-wide push for gender balance and diversity. The Better Together strategy aims to improve the representation of women at all levels of McDonald's by 2023 and included the signing of the United Nations' Women Empowerment Principles to emphasize company commitment.
"McDonald's is one of the biggest employers of women in the world, and we have a large system we can work in to create a positive global impact," says McDonald's Executive Vice President, General Counsel, and Corporate Secretary Jerry Krulewitch. "Our focus with the gender balance and diversity initiative is to support and empower women at every level and to improve diversity and inclusion across the globe. Our system comprises our employees as well as franchisees, suppliers, and business partners across the globe, which means we won't find success overnight—we'll have to stay committed to creating meaningful change over time."  
A commitment to diversity and inclusion has been a part of the McDonald's legal department's operating model for many years. "More than half of our legal leadership team comprises women and minorities, and it's similar for our broader function," says Vice President and US General Counsel Mahrukh Hussain. "This is a direct result of working to ensure that diverse candidates are part of our pipeline in hiring and promotions and continuing to build and sustain an inclusive culture." 
The legal department also maintains an external focus on diversity in its outside legal spending and relationships with organizations such as the Leadership Counsel on Legal Diversity, the National Association of Minority and Women Owned Law Firms, the National Association of Women Lawyers, and various minority bar associations. 
Vice President of Global Labor and Employment  Law Sharon Lepping-Pool and Head of Legal Operations Mary Burrelle are active members and sponsors of the department's long-standing diversity and inclusion committee. The committee formed during the tenure of Gloria Santona, McDonald's former general counsel and corporate secretary and a strong supporter of women and minorities. Composed of a cross section of legal employees, the committee is driven by a specific mission, vision, and strategy.  
"The vision of the committee is to ensure that we have a global legal department where everyone embraces differences as strengths and feels valued and respected, and its mission is to advance diversity and inclusion in both the McDonald's global legal department and the larger legal community," Burrelle says. The group recently sponsored leadership and employee training on recognizing and mitigating implicit bias and is hosting a series of Small Group, Big Talk discussions to dig deeper into topics such as presence, imposter syndrome, and discovering implicit bias via Harvard's implicit association test.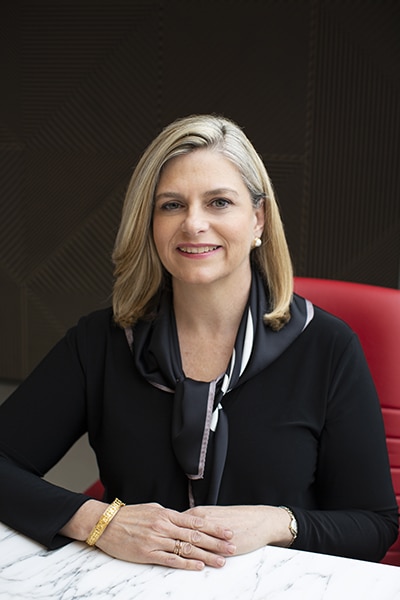 Finding Flexibility
In working to maintain a diverse and more widely representative staff, McDonald's elected to move its Illinois headquarters from suburban Oak Brook to the West Loop area in Chicago. To Lepping-Pool, it's a move, along with a wider departmental focus on flexibility for its employees, that is consistent with an organization that has increasingly recognized how important it is to evolve culturally in order to keep top talent engaged and motivated.  
"It's just part of who we are as a legal department," Lepping-Pool says. "The leadership team made a conscious decision that flexibility is a part of working at McDonald's. We work very hard here, at the speed of the business. On top of that, our work is global, complex, and sophisticated, which means people are frequently working during nontraditional hours. Getting more progressive about flexibility is simply an acknowledgement of where we are as a company and a department, and it has really mattered to our people. We have to support our people in their lives outside of this place if we want to be truly inclusive."
Traditionally, the desire for flexibility was relegated to a "leaving early to pick up the kids" mentality, Chief Compliance Officer Amy Kovalan says. "The issue is much bigger. It's more focused on the importance of all employees being able to pursue activities that contribute to a greater sense of self. We're focused on empowering people to work differently. We have remarkable legal professionals, and they need to have the space to navigate their lives as they wish, whether that means shifting things around to take care of aging parents, kids, or frankly, just to pursue their interests outside of work." 
Each of the legal leaders acknowledges the demanding nature of in-house work, which has many of the same short deadlines and time constraints as private practice. "As leaders, we focus on our teams providing high-quality legal support to the business while leveraging flexibility as a tool to help team members navigate the personal and professional demands on their time, rather than adding pressure to find an elusive balance between the two at any given moment," Kovalan explains.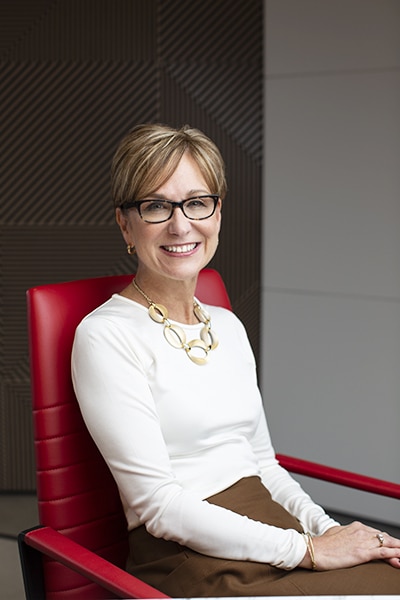 Perspectives on Progress
Kovalan and Burrelle are slightly later additions to the McDonald's legal team. Hussain has been at the company nineteen years, Lepping-Pool for twenty-three, and Horne hit her quarter-century milestone this year. These five women's differing perspectives offer insight into the continuing progress the legal team has made to be at the forefront of culture building. 
"Mary's experience with strategy and organizational change and her desire to innovate have guided the evolution of the department's culture and values," Horne says of Burrelle. "I can't believe she's only been here since 2014; she's been such a critical component." From Burrelle's perspective, part of her job is to hold leadership accountable for executing on the department's strategy, for having the tough conversations, and for calling out assumptions or things that might otherwise be left unsaid.  
"We need to be vigilant about whether we are engaging in the leadership behaviors we've articulated as important. Among other things, this means actively working to mitigate implicit bias in the hiring and talent decisions we make," Burrelle says. 
Horne's own leadership shouldn't go unnoticed. She considers one of her biggest career milestones to be watching a paralegal she mentored receive McDonald's distinguished President's Award. "This is an iconic award that recognizes the top 1 percent of McDonald's employees globally," Horne explains. "We talk about lifting others as we rise, and watching her walk across that stage, I was so proud that she got to that moment." 
The same goes for Hussain. It's not her own accomplishments that she leans on when asked to recall her progress as a leader. It's the memory of when she was in a lower role and tasked with taking over a challenging team.  
"Working through issues with that team to get them to a place where they were as high performing as the rest of the organization really made me proud," Hussain says. 
Horne interjects. "Mahrukh, how many people are in your organization?"
"Seventy-five," Hussain replies quietly.
"Now that's a real testament to your leadership," Horne says. 
Hussain says the company's record on inclusion dates back to before any of them were with the company. "I remember hearing stores about the women pioneers here, before they were leaders, who started getting together at someone's house as almost a support group," Hussain says. "Eventually, those women rose as leaders, forming a women's leadership network that has grown over time and now is a global organization." 
It's All About the People
"Our people are our biggest asset," Lepping-Pool says. This awareness translates into talent discussions at every leadership meeting. In addition, the legal department has a professional growth committee with members from across the globe, focused on providing substantive business and career development training and opportunities for every level of employee in the organization.  
"Like many in-house legal functions, we have a relatively flat organization, which can be challenging from a retention perspective," Burrelle notes. "I'm proud of the work of our professional growth committee. It's really empowered our people to step outside of their comfort zones, to try to learn new things, and to craft new paths in their careers."    
In addition, McDonald's leadership focuses on providing tailored opportunities for talent to help expand depth and breadth of experience, which may come in the way of expat assignments (in which Hussain has taken part), rotational roles, leadership coaching, and a wide array of other opportunities. McDonald's isn't just committed to building their bench—they want to keep them. 
"We've tried to create opportunities and have people understand that they can grow in diverse areas that might put them in a better position to be ready for that next role," Horne says. "They might be expected or unexpected roles, but the goal is to open up people's minds to growth opportunities." 
Executive Vice President, General Counsel, and Corporate Secretary Jerry Krulewitch comes up a lot in the conversation. "Our general counsel is a big proponent of professional growth, and he really models that for the leadership team and everyone here," Burrelle says. "He openly talks about his own areas for growth; he believes we all have things we can improve on and that we should be accountable to ourselves and each other for improving."  
Similarly, Krulewitch embraces constructive feedback and has worked to make it a more integral part of the culture. "We leverage data from multiple annual surveys, small group discussions, focus groups, and one-on-one meetings to gather insights on how to improve leadership and management of the department," Burrelle says. "In fact, the creation of the professional growth committee was a direct result of feedback from our employees."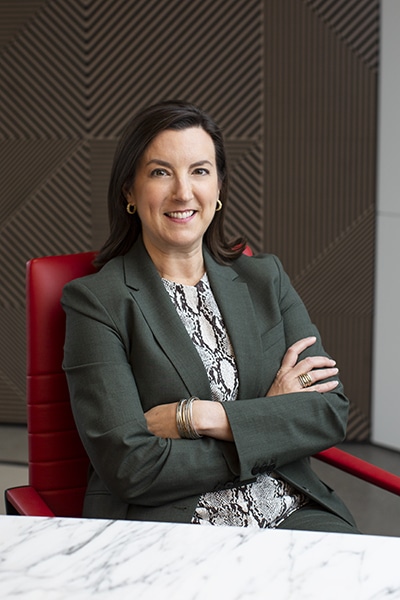 A Larger Impact
Hussain notes that some of these developmental opportunities also come by way of their long-standing and much-lauded pro bono program. "We have a strong service-oriented ethic, a very active pro bono committee, and most of our folks try to find a way to do some form of pro bono or community service every year," Hussain notes, "which again goes back to our focus on culture and where we've continuously worked to devote our time and resources: diversity and inclusion, pro bono, and professional growth."  
Horne says that for legal, understanding the business and even the relationship between the departments within legal is critical. That collective understanding makes it a department in its own class. Lepping-Pool adds that the collective mind-set is also crucial to legal's philosophy and starts at the top. 
"We spend a lot of time focusing on building and sustaining our culture, but our business is our true driver. It's the reason we are all here, so we have to make sure that our strategy is aligned with that of the broader enterprise," Burrelle says.  
"That's true," Hussain affirms. "At the end of the day, our purpose is to enable the business, and we have to make sure that our teams have a strategic focus aligned with the business. Our culture work is really about empowering and supporting our people, which naturally has a positive impact on our business."  
The legal team recently spent time trying to codify its values and culture. "There are places where you get handed your values," Kovalan says. "For us, the words didn't come first. We simply wrote down what we already do."
Those values? Supporting each other personally and professionally, realizing that families are vitally important to the health and well-being of all those on the team, modeling expected behavior and the value of growth, and appreciating development as well as diversity of experience and perspective. It's clear in the way that these lawyers talk about each other than they're not just like-minded lawyers or collaborative business partners. They've built—and continue to cultivate—a culture built on conscience, growth, and as many of the women expressed independently, "just doing the right thing." 
---
Gibson Dunn:
"Mahrukh is a model lawyer and leader. She combines deep experience, exceptional intelligence, and an eye for both the practical and the strategic with other powerful personal qualities—including impeccable judgment, integrity, and an unfailingly thoughtful and considerate style—to deliver the highest quality advice and to bring out the very best in her in-house colleagues and outside counsel alike."
–Jarrett Arp, Partner