If you asked Mark Sproat what his job title is, he'd need a minute to think on it. "There have been times in my career where I literally didn't know my title or what I was getting paid," Sproat says frankly. Sproat says that throughout his career, it's his responsibilities and opportunities he's had to solve complex problems that most excite him about his position. "It's the responsibilities I've been entrusted with that have always been much more indicative of my happiness and fulfillment."
Sproat may also have trouble remembering his title because of its breadth: executive vice president, general counsel, and secretary—or in prior jobs, EVP of commercial portfolio management and senior vice president and chief counsel of Aon Hewitt. His current role entails setting the overall legal strategy for a $3.5 billion organization and working closely with the CEO and board, though Sproat admits that typically, success means seeing less of new CEO Patrick E. Connolly. "I like to view my job as keeping issues out of his office," Sproat says. "In some respects, the less I see him, the better off we are."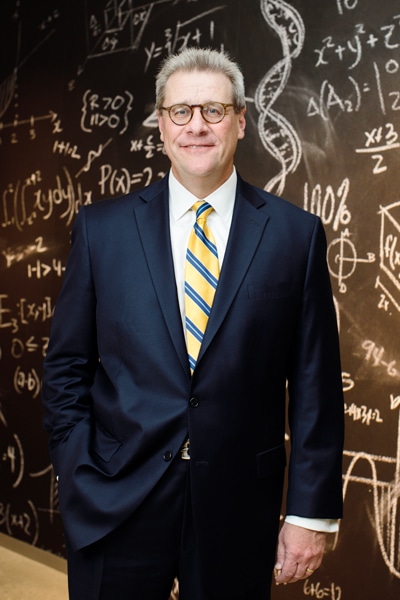 For Sproat, moving to a more hands-off leadership approach at Follett marked a key transition. Initially, he had to learn to be a bit less involved. "As is the case with a lot of younger managers and leaders, I had the tendency to want to do everything," Sproat says. "When I came in, I learned that I absolutely needed to delegate and trust the great people we've got here."
Sproat says he's learned from amazing mentors like former Hewitt Associates GC Steve Kyono and Hewitt CEO Russ Fradin in developing and growing into his own role.
After coming to Follett six years ago, Sproat realized that the legal function could much better serve the entire business if lawyers were embedded within business units. "It's essential that legal work as part of the team," Sproat says. "Legal is much more effective if it can be well informed and chime in at business and leadership meetings."
Sproat also realized that Follett needed to more fully flesh out its privacy and compliance functions. "The landscape has changed immensely when it comes to data privacy over the last number of years," Sproat says. "Building out these functions required capital, and that was a much easier conversation to have today than it would have been ten or fifteen years ago."
Compliance was in place at Follett, but Sproat says its decentralized operations required retooling. The function was assigned to a single individual, and the most essential processes were winnowed down by an executive committee. "We have the resources now to really address this with a targeted approach."
Sproat has also repeatedly faced down the often difficult process of leadership change within an organization and says that time and experience have proven invaluable for learning how to negotiate working with a new CEO. "Early on, I'm not sure if I was able to adapt to changes as well as I am today," Sproat says. "If you're comfortable with your team and you're confident in the work that you're doing, you shouldn't have to feel like you're looking over your shoulder."
In learning to micromanage less, Sproat has achieved a much more reasoned approach to working with leadership. "Getting retrospective, there are certainly times I can remember where the problem may have been 80 percent my own problem," Sproat admits. "As long as you're open and honest with one another, that relationship should be able to work."
The EVP may not be entirely sure what his title is, but he says he's sure that he's exactly where he wants to be. "I'm not saying I'd work for free," Sproat jokes. "But happiness is sure a lot more important to me than what it says on my business card."
On Board, On Boards
Mark Sproat says the work he does outside of his day job is a direct result of his parents' volunteer efforts in his hometown in rural Illinois. "My mom was on our town library board, and both my parents were active in our local church and worked the polls on election day," Sproat says. "It's important to remember my own roots because it hopefully provides you sympathy and willingness to help those who are trying to improve their own lives." Sproat himself is on the Chicago Public Library Foundation board and participates in the American Red Cross' annual Heroes Breakfast.
Jenner & Block:
"Mark is devoted to providing the highest levels of excellence for his company.  He does so with a creative, hands-on approach to problem-solving, and with a work ethic that goes above and beyond the requirements."
—Craig C. Martin, Chair