Marilyn McClure-Demers's entire approach to leadership sits in a nearby drawer, ready to be pulled out when a team member comes in to vent or is frustrated. It's a symbol that can be drawn anywhere, anytime, even by McClure-Demers herself, who admits that "artistic" is one of the last ways she would describe herself. It's a heart in the middle of a piece of paper with larger concentric circles: essentially a hearted bull's-eye target.
McClure-Demers will pull out the piece of paper to disrupt her team's negative thoughts or to encourage them that they're doing the right thing. She calls it "Pure Heart Leadership," a way to unburden her team of things they can't control. As long as they're doing their best, that's all that matters. "It's something that rallies us together to solve problems and make things better," McClure-Demers says. "I think everyone could agree we could use a lot more of that."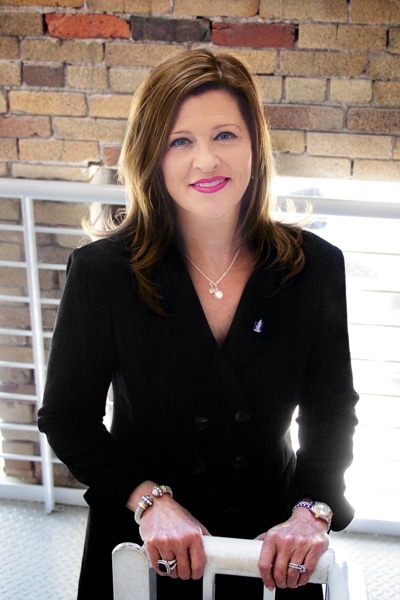 The vice president and associate general counsel of corporate and class action litigation and discovery at Nationwide has seen her Pure Heart Leadership model employed by those she mentored and even papers written on the subject. But it's a larger umbrella of top ten leadership strategies that she has developed over an extensive legal career both in the firm world and as in-house counsel. She has molded and built out each component of her list over a long period of time. Recently, she harmonized all ten at once and leveraged them during a legal transformation at Nationwide. This list has served as a model throughout her many leadership successes.
"I was charged with taking over an operation that was in dire need of some turnaround," McClure-Demers says. "We needed an upgrade in our talent and development in best legal practices as well as increasing engagement and inclusivity on our teams." In short, a lot of moving parts with the potential for pushback, upheaval, and all of the growing pains that a turnaround can elicit. Here, in McClure-Demers's own words, is a snapshot of her top ten strategies in action, practiced with the full realization that even when they are successful, "there is always something else to nurture."
Lead at All Times
"As we journeyed through this process, there was no downtime when you weren't leading or influencing. This was about a renewed investment in talking about the concepts of First Team [that leaders should assist and advocate for their fellow leaders, prioritizing these ties over those with their direct reports] and how we collaborate and reach alignment."
Authenticity
"People know if you're genuinely interested in helping them. This played out in a number of ways successfully. This brought several folks to a fork in the road where they were able to assess for themselves if this was where they wanted to be and if they possessed the skills to be able to be part of this transformation."
Cultivate a Growth Mind-Set
"Once we started to assemble the talent we needed, it was an opportunity to create new processes and efficiencies. It was a chance for our folks to really live into a growth mind-set."
Listen
"You need to come in and demonstrate your desire to learn from your team and listen to them. It's important for insight, validation, and to 'lean in' to enable others to lead and grow, too."
Be a Strategic Visionary
"We need to be providing more enhanced efficiencies and corporate value. Some people can help create the vision; some cannot. But once you've come together as a leadership team on what the vision is, you have to create a strategy for executing on something that others can live into."
Be Courageous
"There were plenty of naysayers on the sidelines. Making this kind of cultural and organizational change is going to create some rough seas. That's when you need courage and fortitude as a leader to stay the course and be steadfast."
Be Resilient
"It's really hand in glove with courage. There were many late nights and early mornings where we had to work through a crisis. Resiliency and adaptability during these times is absolutely essential."
Value People and Their Differences
"When you have to go through change—and you do have to, to make the organization better—you can do it in a way that appreciates people and helps them achieve their own goals. You can empower people to make their own decisions, and you have to be OK with the fact that sometimes that means they will go their own direction with your full support."
Remain Grateful
"One of the biggest rewards was having those on my team who thanked me for giving them a chance. I could see personal growth in myself and growth in others, and I wanted to be sure to let those appreciate the accolades that came our way."
Employ Grace and Kindness
"In difficult times, when conflict resolution may be necessary, you have to have the grace to slow it down and have meaningful exchanges, giving people the opportunity to build deeper relationships. Doing that has given people the chance to really surprise me. Always be kind to others and acknowledge and appreciate when they are kind to you, too."
Marilyn-isms
Marilyn McClure-Demers has a way with words, and it hasn't gone unnoticed. The lawyer has had at least a couple informal volumes of her "Marilyn-isms" lightheartedly created by her teams and colleagues.
Certain phrases from McClure-Demers are well loved. Her analogy of "enterprise as an octopus" landed a stuffed purple octopus in her office. And the VP's assistant can easily rattle off one of her boss's favorite standby phrases: "If we're dealing with apples, let's deal with apples and not make a fruit salad out of it."
This well-honed technique is a key part of her leadership style and an effective way to connect with others. Marilyn uses her Marilyn-isms to get others' attention and to keep them focused, especially when encountering challenging scenarios.
***
Dentons:
"Marilyn draws strength and insight from challenges she has overcome and makes a difference for others. She appreciates the unique talents of each member of her teams and makes them feel valued, supported, and inspired."
–Sonia Martin, Partner