For several decades, scientists and newspaper headlines have warned that global warming is the most threatening health and safety issue of our time. Some have claimed that it has already resulted in natural disasters such as more destructive hurricanes and more frequent wildfires. Because of perceived risks such as these, regulators around the world have attempted to address climate change by encouraging the development of renewable power sources. The AES Corporation is a global power company dedicated to meeting this challenge by accelerating a safer and greener energy future. It has power plants in fifteen different countries, with an increasing focus on renewables, but the global scope of its work comes with additional economic and legal challenges, which can include international disputes with counterparties and states.
Managing these disputes, at the helm of the company's dispute resolution office, is chief counsel of global dispute resolution, Marc Michael. He has worked at AES for fourteen years and appreciates its mission to create a more sustainable energy future, which has even led to outside recognition. For the past five years, AES has been named a "World's Most Ethical Company" by the Ethisphere Institute. "It's a different kind of company," Michael says. "It has always been trying to do the right thing in the energy sector." Much of what makes AES different has to do with its flat hierarchy, where there are few middle-managers and greater accessibility to leadership. The structure enhances not only in-office collaboration but global interaction between the companies many workplaces and partners.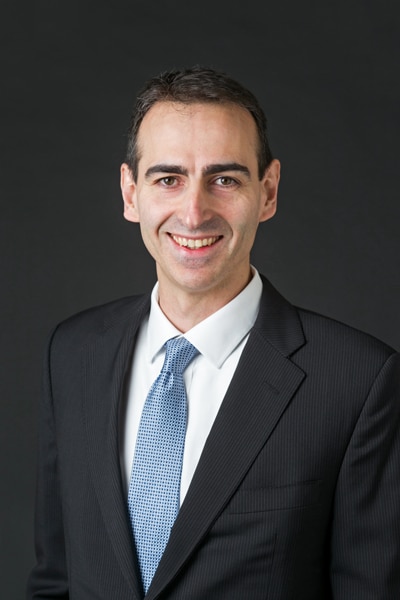 "AES is very open about who is doing what," Michael says, noting that its flat hierarchy extends to the layouts of its physical office spaces. While not fully open, their glass walls allow employees to see who's interacting with whom, and doors are almost always left open, including CEO Andrés Guski's. The setup is designed to encourage employees to collaborate. "No one is really that far apart," Michael says. "You're on the same team and interacting all the time."
Michael works with both an in-house team and lawyers from around the world to solve complex challenges related to the $33 billion in power assets that AES manages globally. He has tackled multiple investment-treaty claims against sovereign states, cross-border construction disputes, securities lawsuits, antitrust matters, US and foreign investigations, and novel questions of environmental law, among other issues. His interest in such high-stakes problems extends all the way back to his days as an undergraduate at the Catholic University of America. There, he studied constitutional law and landmark US cases. One of his professors conducted in-class debates, assigning students to take a side and argue for a position. Michael was hooked.
After earning his law degree, Michael landed his first job, at Winston & Strawn LLP, handling complex commercial disputes on energy and other matters. After several years working at the firm, Michael was approached by a friend with the opportunity to work at AES in an in-house counsel role.
Today, as chief counsel of global dispute resolution, Michael must maintain an international perspective that requires him to be proficient in the laws and customs of numerous countries. "Comparative law is fascinating," he says. "You have to operate in different jurisdictions, with different customs and laws."
Because legal teams in different parts of the world are operating under different cultural and legal structures, negotiations and disputes have additional layers of complexity. Success may depend on seeing things from the other side's viewpoint. "You may think, 'Why did our counterparty do that?'" Michael says. "They may be acting rationally for reasons I don't yet realize." What is often the case is that his counterparty are operating on a set of assumptions that reflects their own cultural experiences.
As an example, Michael explains how a large European construction company may be accustomed to developing state-funded projects. When its work goes over budget or past deadline, the burden may fall to taxpayers, and the project moves forward. A special project vehicle (SPV) with a fixed budget and nonrecourse financing doesn't have the same flexibility. "From the SPV point of view," Michael says, "we can't modify anything." This can lead to conflicts that are usually dealt with in international arbitration and, more rarely, in court.
The high stakes and intricacy of international law is thrilling, and the thrill is what has kept Michael interested in his career. "I can't think of anything more exciting than a cross-border dispute with an international counterparty that is very well represented," he says.
The rapidly changing energy market, which has seen multiple shifts in just the past decade alone, has also kept Michael engaged with his work. "All the major players want to go renewable and be less thermal," he observes.
Worldwide, there have been policy changes, new environmental regulations, and stricter controls on carbon-based emissions. In addition, renewable technologies have become more affordable and are still being developed. An example of this is AES's battery-storage solution, originally developed in 2007, which has experienced continued innovations and price declines. Recently, AES launched one of the largest solar-plus-battery-storage projects in the world, allowing renewable energy to be deployed throughout the day and night.
Moreover, as the market for renewables has expanded, AES has had to compete harder with other companies for projects. When a project is developed, arbitration with a contract counterparty or host state is always a possibility. "The market for international dispute work has commoditized," Michael says, noting that an RFP for legal services might be sent to firms across three or more continents. "Firms have to be much more creative in marketing themselves and winning bids."
Down the road, Michael predicts continued technology improvements, but it's harder for him to say what they will look like specifically. "No one would have foreseen what the battery market is now ten years ago," he says. As climate change continues to be on the mind of global regulators, though, and as energy markets continue to evolve around the world, Michael will be prepared to steer AES's dispute-resolution efforts.
---
Williams & Connolly LLP: "Marc's leadership and professionalism set the example for others to follow. He truly understands the importance of a cohesive strategy in international litigation. It is our honor to work with him and AES as its litigation counsel." -John McNichols, Partner