In 1987, at the age of thirty-nine, what Manny Sanchez took as opportunities to speak candidly turned out to be anything but, and he suddenly found himself out of a job with the big law firm where he had been a partner. He called his mother that night, tearful, and as the two of them worried over his future, he heard a click—his father getting on the line with some tough love. "He goes, 'You quit crying, you big baby,'" Sanchez recalls. "And honest to God, literally the tears that were welling on the top of my upper lip got sucked back into my eyeballs. My dad said, 'I told you when you graduated from that Ivy League school that you should start your own business. Now maybe you'll listen to me.'"
Sanchez did, and the firing and the wake-up call from his father turned out to be the best things to ever happen to him. The UPenn alum started his own business, Sanchez & Daniels (now Sanchez Daniels & Hoffman) shortly thereafter, and today it's one of the largest law firm minority business enterprises (MBEs) in the US. The achievement is largely thanks to a combination of Sanchez's networking pluck, his firm's incomparable work, and a shift in the value of diversity in the business world over the past three decades.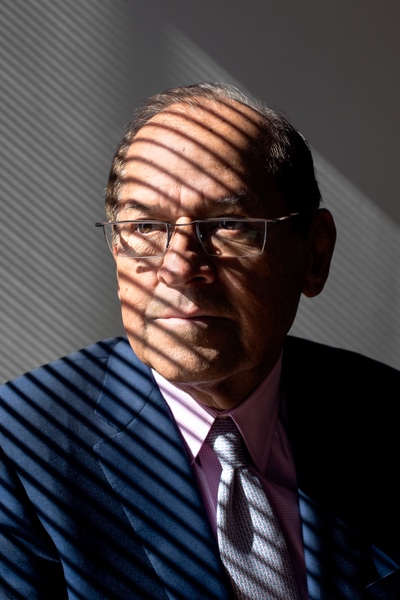 Sanchez could see this shift coming down the pipeline all the way back in 1987. The country was just coming out of a recession at the time, and companies weren't looking for new external counsel to partner with. Many were even cutting back. So Sanchez knew that his firm needed a unique hook, and he'd just read a magazine article about how the 1990s were going to be the "Decade of the Latino." His friend John Daniels had been pushing him for a few years to start a law firm with him called Daniels & Sanchez, but Sanchez made a counterproposal: a firm called Sanchez & Daniels, with at least 51 percent minority ownership to qualify as an MBE.
"In the not-too-distant future," Sanchez told Daniels, "post-baby boomer leaders of private and publicly held corporations in this country will see the value in embracing diversity, not looking at it as an affirmative action matter but instead saying, 'Wow, more and more of our customers are Latino, more of our workforce is Latino, more of our clients are Latino." At the same time, Sanchez could see changes beginning to happen in the public sector, with local, state, and federal entities telling businesses wishing to earn major government contracts that they needed to show proof of minority participation, including in the area of professional services.
Sanchez dived into the evolving business landscape with a three-word mantra: "network, network, network." He joined a number of nonprofit boards, and he qualified his firm for the American Bar Association's first ever Minority Counsel Demonstration Program, which took twenty MBE law firms from across the US and helped pair them with Fortune 500 companies for high-profile work. His firm took on litigation for Chrysler, Ford, GM, Aetna, and McDonald's, among others, and began to grow its reputation. Today, it's one of only three of the original twenty MBE firms left.
"The success for me turned out to be becoming an entrepreneur, where I could build a winning business platform and at the same time push the envelope on diversity."
In 1997, shortly after securing big-time work with Ameritech by meeting with its new leader at a fundraiser, Sanchez was profiled in Crain's Chicago Business under the headline "Man, oh Manny: Meet Chicago's uberschmoozer." Word spread much faster after that, and Sanchez Daniels & Hoffman gained the attention of not just lawyers but the business community at large.
The firm has since continued to do top work for major companies. Around 2004, Exelon and ComEd hired the firm to begin handling its defense in asbestos litigation, and in one of the biggest cases, in 2008, rather than accepting what many thought would be a multimillion-dollar settlement, the firm defended the company at trial and won. Then, in 2010, it spent two weeks at trial defending Ford from a $14.7 million settlement in a similar case. The firm is now considered a leading civil defense firm in asbestos cases.
The firm is also known for its work in product-liability and employment law. Around 2012, it notched an unlikely win against the Equal Employment Opportunity Commission in a discrimination case against U-Haul. And, more recently, a doctor with the Cook County Health and Hospital System sued the hospital for violation of the Illinois Whistleblower Act, seeking $9.1 million in damages, but with Sanchez and his firm on the hospital's side, the doctor walked away with nothing.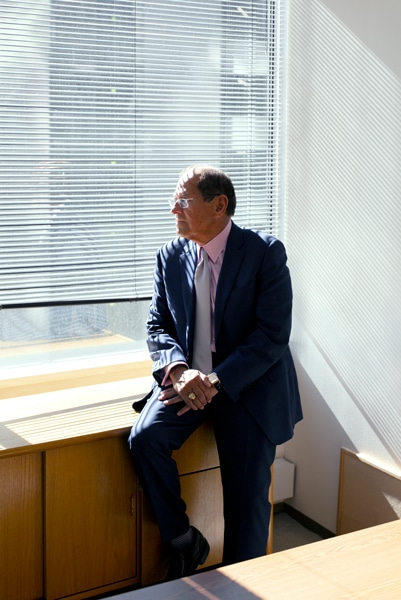 The way Sanchez sees it, companies that choose to hire his firm enjoy a "win-win-win" return on the decision. Not only does his firm do top work, but by hiring it as an MBE, the hiring companies can secure their chance at government contracts—and contracts with certain private entities—that today mandate a significant amount of work be allotted to MBEs. There's also an economic benefit, in the form of tax rebates and (at some companies) internal spending incentives directed toward D&I hiring. In short, what Sanchez saw approaching way back in 1987 has now fully come to pass, and his firm has positioned itself perfectly to suit current needs.
Sanchez intends to continue pushing inclusion, both at his own firm and beyond. "I believe in gender balance and diversity," he says. "The real world is a melting pot of everything, and that's what I have pursued." He also recently met with other prominent Latino leaders at the United Nations to discuss strategies for getting out more of the Latino vote in the 2020 elections. It's a cause close to his heart. He's daily surrounded and fueled by the love of his wife, Pat Pulido Sanchez, and his four children, five grandchildren, and one great-grandson, and he wants to ensure the future is bright for all of them. "We owe it to our children and to our grandchildren, to the next generation of Latinos in this country, to do something at the political level, at the ballot box," he says.
Looking back, Sanchez is glad things took the turn they did in 1987, for the loss of his job turned out to be the catalyzing force of a lifetime, changing things for the better not only for him but those around him. "Before I got fired, I was more than content to live what was then viewed as the perfect lifestyle: live in the suburbs, take the train down to the city, be a success as a lawyer, and then go right back to the suburbs," he says. "This is not the ultimate success. The success for me turned out to be becoming an entrepreneur, where I could build a winning business platform and at the same time push the envelope on diversity."