There's a reason To Kill a Mockingbird by Harper Lee is required reading—its profound message of acceptance and understanding inspires booklovers of all ages. As a child, Anne Blake-Dreher planned to become an archaeologist or a paleontologist when she grew up. Then, at age eleven, she read To Kill a Mockingbird and had a change of heart.
"After reading it, I knew I wanted to be a lawyer, to be able to help people and to help prevent and stop racism, which struck me as so unfair, wrong, ignorant, and made no sense," says Blake-Dreher, vice president, assistant general counsel, global labor & employment, security at Perrigo Company. "In To Kill a Mockingbird, I saw what a difference a lawyer could make, and I wanted to make a difference, too."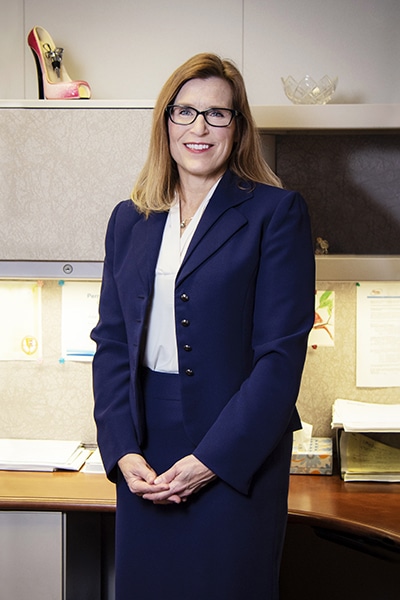 The youngest of nine children, Blake-Dreher was an enthusiastic student, and she remembers the influence her teachers had on her, particularly when tragedy struck. She lost several siblings as a child; today, only six remain. In sixth grade, her sister died by suicide. Blake-Dreher says she was struck by the kindness and concern certain teachers demonstrated.
"I was fortunate enough to have good relationships and a lot of female teachers in elementary school who were kind and caring," she says. "After my sister died, two teachers really stepped up, touching base with me and my family. In addition to being supportive and encouraging, they also challenged me academically and got me into various gifted and talented programs offered by the school."
She never lost her conviction that she could change lives as a lawyer. She studied prelaw at Michigan State University and then entered law school at Wayne State University in 1996. Her passion for labor and employment law didn't crystallize, however, until she had a summer internship during law school with Miller, Canfield, Paddock, and Stone, one of Michigan's oldest and largest law firms at the time.
"I had the opportunity to work with different groups who shared an affinity for righting wrongs," she says. "I was attracted to labor and employment because it's where I felt I could make a major impact."
After five years at the law firm, she found her first in-house counsel position at Guardian Industries, where she stayed for more than eleven years before moving to Meijer as senior counsel of labor and employment in 2016. She joined Perrigo, a global healthcare company, near the end of 2016.
In Blake-Dreher's experience, she's found that in order to have an impact, she has to influence the corporate culture by addressing and changing misconceptions through education. She's happy to do it.
"Part of the role of in-house counsel is to coach, interact with, mentor, and influence all areas of the organization," she says. "I love to teach people. I've done a ton of training. I'm educating them, helping employees wrap their heads around unconscious bias: what does it mean, what is the law, and what should they do and not do."
As a labor and employment legal team of one at Perrigo, she's had to build relationships in human resources (HR) and compliance to help her achieve her goals. Happily, they were eager to have her.
"I work with amazingly smart, brilliant, and talented HR professionals who wanted a business partner and were thrilled to have me here," she says. "Having that openness and willingness, and a seat at the table, made it easier to focus on diversity in all its forms."
Specifically, for Disability Awareness Month, she helped increase understanding of the Americans with Disabilities Act at Perrigo. She's worked on building a business case for restarting diversity and inclusion initiatives at the company. She has also focused on the company's Management Essentials training program to increase the awareness around these issues by training all levels of management.
"I have a pretty unique, global role and I'm the only one that does it," she says. "But I'm really blessed to have the opportunity to work with people from the board of directors down to the shop floor, as well as the opportunity and ability to coach and interact with women leaders across Perrigo, and when we have any issues, to provide awareness and education."
***
Drinker Biddle & Reath LLP:
"Anne is a proactive and collaborative problem solver who cares deeply about her work, Perrigo, and the people with whom she works. It is always a pleasure to work with Anne as her outside counsel." 
–Christine M. Kong, Partner