Leah Perry's mother was diagnosed with kidney disease before Perry even started high school. "I took over some of my mom's responsibilities," Perry says of her preteen years. "It taught me the value of hard work. As a female minority, I knew how hard I was going to have to work and that I had to have drive and perseverance. The fact that I got to my current position actually goes back all the way to those experiences and to my family."
Now a seasoned attorney with proven expertise in privacy law and international law, including technology, financial services, compliance, and humanitarian law, among other areas, Perry takes pride in all the steps she took, the risks she embraced, and the challenges she faced along the way.
"Leah is one of the best privacy attorneys I've encountered in my decades in this field," says Brenda R. Sharton, partner and global chair of Goodwin Procter's privacy and cybersecurity practice. "Her background across public and private sectors brings unparalleled insight and practicality to the complex privacy issues businesses face today."
The Beginning of the Journey
Perry worked as a research assistant for the Office of Congressman Elijah E. Cummings while working toward a degree in history at Vassar College. After graduating in 2000, she moved to New York City and found a PR role with Interbrand Corporation, a division of Omnicom. She later transitioned into a business development position at the same company. But Perry always knew she wanted to go to law school, and with this long-term goal in mind, she dedicated herself to studying for the LSAT.
It was in law school, at the University of Iowa College of Law, where Perry truly found her purpose. "I took a course on comparative constitutional law that was taught by the former prime minister of New Zealand," Perry recalls. "It introduced me to this whole world of laws in other nation states and how constitutional law is different from one country to another. I was fascinated by it and kept taking courses, including a course on public international law, international institutions law, and various courses over the summer."
After graduating early from law school, Perry secured a position as an instructor at Morgan State University—a position she held while studying for the bar and working as an international policy commentator on a local radio station.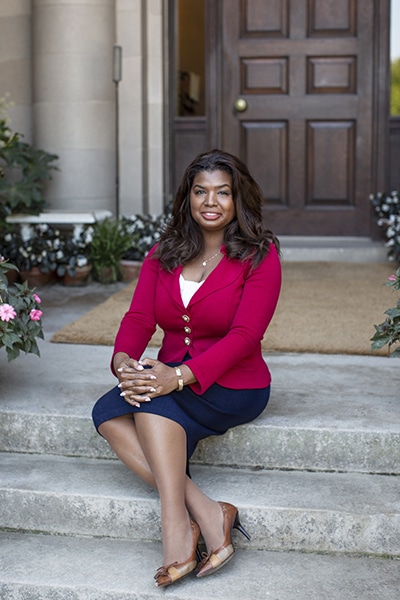 Fear Can't Hold You Back
But Perry's mother, who had by then recovered from her illness, had a feeling that Perry was meant for even greater things.
"She had a dream where she asked me whether I wanted to go back to school and get an advanced degree," Perry remembers. "In the dream, I said, 'No, absolutely not.' And the next morning when she got up and asked me, I actually said the exact same words verbatim—an absolute and resolute no." Despite what she said at the time, Perry says, she began looking at international law programs, as she knew she didn't want to focus exclusively on US law. Eventually, Perry discovered an advanced Master of Laws (LLM) program offered through Leiden University Faculty of Law on the Hague campus in the Netherlands.
"The more I read about it, the more I liked it and the more I was intrigued," Perry says. But the moment she was accepted to the program, she realized she would have to make some drastic changes to make it happen. "I ended up selling nearly everything I had, except for a few clothing items, in order to take the leap," Perry says. "I sold my car and packed my bags, and I remember just standing there at the Peace Palace gates with my mom and thinking about all I had done and gone through to make it there."
Taking that leap was difficult, but to Perry, it was worth it. "If you're not willing to take a risk, you're going to end up in the same place where you started," Perry notes. "And just by taking the risk of selling my things and going to the Netherlands, I ended up not only meeting a professor who is my mentor to this day but also learning so much about foreign law and international law issues, which contributed greatly to my time in Congress and elsewhere."
"If you're not willing to take a risk, you're going to end up in the same place where you started."
Voices in Congress
At the time, Perry didn't realize that she was "doing anything special" by obtaining an LLM. She was just doing what she enjoyed. But shortly after she completed the program, she got a call from the secretary of the Maryland State Bar. "He said, 'Congratulations, you're the only person in the state of Maryland with this education,'" she remembers. "Because of that differentiator, it separated me from other attorneys and led me once again to the hallways of Congress and ultimately working for Congressman Cummings."
While serving in Congressman Cummings's office, Perry "staffed the member" on a number of key committees, such as the House Armed Services Committee and the Joint Economic Committee. Congressman Cummings had a "lot of faith in her," Perry says. He later recommended her for the role of senior counsel on the House Oversight and Government Reform Committee, which has one of the broadest jurisdictions in Congress, including investigative authority over the federal government and private sector.
"We really made a meaningful difference," Perry says of her work with those committees, which spanned the investigation of the 2008 financial crisis, as well as the implementation of both the Affordable Care Act and the American Recovery and Reinvestment Act (the largest direct spending bill in US history). "For me, it was about taking one day and one step at a time and going back to the spirit of perseverance I had learned as a little kid. Because there were many times when it was very hard—I had to pick and choose battles—but if I hadn't been willing to take all those risks, it would never have happened."
One of a scarce handful of women of color serving on a House Committee as a senior attorney and the highest-ranking African American woman serving on a Senate Committee as legal staff at the time, Perry felt honored by the opportunities she was afforded. But she was also determined to use her position to help others.
"Being the 'only person in a room' taught me to be bold and make my voice heard," Perry says. "I had opportunities to do things that could really help people in future generations. I was behind the scenes but still working to drive things forward and make a meaningful difference to people whose voices were not being heard."
Perry details some of her many memorable experiences during her time in Congress: working with Senator Kirsten Gillibrand's office on sexual assault cases in military campaigns; aiding in the development of the Military Leadership Diversity Commission; investigating violations of the rights of service members, whose banks were foreclosing on their homes while they were deployed; leading investigations into the 2008 financial crisis; and helping oversee and investigate the Indian Health Service.
Since leaving Congress, Perry's drive and affinity for risk taking have taken her to high-profile roles in the tech sector. As she reflects on her journey, she credits the resilience and determination she acquired through the adversity she weathered—and overcame—in her formative years for giving her the strength to succeed.
Editor's Note: At time of press, Leah Perry was no longer with Facebook.
Expertise Spotlight
Goodwin's privacy and cybersecurity practice, ranked in both Chambers and Legal 500, offers a fully integrated, multidisciplinary approach to clients' data protection needs. One of the longest-standing Am Law 50 firms, our global team is uniquely positioned to provide the most innovative solutions to guide clients through the collection, use, processing, and protection of their most sensitive information.
Our senior lawyers include a former chief privacy officer of the US Department of Homeland Security, a Legal 500 Leading Lawyer, and a Next-Generation Lawyer in cyberlaw and data breach response as well as four other Legal 500 cyberlaw ranked partners, several former federal prosecutors, and multiple GDPR, CCPA, HIPAA, and COPPA experts.
We have handled hundreds of data breaches, including high-profile, global incidents involving everything from ransomware to nation state attacks; have advised on more than seven hundred public and private transactions in the last year alone; and have designed strategic privacy, information security, and compliance programs for start-ups, global enterprises, and everything in between. We have litigated landmark privacy cases and defended against class action and government enforcement actions brought by the FTC, OCR/HHS, state attorneys general, and regulators across the globe.