"Engineers and accountants get jobs out of college, and I didn't want to be an engineer," Daniel Belhumeur says. So he got a master's degree in accounting at Texas A&M.
While at UHY Advisors (now BDO Advisors) in Houston, he was one of the forensic accountants assigned to work on the Enron securities fraud case. "We worked pretty closely with one of the plaintiff law firms, and some of those guys helped convince me that I didn't want to be a CPA the rest of my life," he recalls. "They helped inspire me to go to law school."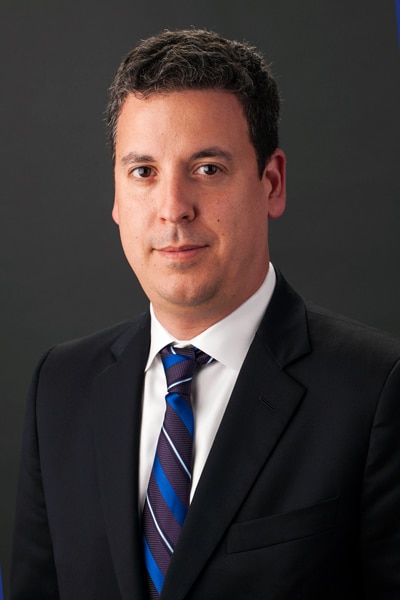 While getting a JD at the University of Kansas School of Law, Belhumeur worked part-time at Cheniere Energy. "It was the early 2000s, and the US thought it was running out of natural gas, which prompted LNG deregulation. Cheniere procured deep-water land rights off the coast of Louisiana and quickly transformed from a 20-person seismic mapping firm to an energy company employing 300," Belhumeur explains.
His boss from UHY was hired to be head of Cheniere's tax department, and Belhumeur followed, joining the company in 2007 as a full-time junior tax lawyer. "My job was assisting with the management of Cheniere's master limited partnership," he says.
The financial crisis hit the following year. "Cheniere laid off a significant amount of its workforce in 2008," he recalls. "We were heavily leveraged and in survival mode. The in-house legal team dropped to about two or three. I was asked to stay to support the restructuring of the company and work on strategic alternatives. I ended up wearing lots of hats, doing all kinds of tax and legal work."
Those efforts paid off, as the company did much more than just survive the recession. It focused its development efforts on two liquid natural gas (LNG) projects: the Sabine Pass terminal in Louisiana and the Corpus Christi terminal in Texas. It is now on track to be one of the top five suppliers of LNG by 2020. However, in 2015, there was a major regime change.
"All the key members of the leadership team that I had worked with for over ten years left," Belhumeur says. The new CEO brought in several of his own people, and even though Belhumeur was asked to stay, he wanted more of a challenge. "Some of the executives had moved to Tellurian, which was also in the LNG business," he says. "It was starting from scratch, so it needed a lot of work done, from both a legal and financial standpoint. I thought it would be really interesting, and they were inviting me to join as general counsel."
"It feels good to work in an industry that has such far-reaching benefits, like delivering a source of reliable, cleaner energy."
One of his first tasks was to handle a reverse merger with Magellan Petroleum to get Tellurian into the public market. Tellurian raised approximately $230 million over the second half of 2016 from General Electric and Total, a French energy company.
That healthy jump-start, along with continued investments, has enabled Tellurian, which is based in Houston, to embark on an ambitious path. Its key focus is the Driftwood project—a production and export terminal south of Lake Charles, Louisiana, that will, upon completion, be capable of processing approximately 27 million tons per annum (mtpa) of LNG.
"It's exciting to be on the ground floor of this burgeoning business," Belhumeur says. "Once construction begins, we think the Driftwood facility will be the largest privately funded infrastructure project in the US." The terminal is scheduled to employ 350 people and produce its first LNG in 2023.
As is common in the petroleum industry, all sorts of arrangements and partnerships are being forged to secure long-term production capabilities. As a result, Tellurian is seeking to secure 15 tcf of natural gas resources and currently owns approximately 10,800 net acres of natural gas properties in northern Louisiana.
"There is a lot of gas being produced in the US. Gas will be transported via pipeline to our Driftwood facility. It will then be cooled, condensed, and liquified, which minimizes its volume by 600 to 1," Belhumeur explains. "That makes it possible to transport it more safely and efficiently. It will then be shipped to plants around the world, where the process will be reversed. The gas will then be available to markets that are in need of fuel."
According to Shell's "LNG Outlook 2019," global demand for LNG increased by 27 million tons in 2018, for a total of 319 million tons. Much of this was fueled by a 40 percent (or 16 million ton) increase in China, which is trying to wean itself from coal to improve its urban air quality. LNG demand is projected to reach about 384 million tons in 2020.
"LNG is a valuable fuel source not just economically but environmentally. It will continue to grow in market share and help us reduce our dependence on other fossil fuels," Belhumeur says. "It feels good to work in an industry that has such far-reaching benefits, like delivering a source of reliable, cleaner energy."
---
Baker Botts L.L.P:
"Daniel is an outstanding lawyer. He carefully balances legal analysis and commercial objectives. Daniel sees the big picture and works to bring different moving pieces together in a sound and effective solution."
– Steven Miles, Partner
---
Morgan Lewis:
"Daniel is leading Tellurian's legal team through the highly complex world of international joint ventures in the LNG space. His LLM in taxation from Georgetown Law gives him unique perspective. It's a privilege to work with him."
– Bill McKee , Partner
---
Akin Gump Strauss Hauer & Feld LLP:
"With nearly 20 years of energy industry experience, as both an accountant and attorney, Daniel brings invaluable insight to the complex projects he leads. Smart, strategic, hardworking and business-savvy, Daniel makes partnering together a true pleasure."
-Jim Wetwiska, Partner