Bryan Sinclair had been a partner at several multinational law firms, but he was itching for a change. He wanted a job as an in-house counsel, where he could put his years of experience into practice and foster the best attributes of work environments that he had experienced with several of his incredible mentors. A former colleague from a previous firm, Laurie Wall, called him to let him know about what she described as a "perfect opportunity." There was an opening to lead the IP litigation team at Cisco Systems, a multinational technology conglomerate that develops, manufactures, and sells networking hardware, software, and telecommunications equipment.
Wall and Sinclair had always had a great working relationship, and her position as a program manager on Cisco's litigation team put her within earshot of the key decision-makers. "She told me that if you send in your résumé, I think I can get you in the short stack," says Sinclair. Following a very thorough series of interviews, Sinclair was hired as the senior director of intellectual property litigation. It was the best career decision he'd ever made.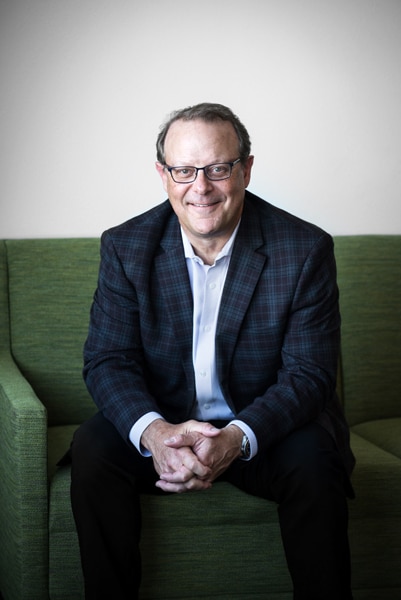 Sinclair now manages an IP litigation team of five attorneys and two program managers, who run cases at all levels of the US federal court system, the Patent Trial and Appeals Board (PTAB), as well as several international tribunals. His team oversees virtually all IP disputes to which Cisco is a party. Sinclair strives to embody an encouraging, supportive management style. "I want to be the best boss they ever had," he says.
He trusts his experienced, highly capable team to run cases and make decisions, deferring to them on matters that don't require his input or involvement—and with a significant number of matters on the broader docket, he can't afford to micromanage. The trust he places in his team allows them to work independently while seeking his support on key strategic issues and significant inflection points in their cases. In connection with his efforts to actively listen and individualize his team members' work experiences, there are occasional "stretch assignments" that arise and allow them the opportunity to support other practice groups within Cisco's legal department on a shorter-term, project basis.
"My operating principle is that I manage through positive support and instructive guidance," says Sinclair. His managerial approach is complemented by the idea that people should enjoy work and understand that their contributions are extremely valuable and the foundation of their professional growth. He strives to be a strong implementer of Cisco's talent review process, which is driven toward uplifting performance, thereby enhancing career development and overall employee satisfaction. "We spend so much time at work," he says. "Life is easier if you're having fun with the people you work with. I believe my approach also builds a great deal of mutual confidence, trust, transparency, and loyalty."
Sinclair asks his team to trust their experience, follow their gut instincts, and reach out to him when they encounter an "uncomfortable visceral reaction." That's one of the important times when he offers his input. Even though Sinclair manages a team across the country, he uses Cisco's immersive video technology and Team Space platform to check in with each team member on a weekly basis. In this way, he ensures they get the support and feedback necessary for their cases and to reach their career goals. They typically sit down, make a list of issues and options, and agree on which way they should move. Sinclair likens his role to a combination of an offensive and defensive coordinator; the players do the hard work on the field, but he's ultimately responsible for the playbook.
Whether defensive or offensive, Sinclair makes sure that the team's litigation strategy sends a consistent, harmonized message. For the defensive side, they work to "fend off big touchdown plays and big penalties" that would create bad precedents. On the offensive side, the vast majority of matters tend to be PTAB proceedings and district cases where Cisco is pushing a claim of patent invalidity. "We don't take positions in one matter that would makes things difficult in another," he says. "We don't deviate broadly in cases, so it won't come back to hurt us."
Around the time of his first-year work anniversary, Sinclair had a conversation with Mark Chandler, Cisco's executive vice president and chief legal officer. Chandler asked if he had any regrets. "My only regret was that I didn't do this ten years earlier," says Sinclair. Mark stopped him there—he reminded him that he might not have been ready for this position ten years before. "It was very insightful and also true that the mileage I had from the trenches has served me incredibly well to make the tougher decisions," Sinclair says. "I definitely benefited from the additional ten years' experience." His advice to attorneys looking for in-house counsel roles: be patient and open to opportunities, and when you find yourself in a leadership role, borrow wisdom from your best mentors and be the kind of boss you'd want to have.
---
Desmarais LLP:
"Bryan is a talented leader and an effective manager with great instincts in intellectual property litigation. His experience and insights have been invaluable as we've worked together on some of the industry's most complex patent cases,"
-John Desmarais, founding partner