Adaptability is increasingly key to the survival and success of businesses today, and Calix, a San Jose, California-based software, cloud, and services company, is right in the middle of a major transformation. Over the past two decades, Calix has established itself as a top provider of the hardware that connects communications services providers to their subscribers with internet, cable television, telephone, and other wired services. Now the multimillion-dollar organization has evolved to become a software solutions and services company as well, and its legal team, led by Suzanne Tom, vice president and general counsel, has been integral to this strategic shift.
The decision to pioneer software solutions was already in place when Tom joined the company three years ago from Verifone, a multinational payment-solutions company. She credits the company's CEO, Carl Russo, with seeing the need for such a transition. "As a software-platform provider, we can be the catalyst that helps our customers innovate and transform their business models," Tom says. "We are developing groundbreaking capabilities to help our customers deliver better experiences for each of their subscribers."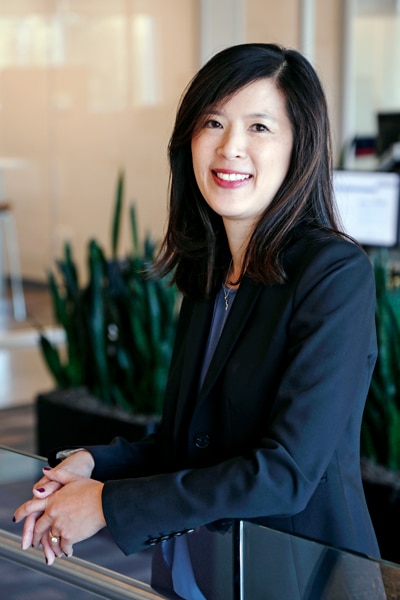 To enhance the customer experience at Calix, Tom has been building her legal team to become strategic partners with the product-development and field-operations sides of the business. "We team closely with product operations and supply chain and are actively involved in key stages of development, from initial idea to customer delivery," she says.
Since its founding in 1999 in Petaluma, California, Calix has shipped more than eight million ports to more than nine hundred customers, comprising more than forty million subscriber lines around the world. In September, Calix moved its global headquarters to San Jose, California, where it intends to grow as a leading provider of software, cloud, and services in the heart of Silicon Valley.
As the legal head of the public company, Tom also focuses on corporate governance, regulatory compliance, and other such responsibilities. "My background is in public-company representation, governance, and compliance, both at a private law firm and at Verifone," she says.
Tom earned a bachelor's degree in business administration from the University of California–Berkeley and a JD from the University of California's Hastings College of the Law, graduating magna cum laude. She launched her career as an audit manager at Ernst & Young and held positions in financial departments prior to joining the prestigious law firm Latham & Watkins after law school. She also clerked for the US District Court for the Northern District of California before spending almost seven years at Verifone and arriving at Calix in 2015.
Of the four attorneys on her staff today, one is dedicated to supporting the company's compliance and corporate-securities needs. The other three attorneys are deployed to and embedded in three key operations teams: product development, product operations (supply-chain procurement), and field operations (sales and marketing). "We have aligned the legal team to be dedicated partners at the operating-unit level," Tom says.
Tom also manages outside counsel, who help in corporate and regulatory matters, intellectual property litigation, patent protection, and commercial litigation. "I don't want a giant laundry list of firms," she says. "I want an ecosystem of vendors I consider specialists. The ability to use outside counsel is worth every penny—if you have the right counsel."
The legal team is reworking its processes and procedures, from writing new contracts to rethinking its intellectual property portfolio and security risks. "The attorney working with an operating unit is involved in all contracts and business issues and participates as a legal partner in these discussions," Tom says. "At the end of the day, it's really risk management at the legal level. We consider the business needs alongside classic legal risks."
For instance, when Calix launched a core operating-system platform, AXOS, it required a new and different customer-licensing agreement. "We spent a lot time with product leadership—they are the central point for new products—talking through what is workable, how we present this to a customer, how we memorialize our requirements in a contract," Tom says. "Instead of just providing a legal document, we are involved in tweaking that document so that it is practical, workable, and clear enough from a selling standpoint."
The company reboot is known colloquially as Calix 2.0, so Tom and her team call their reorganization Legal 2.0. She pushes her attorneys to spend a lot of time with internal business partners. "They are in the team meetings, so they hear what the challenges are," she says. "I want the legal function to take what we hear in the field and incorporate it into legal processes. What needs are driving the company? The legal team collaborates and builds on what everyone is learning from their partners. That determines how we prioritize, how we set goals, and what resources to invest in."
As her team and its functions continue to evolve, one overarching goal never changes. "We want to have our attorneys serve as business attorneys," Tom says. "That is a leap from an attorney who is only strong in the law. We want to keep ourselves strong in the law but bring that additional value in being able to adeptly apply the law to business circumstances. Our attorneys are encouraged to have both legal expertise and the ability to make judgment calls in support of the larger purpose."