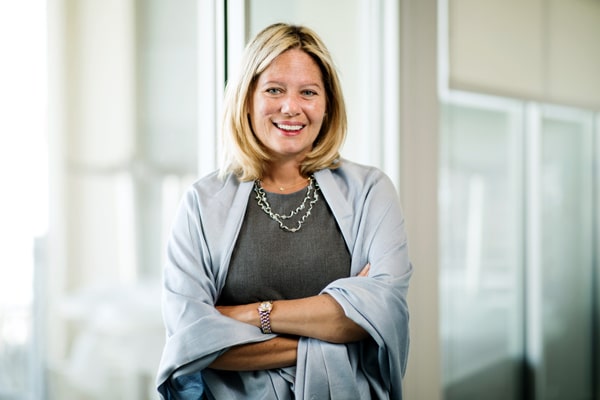 The financial crisis of 2008 changed how many industries operate, and in particular it changed banking. When the banks that were "too big to fail" did, in fact, fail, the business of banking was shaken to its core. In the wake of the crisis, smaller regional banks have seen their stock rise—both literally and metaphorically—as consumers have looked for better customer service, faster response times, and a more human touch. Susan Steinthal, deputy general counsel and head of the consumer banking legal team for Citizens Bank, is helping her business manage the transition by focusing on remaining compliant with regulations as it introduces new products to capture new customers.
Based in Providence, Rhode Island, Citizens Bank is hardly small; it boasts $152 billion in assets and some 1,200 branches across eleven states in the Northeast and the Midwest. But, it's not CitiBank, where Steinthal originally worked, either. A native New Yorker, Steinthal graduated from Princeton in 1992, then attended the University of Chicago Law School before transferring and graduating from Columbia Law School in 1995. She started her career in a large private firm in New York, then moved to a smaller boutique firm—"That was the usual path: big firm, small firm," she says—then moved in house with CitiBank in 2004 and stayed there until 2015. "I came to Citizens Bank because I wanted the challenge of managing this team," she says, and she was especially interested in it because of the changing context of regional banking.
"After the financial crisis, with big US banks retrenching, banks like Citizens were focusing on enhancing procedures," she says. "They had to be sure they were compliant with the new laws, regulations, and guidance that changed as a consequence of the crisis." She led the work to make Citizens' new procedures compliant, and today, she says, the company has completed the task. "We are starting to turn a corner, in the sense that we've met the new standards," she says. "Now we can get back to focusing on innovating in favor of our customers."
That means becoming a more proactive company that can provide solutions that consumers want, and to this end Steinthal has been involved in forging agreements with other companies to provide two new products to Citizens' customers: One is an online lending platform for small businesses, created with the company Fundation, in New York. "This platform makes getting a smaller loan for a smaller business much easier," Steinthal says. Customers can apply for a loan online and receive real-time, interactive feedback during their loan-application process. They can see how Fundation and the bank evaluate their applications. The application process requires minimal documentation, the closing is done electronically, and funding is available as soon as one business day after completing the online application. The program also provides easy and convenient online account access to perform a variety of account-management activities.
The second new product is an online digital adviser, created in partnership with the San Francisco tech firm SigFig to service the wealth space. "It offers a way for consumers to invest in markets at a very low fee," Steinthal says, and it also provides real-time investment advice. "It used to be, if you wanted to invest money with an advisor, you had to meet in person and go over strategies and then the advisor charges a hefty fee. The digital advisor reviews your risk appetite, suggests a model portfolio online, and then can make those investments on your behalf—at a much lower cost." SigFig pioneered the technology, and Citizens created the interface for its customers to use.
The bank also partnered with Apple, in 2015, to provide instant financing options at Apple stores. "At one time, if you bought an iPhone at the Apple store, you had to pay cash or use a credit card," Steinthal says. "Now you can get a financing package."
The platform is unique in that it doesn't use any paper, which is how Apple wanted it. "It's all done on the store employees' iPads, with email correspondence," Steinthal says. "That was a different way to sell the product, and customers are much happier with that." The bank is now offering the platform to other retailers, including Vivint, a security-systems supplier.
To launch these new products and services, Citizens has had to progress through "a number of tollgates," Steinthal says, including compliance. "My team and I spend our time helping the bank and the business develop solutions that are compliant," she says.
"I've always been impressed by Susan's focus on developing solutions that promote the business and its customers and show Citizens' commitment to complying with the letter and spirit of the law," says Gregory Lyons, a partner with Debevoise & Plimpton LLP who works with Steinthal and Citizens. "She enjoys exploring ideas and encourages inside and outside attorneys to participate and find the optimal solution for a particular issue."
For instance, with the Apple financing platform, the company had to adhere to the rules under the Truth in Lending Act, which require that customers receive information on a financing arrangement before they agree to it. "Because they are not using paper, we need to make sure they get an email with the information before they click the approve button on the employee's screen," Steinthal says. "We work with various tech partners to make sure that can happen. The legal team is very involved to make sure the business is focused on issues it needs to cover while giving customers a better experience than they were receiving before."
Today's customers expect the same service from banks that they do from companies such as Amazon, and Steinthal and Citizens are making a convincing case that customers can get more of what they're looking for from regional banks working to keep up with the times. "They used to have all their interactions in a branch," Steinthal says. "Now they expect to interact over the phone and online. Regional banks take their strength of personal interactions and carry that through all these different channels. Working with smaller banks is easier, there is much less bureaucracy, and it feels more impactful. We are better integrated into our communities, too. Wherever we are, we are committed to being in those communities."
Photo by Michael C Colocouris
---
Expertise Spotlight
Debevoise & Plimpton is a premier law firm with a market-leading Banking Group that advises banks and other financial institutions on a variety of regulatory, transactional, and litigation matters, including mergers and acquisitions, US and international regulatory and compliance issues, technology innovation through fintech, enforcement matters, capital markets activities, and new product development.
With lawyers in New York, London, and Washington, DC, the Banking Group has close relationships with—and long experience advocating before and negotiating with—regulators in the United States, the United Kingdom, and other jurisdictions, including the Federal Reserve and other US banking regulators, the Consumer Financial Protection Bureau, the Department of Justice (DOJ), state attorneys general, and the New York Department of Financial Services. The group has also worked closely with clients on issues before the Financial Stability Oversight Council, the Financial Stability Board, and other interagency groups that are developing new standards and frameworks for the banking and financial-services industry.  With a team that includes fifteen former Assistant US Attorneys or DOJ  lawyers, the immediate past chair and director of enforcement for the SEC, and three former SEC unit chiefs, Debevoise & Plimpton's Bank Group provide clients unmatched insights.
In 2017, the group was named Banking Practice Group of the Year by Law360.  It also was recognized as Financial Services Team of the Year by The Legal 500 US in 2014 and 2015.
***
Goodwin:
"Goodwin proudly congratulates Susan Steinthal, deputy general counsel and head of consumer banking legal at Citizens Bank, on this prestigious recognition from Modern Counsel. Susan's leadership and commitment to innovation, growth, and customer service at Citizens Bank are truly inspiring."
***
Greenberg Traurig, LLP:
"Technology has changed the way that customers approach banking.  Greenberg Traurig  would like to recognize Citizens Bank for its forward-thinking approach to creating and implementing
cutting-edge banking solutions across its platform."
—John Wells, Shareholder
***
Reed Smith LLP:
"Susan's passion for her work is energizing. She is a brilliant bank regulatory lawyer. At a recent conference of our partners, Susan, as a key panelist, commanded our attention with her vigor and profound observations."
—Leonard A. Bernstein, Partner and Chair, Financial Services Regulatory Group