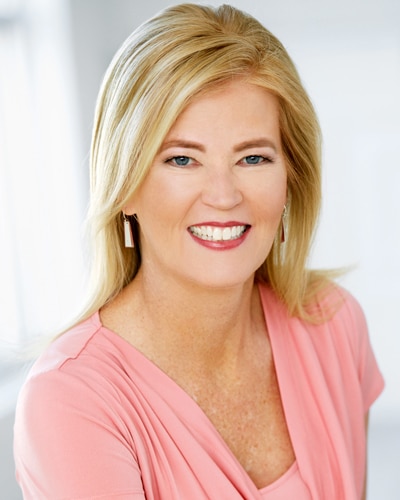 When Brenda Arndt isn't working as a dedicated senior mergers-and-acquisitions lawyer for a major agricultural company, she regularly volunteers for communities in need. "Unlike so many people in the world, I'm not worried about whether I'll have enough to eat, clothing to wear, or safe shelter," Arndt says. "It's really important to give financially, but hands-on volunteering provides a unique opportunity to directly impact and connect with another person."
Arndt now volunteers locally and internationally, is completing courses in the Leaders Impacting the Nonprofit Community program, sponsored by the Hennepin County Bar Association, and is interested in joining a nonprofit board. Yet, for executives looking to jumpstart their own philanthropy efforts, she advises that even starting small can make a big impact.
For example, when her daughter was younger, Arndt was involved at her school and church and, with her daughter, volunteered at the Interfaith Outreach & Community Partners (IOCP) thrift store. Now that her daughter is off at college, Arndt continues to volunteer at her church and the IOCP food shelf once a month. "You see need right in your own neighborhood," she says. "Even if it is just working a shift at Habitat for Humanity, Feed My Starving Children, or Second Harvest, you can make a difference. Don't be afraid to raise your hand for opportunities."
Arndt believes that helping others is a crucial form of professional development, and here she shares with Modern Counsel what she's learned from her own experiences.
1) Seek New Perspectives
As a legal leader who's often making deals around the world, Arndt says, she leverages her international volunteer work to better understand various approaches to negotiation in different regions. "As a lawyer, it's important to get out of your comfort zone and dive into new perspectives and avoid assumptions about the law, which is not universal," she says, adding that the bulk of her deals now occur in North America and Latin America. "But, at the same time, I've found that volunteering in other countries has helped me see how we're the same at our core."
For instance, for four consecutive years, since 2014, Arndt has joined a Healing Haiti weeklong mission trip to bring resources and care to communities in need on the Caribbean island. Volunteers care for the sick and elderly, in addition to infants and orphaned children. "Taking the time to connect with people through these volunteer opportunities and learn about their culture or the struggles they've faced opened my eyes to where other people are coming from," she says.
Healing Haiti volunteers also deliver water to locals in Cité Soleil, a Haitian slum where thousands of residents live in extreme poverty. Arndt recalls how people would hurry to the water truck with their five-gallon buckets and the chaos of filling and helping carry the buckets back to their shanties. "It's hard, physical work but also emotional work to try and digest the scene," she says. "It really puts my daily challenges into perspective."
2) Identify Communication Styles
While Arndt's philanthropy efforts have introduced her to many different perspectives, they have also taught her to adapt her communication style on and off the job. She cites the memorable conversations she has had while volunteering—including one with a Rwandan genocide survivor and another with a Haitian man learning English to improve his job prospects—as turning points in her own evolution as a leader. "I've learned so much from hearing about people's experiences and witnessing what's happening to them," she says. "It has helped me understand body language, and at work that translates into more effective negotiating tactics to get the deal done."
Recently, the legal leader joined Opportunity International on an "Insight Trip" to Africa. The nonprofit organization provides microlending and business training in twenty-two developing countries and has already helped create or sustain more than seventeen million jobs. "They provide loans to business owners, oftentimes women," Arndt says. "The clients learn how to manage a business and pull themselves up out of poverty."
In Rwanda and Uganda, Arndt and other Opportunity International volunteers met with business owners who had developed their own businesses, schools, and farms through the program. She recalls one woman whose first loan was for $17. "I saw how a little bit of money makes a huge difference," Arndt says. "Another gentleman, whom I'll never forget, was so very proud and thankful to be able to send his kids to school."
Working with people who have such a strong desire to improve inspires Arndt in her own professional career, and it's through her conversations with them that she's become more attuned to individual communication styles and needs and thus better equipped to help her clients achieve their goals.
3) Learn by Asking Questions
In addition to contributing her time and money on volunteer trips, Arndt is a strong believer in knowledge sharing, so she also contributes her career experiences through mentoring—both for the Menttium organization, to provide leadership development across companies, and for Twin Cities Diversity in Practice, to mentor and encourage law students.
Mentorship played a pivotal role in Arndt's own professional development. She started her legal career in litigation but then went in-house to take on a brand-new legal area: real estate and finance joint ventures. "The attorney who hired me, who is now our general counsel, really empowered me to ask questions," she says. "In addition, I was selected to be a Menttium mentee earlier in my career, which allowed me to connect with and learn from someone outside my own company and outside my own field," she says. Now, as a mentor to high-potential young professionals, she often helps them brainstorm different ways to navigate difficult situations.
"My mentors helped me appreciate that there are multiple ways to approach problems," Arndt says. "For in-house lawyers, we have to be solution providers. You can't say no to everything because there may be risk, but you can't automatically say yes simply because that's what the business wants. Legal counsel must learn to be advisors who provide practical solutions to reach goals."
Arndt also extends her legal expertise to nonprofits, including the Minnesota Assistance Council for Veterans, and to the Nonprofit Tune-up, organized by LegalCorps. "It's a quick legal-advice clinic for nonprofit organizations to help them set themselves up appropriately," she says. She also joined the community service committee of the Minnesota chapter of the Association of Corporate Counsel. Her pro bono work keeps her learning, especially when the issues are outside her immediate expertise. Being a lifelong learner means not being afraid to ask questions, she says, whether you're a mentor or mentee.
Young lawyers often feel they must pay their dues, Arndt says, but the best lesson she has learned is to set boundaries around different aspects of life. "I started out so focused on achievement, checking the boxes and executing deals, but once you retire, you won't think back on the billion-dollar transactions or the number of deals completed," Arndt says. "You'll be thinking about how you worked with your team, how you learned to communicate, how you helped other people in your community. You'll be able to answer the question, 'Where did you have a positive impact on others?'"
Photo by Sarah Morriem