While it was a love of woodworking that got Stuart Gray involved in the construction industry, it was his love of teamwork that ultimately led him to his role as general counsel for Roseburg Forest Products. As a carpenter, his hands-on familiarity with the product and its uses keeps his attention on the business's prime focus; as a lawyer with an MBA, he's now helping the venerable wood products manufacturer navigate its way into the next decade.
Based in Springfield, Oregon, Roseburg has grown into a company worth more than $1 billion since its founding in 1936. Started as a single sawmill, the privately-held company has taken on nearly 600,000 acres of timberland and more than 3,500 employees in more than 200 communities across North America. One such employee is Gray, who is advancing the company's legacy into the future through the expertise he's cultivated throughout his career.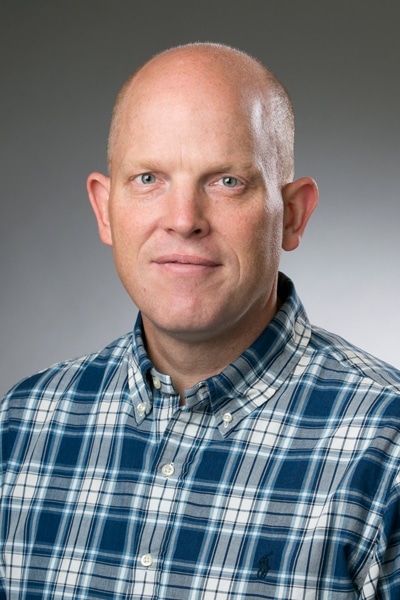 During law school, Gray aspired to be an in-house attorney because he wanted the camaraderie of "building together"—a similar sense of teamwork he experienced as a woodworker. Yet when he learned that new lawyers are rarely an optimal choice as in-house counsel, he accepted a role on the litigation team for a construction law firm. That position afforded him both insights into the nuances of the building industry and a leg up into his next job as corporate counsel for the Home Depot.
At the Home Depot, Gray litigated construction cases for the first few years, then shifted into a role as the day-to-day business attorney for the Home Services construction business. There, he found the teamwork and collaboration that he was seeking. "I've always enjoyed the sociability of being a contributor to a larger project," Gray says. "Collective wisdom is always better than that of the individual, and outcomes are better when people collaborate to create solutions."
Gray was promoted to assistant general counsel at the Home Depot, and he soon realized his education wasn't quite complete. He thoroughly enjoyed the team aspect of participating in executive meetings as a legal advisor, but he knew he could do better if he had as good a grasp on business as he did on the law. So, Gray earned an MBA from the Sloan School of Management at Massachusetts Institute of Technology.
That credential also helped him land a position as vice president and deputy general counsel at Sears Holdings Corporation, according to Gray. There, among many other duties, he worked on the business side of the ubiquitous Craftsman brand of woodworking tools. The experience equipped him with a unique combination of construction, legal, business, and team-leadership skills that ultimately brought him to Roseburg. Singled out in a national search, in 2017, Gray moved his family from Illinois to Oregon to not just assume the role of senior vice president and general counsel but also to invent the position in a company that had gone without one for more than eighty years.
So far, the arrangement is working out better than he could have imagined. "This is the highlight of my career," he says. "After almost twenty years in the construction law business, this has been the most rewarding role I've ever had. I love the industry, the company's team leadership style, its place on the corporate maturation curve, everything."
The legal leader is particularly impressed with Roseburg's corporate focus on sustainability. "We are tree farmers and manage our farms like other farmers manage theirs," Gray says. "We harvest 2 percent of our six hundred thousand acres each year, which translates to roughly a fifty-year harvest rotation, and we plant more than five million trees annually. We add more trees than we harvest each year, and our forestry management practices help mitigate the risk of fire losses."
As for Gray, he's enjoyed the legal adventure, too. Initially, he focused on integrating with the business while creating a single, reliable legal point of contact for his business team members. His colleagues quickly came to trust him because of his collaborative team-building skills, his sense of urgency, and his swift responses to all inquiries. The resulting ongoing business and legal collaborations have reduced risk and accelerated the resolution of legal issues across the company's timberland business and its thirteen manufacturing facilities.
Gray has also built a lean team to help him manage the legal details of the company: an environmental attorney, a regulatory professional (for compliance and sustainability concerns), and a highly experienced paralegal. From a business perspective, he also leads the company's strategic business development, transportation and logistics, and national accounts business teams. And, as a member of the executive team, he has taken an active role in crafting the company's strategic activities for the next six years.
"What undermines the effectiveness of the traditional in-house counsel role is that it is too often siloed away from the business functions and consulted late in the work process," Gray says. "This creates an internal disconnect that causes unnecessary surprises, waste, risk, and delays. Collaboration and teamwork throughout the work process reduce risk even as innovation is occurring. And, it speeds the production process by handling legal concerns as they develop, not after they've been embedded in the product."
With this proactive approach and a track record of successful projects, Gray is creating an ideal blueprint for Roseburg's future growth. His legal team is partnering up with others across the business to fortify Roseburg's legacy and future as an industry giant in the realm of wood products. "By being integrated team members from the beginning of strategic initiatives," he says, "we provide creative, business-focused solutions that facilitate the company's objectives, reduce risk, and accelerate the pace of business."
***
McMillan LLP:
"McMillan commends Stuart Gray on his leadership and congratulates him on this well-deserved tribute by Modern Counsel. We are proud to support the recognition of Stuart's success. McMillan LLP is a leading business law firm committed to serving in key industries across Canada, the United States, and internationally."
—Sandra Knowler, Partner and Cochair, Business Law